This hockey season's been an interesting, if not baffling, spectacle. Teams like the Los Angeles Kings, expected to dominate the league, have fallen short and are floating steadily, nervously, in the middle of the standings. A few clubs who finished last season at the top of the food chain, like the San Jose Sharks, are now bottom feeders alongside Columbus and Edmonton. Then, there are teams like the New York Islanders and the Nashville Predators, anomalies within the hockey realm: teams who found themselves with top 5 draft picks last June who are now standing at the top of the NHL.
Amidst these surprises, there's the Tampa Bay Lightning.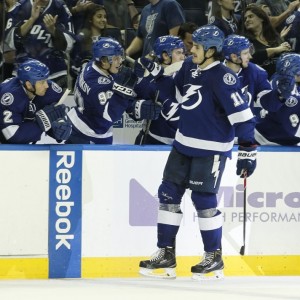 Maintaining Current Velocity
Going into this season, I tried not to allow my hopes to reach too high. Fearing disappointment, I talked myself out of Stanley Cup Final predictions and arrogant boasts about the greatness of a team yet to play their first game. Instead, I looked at the transactions made by GM Steve Yzerman in July and followed (with a skeptic but eager eye) the ebb and flow of names on the preseason roster. In the end, I believed it safe to say the Lightning would reach the playoffs. The team's skill and depth seemed enough to give them the upper-hand compared to most teams in the NHL.
So far it's been more than enough: The Lightning currently possess the best record in the NHL; they've only lost one of their past six games; they lead the league in goals scored per game; and they have found twine more times than any other team. Whether or not the Bolts keep up this pace doesn't matter because they don't have to pull any strings. Usually, later in the season, when players are tired from long stretches of play, when opposing teams have figured out every trick up your sleeve, games become monotonous, too tight to find any sort of clean open to turn a close match-up into a runaway slaughter.
A team can avoid this if they can play without predictably and tune their line-up with a precision keen enough to cut across defensemen instincts and startled goalies. In order to make it through the whole season at an even pace, you need the element of surprise, the ability to dance around skaters to make it seem like they're sleeping. The Lightning, due to intelligent players and elaborately designed line combinations, will maintain this pace throughout the season. Thanks to youngsters living up to expectations and veterans maintaining a well-order structure of play, the Lightning have now found their recipe for success. And it all begins with line chemistry.
The Blessings of Line Chemistry
I've previously discussed Tampa Bay's secondary line and will return to them in a moment. However, since then, a new, even more unexpected combination has been formed on the front lines, giving Tampa a hard-to-beat one-two punch: Alex Killorn, Steven Stamkos, and Ryan Callahan.
Killorn-Stamkos-Callahan
This primary combination acts as a kind of assertion against opposition. They establish a sense of strength, the epitome of both grit and skill. Each player offers a separate strength, complimenting and playing off of each other's strengths and weaknesses.
Alex Killorn, for instance, brings to the table an extremely high hockey IQ. The Harvard graduate plays the definition of smart hockey. He's not the playmaker Stamkos can be and neither does the brainiac finish a complicated scoring chance with stunning simplicity like Ryan Callahan. However, Killorn possesses great vision, acting as a kind of crowbar to pry open scoring chances – which he'll sometimes take himself or allow his linemates to take the glory.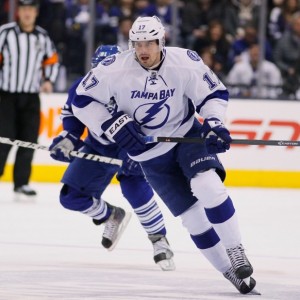 Steven Stamkos is the goal scorer. Stammer knows where he belongs, as you may notice during power-plays when he slowly and stealthily makes his way to the right face-off circle, chokes up on the stick and waits patiently for the puck. With Killorn's vision and speed, the puck often finds its way to Stammer's blade and, before the defense even knows where the rubber's gone, before the goalie's vision can place the puck somewhere beneath that chaos of skates and sticks (a feat even more difficult with Ryan Callahan's back blocking the majority of their vision), the lantern above the net is blaring red.
Stamkos and Killorn outsmart elite defensemen with a beautiful, if not poetic, poise. When you add Ryan Callahan, though, the situation changes entirely. Callahan's obviously found his niche here in Tampa Bay, as he's currently on pace for a career season in points. His chemistry with Stamkos is not only intimidating but fierce. Callahan's the guy on the ice skating up to everyone near the puck and knocking them over, breaking apart forwards and defensemen with his keen eye that allows him to see plays being set-up moves in advanced.
With Callahan's ferocious nature, Killorn's intelligent hockey sense, and Stamkos' overall greatness, this primary line has been one of the more surprising ones this season. Whether or not this line will stick around remains to be seen, though, if all three players continue to score, perpetuating this near constant atmosphere of victory here in Tampa. Killorn, especially with the aid of Stamkos and Callahan, has already begun his journey toward elite status. But, when it comes to the Tampa Bay Lightning, there's already one youngster making a name for himself: Tyler Johnson.
Johnson-Palat-Kucherov
Tyler Johnson and Ondrej Palat were both Calder Trophy nominations last year. When a rookie gets nominated for such a prestigious award, he finds himself put under a significant amount of pressure. This pressure can easily be intimidating enough to overshadow his sophomore season, forcing him to fall victim to a sophomore slump. Ondrej Palat continues to build upon a successful rookie campaign, producing offensively at a similar rate to last season's latter half. Tyler Johnson, who's kind of becoming Tampa Bay's new Small Fry playmaker, has been playing way better than he should be at his age.
https://www.youtube.com/watch?v=MAoy0rEM8aE
In a manner similar to the Detriot Red Wings' Gustav Nyquist, Tyler Johnson plays with a speed that's both explosive and subtly forceful. The kid's speed and puck handling skills leaves defenders in the dust. Johnson's game, filled with unexpected dekes and swift skating, has not only improved greatly since last season, but seems to show no signs of slowing down any time soon. He's deadly when in the neutral zone, where he catches forwards off guard, swiping the puck from beneath their sticks and finding his way to the net. He twirls around defensemen as if they're frozen, stuck either in time or in awe. Johnson's also making it known that he intends to be one of the best playmakers in the NHL someday soon – and, considering the fact that he currently resides in the top five when it comes to assists, he'll probably be there sooner rather than later.
Now, when the break away begins thanks to Tyler Johnson, add some Nikita Kucherov. With his beautiful stick-handling skills and Johnson's speed, spiced with Ondrej Palat's notorious two-way game, you come up with the perfect combination.
The Central Science
Chemistry is called the central science because it connects the other branches of science. The connections formed among the top two lines of this team by bringing together players with unique skill sets is creating an undeniable chemistry that grows with each game. Players appear to be clicking more and more. The result is a kind of progressive evolution of offensive production, one that is slowly but surely overwhelming the rest of the teams in the league.