Despite a valiant Game Three effort, the Philadelphia Flyers again trail the New York Rangers in their quarterfinal series. But while there areas of much needed improvement from the orange and black, much of Philly's woes have been the result of running into a more talented and disciplined team. With the Flyers falling victim to to the Rangers, Philadelphia will either make the necessary adjustments moving forward, or find themselves two losses away from their third first-round exit since 1999.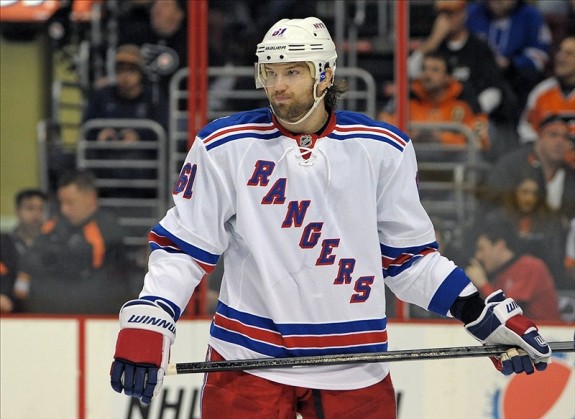 Flyers Falling Victim To Goaltending
Philadelphia's long-standing goaltending curse has extended beyond their own circumstances in net. Yes, Ray Emery was tagged for four goals for the fourth time in his last six starts dating back to the regular season. And yes, Emery was chased in favor of Steve Mason in the third period of Game Three. But Emery's counterpart through the first three games, Henrik Lundqvist, has given the Rangers the type of performances the Flyers were expecting from their own in net.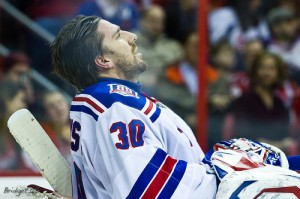 Although Lundqvist has faced the least amount of shots by a playoff goalie who's started at least three games (71), the King of New York has been sharp, turning away 66 of them en route to a .930 save percentage. Lundqvist's sterling save percentage is fourth among goalies who have as many games in net as well.
The Flyers aren't just running into a goalie who's getting hot at the right time either. Lundqvist has been stellar all season long, with reason to be confident as he and the Rangers entered the playoffs. King Henrik hasn't allowed four or more goals since Mar.28th against Calgary, and has allowed as many goals twice in his last 14 appearances.
"He's talking a lot more," said Rangers defenseman Ryan McDonagh back in January. "He's playing the puck and making good decisions when he plays the puck. That's when we know he's really feeling in the zone. It helps us as defensemen and everybody as a group feed off of his intensity."
With the Flyers' limited chances to this point, Lundqvist hasn't been asked to stand on his head, but he has done everything the Rangers have needed him to do. And while the Rangers defense has smothered the Flyers, seeing Lundqvist in net when their rare chances have come have made scoring all the more difficult.
Flyers Falling Victim To Blocked Shots
Alain Vigneault's team has given the Flyers a dose of their own medicine so to speak. That's because when Paul Holmgren traded for defenseman Andrew MacDonald, he acquired a shot-blocking machine. With 28 blocked shots in Game Three, the Rangers nearly matched Philadelphia's shots on goal totals, which was only four more (32).
"We allowed them to block 28 shots last game. That's way too many," said Flyers forward Wayne Simmonds. "That all falls on us. We gotta be able to get pucks to the net and take [Rangers goalie Henrik] Lundqvist's eyes away. They did a good job blocking shots. We're gonna have to find a way to get it by them."
Dman Dan Girardi has a goal, an assist and 4 blocks for #Rangers.

— Sam Carchidi (@BroadStBull) April 23, 2014
Rangers blocked 14 shots in the 2nd period last night. That's more than they blocked all of Game 2. I'll bet they enjoyed the day off today

— Tal Pinchevsky (@TalPinch) April 23, 2014
"Blocking shots can also have a deflating impact on the opposition, which seemed to be the case for the Flyers in Game 3. Conversely, a succession of blocked shots can be an energizer for the defensive team.

'I think it brings a lot of energy to the group when you see a big block like that, because every play matters right now,' Lundqvist said." — philly.com
That's right, blocked shots can be demoralizing, especially when great pressure, or an energetic shift is wasted with not even a shot on net to show for. When the Rangers weren't turning themselves into human backstops, their defensive pressure consistently pushed the Flyers to the outside, giving them fits when it came to getting pucks in deep.
"Offense or defense, we need to have five guys chip in," said Flyers defenseman Mark Streit. "If the (defense) jumps into the play so we have can get opportunities, then that's what we need to do, because they collapse. They have five guys collapse right in front of the crease. That's why it's open on the blue line. So we have to make sure we get those pucks and get them through."
Whether it's on the offensive or defensive side, the Flyers had no answer for Dan Girardi, who added five blocked shots to the goal and assist he scored in Game Three. Surprisingly, though, Girardi is the only Ranger who shows a minus-rating through the first three games, sporting a minus-one rating. The rest of Vigneault's team sits at either an even, or plus-rating.
Flyers Falling Victim To Frustration

Whether they're willing to admit it or not, the Flyers have allowed the Rangers to get under their skin; it's really no big secret either. New York activated career-agitator Dan Carcillo for Game Three, while dressing Derek Dorsett as well. This was not to bolster their scoring either since the Rangers have out-scored the Flyers 10-6 to this point. Of the remaining teams that have played in three playoff games, only the Minnesota Wild and Los Angeles Kings have racked up more penalty minutes in the playoffs than the Flyers' 42:00.
"I knew putting him in the lineup would bring energy," said Vigneault.
Philadelphia's growing number of penalty minutes can be attributed to their lack of discipline, caused in large part to the lack of offensive production from their biggest offensive weapons. Claude Giroux, who hadn't recorded a single shot on goal until Game Three has only an assist in the series, while Jakub Voracek and Wayne Simmonds have accounted for the only goals scored by the entire Flyers forward unit.
Philly's frustration was on full display when Voracek, who previously partook in only two career NHL fights, dropped the gloves with Carl Hagelin. Voracek has appeared to be the most frustrated of the group, finding himself in multiple scrums throughout the series, including one with the newest villain, Dan Carcillo. But Voracek's irritation extends beyond himself.
"For a Flyers team that boasted seven 20-goal scorers in the regular season, the scoring depth has run dry. Wayne Simmonds, Hartnell, Brayden Schenn, Matt Read and Vinny Lecavalier have not picked up the slack for Giroux." — philly.com
New York's stiff penalty kill unit has added to Philadelphia's ire, forcing the Flyers to go 2-for-9 on the man advantage, and 0-for-5 in Game Three. While the Flyers' power play has been better on the road in the regular season, finding a way to break through at home is a must if Craig Berube's team has any intentions of playing past the first round.
"We just didn't get enough pucks through. Too slow," said Berube. "We've got to move it quicker. It was too predictable. We'll change it up a little bit, do some things quicker and get pucks through to the net."
On the other side of the coin, the Rangers are finding key contributions from the very players they have relied on. Since being joining the Blue Shirts at the trade deadline, Martin St. Louis has appeared to finally settle in to his new surroundings. After going 14 games without a goal with his new team, St. Louis ended the regular season with the Rangers with only a goal and seven assists. In the playoffs, however, the former Lightning captain has now found the back of the net in consecutive games, while giving the Rangers five points in three games.
"Now it feels like he's part of it now," said Rangers forward Brad Richards. "It took a while to do that; sometimes it does. He's talking more, he's getting to get to know the guys more, and he's being himself off of the ice, which will translate back on it."
https://twitter.com/SirTroyfontaine/status/456964532334624768
As I predicted, when playoffs begin, #MartinSt.Louis will show that he's THE man. Forget about #RyanCallahan. @NYRangers won the deal.

— Stan Fischler (@StanFischler) April 18, 2014
St. Louis hasn't been the only Ranger giving the Flyers fits. Although he has yet to light the lamp in this series, Rick Nash has announced his presence on the ice with excellent two-way contributions, while adding four assists.
"Whether it's been a good save by Ray Emery, a bad angle shot, or just puck luck (if that's a thing you believe in), Nash falls somewhere in between the range of zero goals scored, and over 0.5 goals per game. Statistically, what Nash is doing is still very strong, even without finding the back of the net. By logical, statistical metrics though, goals is the next item in the equation for Nash. His six shots on goal per game lead all skaters in the postseason. He's been active, involved, and a major contributor to the Rangers' brief postseason stint thus far, even if he's riding a goose egg in the goals scored column." — Blue Shirt Banter
As you can see, every factor leading to the Flyers falling victim to the Rangers are intertwined. Henrik Lundqvist's outstanding save percentage in the series illustrates his elite status, as well as the stifling Rangers defense. New York's overwhelming defense has been prosperous through collapsing in front of their own net and throwing bodies in front of pucks. Their added blocked shots have frustrated the Flyers, keeping their dangerous scoring threats in check. When added up, the result is clear: the Rangers are a worthy opponent who has the Flyers falling victim to the flat out better team.