The Pittsburgh Penguins find themselves tied up at two games a piece in the Eastern Conference quarterfinals heading into Game Five. For Columbus Blue Jacket fans, it's a great feeling to be tied up at two; for Pens fans, it's a disappointment. Why? The Pens have held two goal leads twice and a three goal lead in this series, and they've lost the games in which this was the case. The two wins they have, they've come from behind. Game two was at home but the Pens fought for five periods before falling 4-3. Game four was bad, however. And it's a great snapshot of just how bad the Pens have shot themselves in the flipper.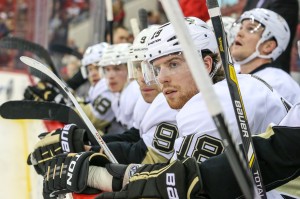 Quick Goals vs. Consistency
The Pens have scored three goals in spans of two minutes and five minutes in the previous two games. Other than that, they are simply not scoring. The goal is always to score, but if you can't do it consistently, you're making it hard to win.
In game four, the Pens went up 3-0 in the first period and then a strange goal got behind Fleury for to cut the lead to two going into the 2nd period. Later in the second period, the Blue-Jackets got a 5-3 opportunity and forced another puck behind Fleury making it 3-2 going into the third period. Marc-Andre Fleury was then absolutely incredible for his team for 19 minutes in the third period. And all of that success will never be talked about because of the bouncing puck with under a minute left that led to a wide open net for Brandon Dubinsky that tied the game at three and sent the game in overtime.
The quick goals are great because it gives you the momentum, especially if you're behind in the game. But game four is great example as why you have to balance those quick scores with consistent scoring and chances. After the quick three goals, the Pens registered just 14 shots on goal… the Jackets had 32 in that span. As bad as the tying goal looked for Fleury, the Jackets created their own luck, just as the Pens did in game three. Games three and four were very similar, just switch the outcome. The team who got the most shots won the game. A key to winning this series will be getting pucks to the net; both goalies have had their confidence shaken and the more chances you can give THEM to mess up, the better. Pens must get more shots on Bobrovsky in game five to come out ahead.
Face-Offs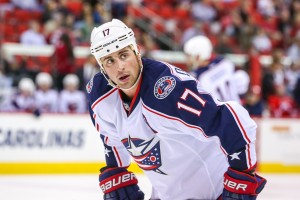 After the first period, the Jackets controlled the game. The biggest reason why was because aside from Sidney Crosby, no one in white could win a face-off and Columbus has numerous offensive zone time. Face-off wins are HUGE, especially in a series where both teams are clogging the neutral zone and not letting the opposing team have strong break-outs. The Pens scored a goal 4 seconds after a face-off win. They are huge, and being a -10 in the face-off circle is unacceptable and the Pens have to find a way to even that number up.
Winning face-offs are great and important, but when your team is in need of scoring, you can't always depend on Brooks Orpik to provide it. Sidney Crosby has to find a way to get a goal in game five. Evgeni Malkin has to find a way to get a goal in game five. Dan Bylsma has to find a way to get his stars a goal in game five. Do you get the drift? THEY NEED TO SCORE IN GAME FIVE.
When Craig Adams has more goals than Malkin and Crosby, you can't be surprised that this is a tied series. Adams is a great player, but he's not a scorer. And if Crosby is held off the board again in game five, I find it hard to believe that his team will be successful in this series.
GAME FIVE, Win or Home (Columbus actually)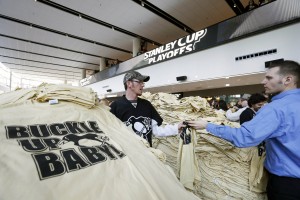 A 2-2 series tie is not uncommon and is not something to worry about, especially for the Pens who still have the home-ice advantage. But if the Pens can't find a way to win game five, they are in a world of trouble. The Columbus fans have now experienced a playoff win in their building… if Columbus pulls another upset in game five, expect Nationwide Arena to be electric and a very hard place to win a potential series clincher for the Blue Jackets in game six.
For the first time in this series, the Pens need to do themselves a favor and win game five at home rather than shooting themselves "in the flipper" and doing things the hard way. I do believe the Pens are capable of winning back to back elimination games, but I'd rather that not happen. This series is looking more and more like last year's Islanders series and the Pens won games five and six to win the series. Game five comes first.
Quit Making It Harder than it Needs to Be
Play to win. Don't turn the puck over. Get people in front of Bobrovsky and shoot the puck. And don't be fancy (Malkin). This is a series the Pens SHOULD win. But if they can't get over another collapse, regroup, and come ready to play, they are in danger of another early playoff exit. If Fleury wants to remain a Penguin and Blysma want's to keep his job, then they better motivate their goal scorers and defenseman to play a lot better from here on out.
One last note for Pens fans…
In the 12 series the Pens won in their 3 Stanley Cup runs, 6 were tied 2-2 through 4 games. Pens trailed 3-1 in another. Adversity is ok.

— Josh Yohe (@JoshYohe_PGH) April 24, 2014
And did you really want a 3-1 series lead?
Be sure to join the conversation on twitter using #THW and follow @BSmithTHW for up-to-date analysis.