The Ducks let the Stars knot the series at two a piece, dropping 4-2 in Dallas last night. It's a best-of-three with the series shifting back to Anaheim.
Some thoughts from last night's game.
———
The big news out of Anaheim was the absence of big center Ryan Getzlaf. The Ducks' regular season and playoff leading scorer with the classic 'upper-body injury'. So, we'll never know what's really bothering him, as teams are quieter than Catholic monks at playoff time.
Have to think it has something to do with the puck he took to the face in game one. The Stars weren't shy about targeting Getzlaf. Broken jaw?
Mathieu Perreault filled in as the band-aid number one center and did reasonably well. He had some slick moves in the offensive zone, especially that nice drag move around the net on Patrick Maroon's goal. Having said all that, you just can't replace Getzlaf.
The Stars captain took advantage of his counterpart's scratch and had himself a game. Jamie Benn got things rolling for the Stars with his third of the postseason off a wicked wrister from 40-feet out. He has a point in every game, and a nine-game point streak going back to the regular season.
The marquee match-up – Benn/Tyler Seguin, Getzlaf/Corey Perry – goes to the Stars' duo right now.
One of the problems for the Ducks (mentioned in my playoff preview here) is they don't have a real shutdown guy for Benn and Seguin. They can't win if they don't silence these scorers. The Stars' lack of depth is irrelevant when their stars are going; they can carry a team by themselves, as they've done all year.
Do the Ducks have another goalie controversy, similar to the Ilya Bryzgalov-J.S. Giguere conundrum in '05-'06? Back-to-back shaky games from Frederik Andersen. But do they turn to Jonas Hiller, their starter for most of the year who seemed to lose confidence down the stretch? Or do they go with the hotshot rookie John Gibson, who was lights out in his brief NHL cameo?
Boudreau should go with the veteran Hiller. He backstopped the team to the playoffs; he deserves at least one start. With Hiller being a UFA at season's end, it'll help Ducks management assess their situation with him, too. And Gibson is still pretty green and still developing – his time will come.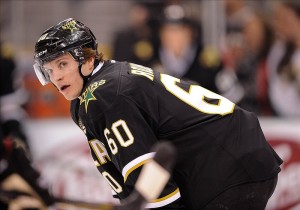 As the series goes on, the effect of the Stars' third line – Cody Eakin, Ryan Garbutt, and Antoine Roussel – will become more and more of a factor. They've been chipping in goals, chirping the bench, and Roussel is already public enemy #1 after four games. Surprised it took him that long.
He's already drawn Getzlaf into a matching shoving minor last game, and baited Perry into a fight late last night. The Ducks' best goal scorer out of the game for five? Job done.
Patrik Nemeth couldn't finish the game for the Stars. Not a significant loss when Alex Gologoski can play over 30 minutes though.
Is it time for Boudreau to give Selanne some more ice time? The vet was out for last night's game, and Selanne has made it no secret he wants a bigger role. This is the perfect time to throw out the fired up Finn to see if he can recapture some Sochi magic. Boudreau has nothing to lose as the Ducks' secondary scoring is non-existent.
Anaheim has a measly two power play goals in the series, both coming in the first game.