With the revolving door of NHL goaltenders last season, ranking the top 75 certainly wasn't easy. While the best goalies in the game are still the best, some of those secondary backstops are worked their way up the list.
Even then, we have to take into consideration injuries to starting goaltenders throughout the season. Who fills in for them? Which third string goalie might steal the show this coming season? An 82-game season can be strenuous on players and goalies. While players are expected to play all 82 games, the top-end goaltenders tend to play upwards of 60 games. So, who should you be targeting for the other 22 games?
Now, before we go any further, keep in mind these are simple projections. While some league take into consideration secondary stats including saves and save percentage, this list takes a more generic look at the top 75 goaltenders. Some of them are young and some may be out of place according to your projections heading into the season. But these are personal rankings and might not line up with the way you're thinking for your fantasy club.
I am, however, interested in your sleeper picks and any of your feedback. If you have any fantasy topics or questions moving forward, please don't hesitate to find me on Twitter at @AndrewGForbes or email me at andrew@thehockeywriters.com.
With that in mind, here's a look at the top 75 goaltenders heading into 2016-17.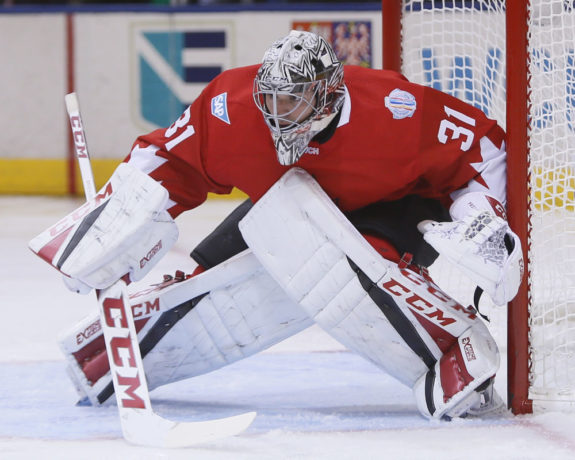 Top 10
1) Carey Price, Montreal Canadiens
2) Braden Holtby, Washington Capitals
3) Ben Bishop, Tampa Bay Lightning
4) Jonathan Quick, Los Angeles Kings
5) Martin Jones, San Jose Sharks
6) Corey Crawford, Chicago Blackhawks
7) Cory Schneider, New Jersey Devils
8) John Gibson, Anaheim Ducks
9) Jake Allen, St. Louis Blues
10) Pekka Rinne, Nashville Predators
11 to 25
11) Tuukka Rask, Boston Bruins
12) Brian Elliott, Calgary Flames
**13) Matt Murray, Pittsburgh Penguins (recovering from a broken hand)
14) Henrik Lundqvist, New York Rangers
15) Petr Mrazek, Detroit Red Wings
16) Jaroslav Halak, New York Islanders
17) Marc-Andre Fleury, Pittsburgh Penguins
18) Roberto Luongo, Florida Panthers
19) Frederik Andersen, Toronto Maple Leafs
20) Craig Anderson, Ottawa Senators
21) Sergei Bobrovsky, Columbus Blue Jackets
22) Robin Lehner, Buffalo Sabres
23) Cam Talbot, Edmonton Oilers
24) Mike Smith, Arizona Coyotes
25) Antti Niemi, Dallas Stars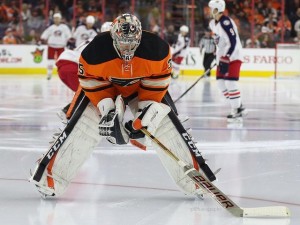 26 to 50
26) Steve Mason, Philadelphia Flyers
27) Semyon Varlamov, Colorado Avalanche
28) Devan Dubnyk, Minnesota Wild
29) Ryan Miller, Vancouver Canucks
30) Cam Ward, Carolina Hurricanes
31) Kari Lehtonen, Dallas Stars
32) Jimmy Howard, Detroit Red Wings
33) Andrei Vasilevskiy, Tampa Bay Lightning
34) Connor Hellebuyck, Winnipeg Jets
35) Eddie Lack, Carolina Hurricanes
36) Thomas Greiss, New York Islanders
37) James Reimer, Florida Panthers
38) Carter Hutton, St. Louis Blues
39) Michal Neuvirth, Philadelphia Flyers
40) Calvin Pickard, Colorado Avalanche
41) Darcy Kuemper, Minnesota Wild
42) Antti Raanta, New York Rangers
43) Michael Hutchinson, Winnipeg Jets
44) Anton Khudobin, Boston Bruins
45) Louis Domingue, Arizona Coyotes
46) Jonathan Bernier, Anaheim Ducks
47) Jacob Markstrom, Vancouver Canucks
48) Marek Mazanec, Nashville Predators
49) Chad Johnson, Calgary Flames
50) Ondrej Pavelec, Winnipeg Jets
51 to 75
51) Al Montoya, Montreal Canadiens
52) Joonas Korpisalo, Columbus Blue Jackets
53) Keith Kinkaid, New Jersey Devils
54) Jhonas Enroth, Toronto Maple Leafs
55) Jeff Zatkoff, Los Angeles Kings
56) Andrew Hammond, Ottawa Senators
57) Scott Darling, Chicago Blackhawks
58) Jonas Gustavsson, Edmonton Oilers
59) Linus Ullmark, Buffalo Sabres
60) Philipp Grubauer, Washington Capitals
61) Anton Forsberg, Columbus Blue Jackets
62) Anders Nilsson, Buffalo Sabres
63) Alex Stalock, Minnesota Wild
64) Mike Condon, Pittsburgh Penguins
65) Curtis McElhinney, Columbus Blue Jackets
66) Reto Berra, Florida Panthers
67) Scott Wedgewood, New Jersey Devils
68) Kristers Gudlevskis, Tampa Bay Lightning
69) Troy Grosenick, San Jose Sharks
70) Richard Bachman, Vancouver Canucks
71) Garret Sparks, Toronto Maple Leafs
72) Anthony Stolarz, Philadelphia Flyers
73) Peter Budaj, Los Angeles Kings
74) Jean-Francois Berube, New York Islanders
**75) Anders Lindback, Unrestricted Free Agent
Young Goalies for the Future
1) MacKenzie Blackwood, New Jersey Devils
2) Alex Nedeljkovic, Carolina Hurricanes
3) Jake Paterson, Detroit Red Wings
4) Mantas Armalis, San Jose Sharks
5) Eric Comrie, Winnipeg Jets
6) Matthew O'Connor, Ottawa Senators
7) Carter Hart, Philadelphia Flyers
If you'd like to discuss this list more or talk fantasy hockey, leave your thoughts and questions below in the comments section or find me on Twitter.