The New York Islanders lost core veterans Kyle Okposo, Matt Martin and Frans Nielsen this offseason and while they didn't land Steven Stamkos or even Jimmy Vesey to replace the lost leadership or star power, they picked up three capable veteran hands in Jason Chimera, Andrew Ladd, and former Islander PA Parenteau.
While the Chimera deal had its detractors due to his age (37) and lack of physicality compared to Martin and Ladd's contract caused controversy for its length, few argued or complained about bringing back Parenteau.
"(Isles General Manager) Garth Snow got him for a great price ($1.25 million); ironically the same salary he had in his last season of his first stint with the Isles (2011-12)," Islanders statistician Eric Hornick told The Hockey Writers. "He went 18-49-67 playing mainly with (Islanders captain John) Tavares that season and parlayed that into a big free-agent deal; the Isles (and PA) are certainly hopeful that they can recapture some of that magic."
Last Season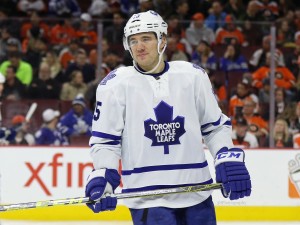 While 41 points won't scream wonderful for many, Parenteau had an excellent season with Toronto in 2016. Scoring 20-goals on a Maple Leafs team that finished with just 29 wins, Parenteau was one of their only bright spots. Parenteau proved he was a solid defensive player too, leading the team with an even rating, no easy task considering most of the players on the team had a negative plus/minus rating. The fact that 30 of his 41 points came at even strength means he was working hard every night and not just cashing in with the man-advantage. Add in seven power play goals and 24 points in the team's 29 wins and it's easy to see what a major part of Toronto's success Parenteau was. But what does that mean for him this season for the Islanders?
Expectations
Simply put, if Parenteau can stay healthy, there's no reason why he cannot score 15-20 goals and add 30-40 assists, making him a steal for the Islanders in free agency this offseason. With those numbers, he may even end the 2016-17 season with more points than Ladd and the departed Nielsen and Okposo. It all comes down to how much time he plays with John Tavares. Although Tavares is known as a sniper to many, Parenteau, who flourished as a playmaker his first time with the team, will be able to return to his roots and pass the puck to not only Tavares but Ladd as well. The end result could be a special one.
If not penciled in with Tavares, Parenteau could be put with another player looking to prove something, Ryan Strome. While still in contract talks with the Isles, Strome, much like Tavares, has an excellent shot and if someone like Parenteau can get him the puck more, Strome's miserable 2015-16 season will be an aberration. In that second or third line role, Parenteau seems a safe bet for 10-15 goals and 25-30 assists.
Regardless of who he shares the ice with, Parenteau will be expected to produce at a point total at least similar to his comeback season with the Leafs last year. If he doesn't, the Isles/PA comeback tour won't last past the trading deadline, where talented players the likes of Parenteau are always in demand.
Over the past ten years as a working journalist, Patrick Hickey Jr. has covered the New York Islanders, New York Rangers and New Jersey Devils, as well as the Brooklyn Aces of the former EPHL, contributing pieces and/or holding Editorial positions at NBC, New York Sports Day, NY Sportscene Magazine and the New York Times. During that time, he has interviewed NHL stars the likes of Brendan Shanahan, Bernie Nicholls, Bob Probert, Martin Brodeur and Zach Parise. He is also the first winner of the New York Islanders Blog of the Year Award, for his work on TheDriveForFive.com in 2008.