Edmonton Oilers forward Connor McDavid might be just 19 years old and about to enter his second NHL season, but he is obviously mature beyond his years. When a player is seen as exceptional, like McDavid is projected to be, that carries over to off the ice as well. His poise in interviews, and his stoic responses are all part-in-parcel of being the next big thing. McDavid has been groomed and prepared for life in the spotlight, and so far, he's handling it well. But being the league's hope for a mega-star isn't the only pressure that he faces. McDavid is expected to lead the Oilers back to respectability, a task that no one has been able to do since 2006.
McDavid Expects A Lot From Himself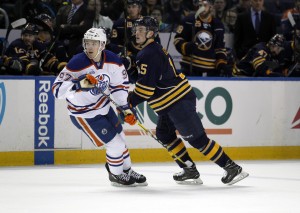 In an interview at Biosteel Camp, McDavid had plenty to say about his team, and himself, in regards to the upcoming year. He takes nothing for granted as he prepares for his sophomore season, and he addressed the need to adapt his game to the NHL level. McDavid will suit up for Team North America at the World Cup of Hockey, and it will likely serve as a good tune-up for Oilers camp in the fall.
"I just want to go in and have a good (training) camp and show everyone that I'm not some 18-year-old kid anymore." [National Post]
McDavid wants to prove himself, and that should be music to the ears of Oiler fans. His rookie campaign was cut short due to injury (he scored 48 points in 45 games), but now that he's fully healthy, there's no estimating what kind of damage McDavid might inflict on opposing teams. In terms of young stars such as himself, there is a precedent for improved second seasons. After notching a whopping 102 points in his first year, Sidney Crosby followed it up with 120 points, won the Art Ross, and the Hart Trophy. Steven Stamkos infamously took a huge jump in points his second season, going to 95 from 46.
But beware the dreaded sophomore slump, as both Alex Ovechkin and Patrick Kane saw slight dips in their second year production. However, should McDavid stay healthy, there's really no reason why he wouldn't eclipse his totals in a big way. I'm always one to temper expectations, because anything can happen. Is McDavid a sure-thing to have a big year? There's every reason to believe he will. There's also good reason to believe that Connor will be the next Oiler to wear the "C", though we don't know when that will officially happen.
McDavid doesn't want to assume he has the 'C' earned. Instead, he'll let us reporters do the guess-work while he stays on message. Not that he wouldn't be psyched. "It's the biggest honor," he said. "Definitely an accomplishment that I would be the most proud of." [The Hockey News]
How About Expectations for the Oilers?
Connor McDavid is one player, and we all know it takes more than just one player to have team success. But even the slightest jump in the standings would be an improvement for this Oiler team, a squad that has seen its share of failure over the past 10 years. The team finally put its money where its mouth is, and traded away one of their young stars in order to try and fill another roster hole. The Taylor Hall trade, one of much debate, is over and done with, and considering the reaction to the return, Adam Larsson has nowhere to go but up.
"We're so much bigger, so much stronger. Of course losing Taylor is a big loss, but we added one of the toughest guys in the league, if not the toughest guy in the league (in Lucic). Then you add a defenseman in Larsson who is pretty underrated. You only know how good he is when you play against him. I've played against him a few times and it's not very fun, so I'm definitely glad to have him on my team." [THN]
It's clear that the addition of Milan Lucic is seen as a big one (no pun intended), and he'll hopefully be a part of lifting the Oilers out of the league's basement. The team looks different in some ways, though unfortunately the same in others. Despite the Larsson acquisition, there are still holes on the blueline, in particular someone to QB the powerplay and move the puck efficiently. Could there be another move to be made? Possibly, but don't be surprised if they head into the season as is.
I think the Oilers got better, but I don't think they improved enough to be a playoff team. That said, games are played on the ice, and who knows exactly how they will perform. The Pacific division is tough, and in addition to the California teams, I could see Calgary being a competitor for a playoff spot. But, I believe that the Oilers will make a jump in the standings. In other words, don't expect a lottery top-three draft pick in 2017. For McDavid and his boys in orange and blue, it's time to turn a new leaf. Whether it will turn into immediate success, we'll have to wait and see.
Marcy, a former hockey player, is a hockey correspondent on CTV News and TSN radio. She began her career as a Sports Journalist in 2009 and has been part of The Hockey Writers since 2010, where she is currently a senior writer and editor.