The Kontinental Hockey League (KHL) is home to some of the best talents outside of North America. With their recent expansion across Europe and into Asia, the league is arguably the biggest hockey league in the world outside of the NHL. In what's considered the second best hockey league in the world, several former Edmonton Oilers are making a name for themselves.
Whether they were journeymen, prospects or players looking for a change of scenery, the list of former Oilers in the KHL would make a very talented core that could challenge for the Gagarin Cup.
PLAYER
TEAM
GP

GP

G

GAA

PTS

SV%

Linus Omark (F)

Salavat Yulaev Ufa

55

14

56

Gilbert Brule (F)

Neftekhimik

50

17

38

Teemu Hartikainen (F)

Salavat Yulaev Ufa

46

19

36

Rob Klinkhammer (F)

Dinamo Minsk

44

18

34

Jesse Joensuu (F)

Jokerit

48

14

27

Bogdan Yakimov (F)

Neftekhimik

47

3

11

Nikita Nikitin (D)

Avangard Omsk

45

3

6

Ben Scrivens (G)

Dinamo Minsk

52

2.27

0.919

Viktor Fasth (G)

CSKA Moskva

21

1.69

0.929
Linus Omark is a top-10 scorer in the league and powers one of the most dynamic offenses in the league alongside Teemu Hartikainen. Gilbert Brule is a top-30 scorer and is teammates with Bogdan Yakimov. Rob Klinkhammer and Ben Scrivens are significant pieces for a darkhorse Dinamo Minsk team. Then there's Jesse Joensuu (Jokerit), Nikita Nikitin (CSKA Moskva) and Viktor Fasth (CSKA Moskva), who have found themselves meaningful roles for their respective clubs.
This isn't about saying, 'Player X' is excelling in the KHL, and the Oilers need to sign them – not even close. Here's a list of a few former Oilers who are doing quite well for themselves and where you can find them these days:
---
Gilbert Brule
http://gty.im/110490486
Neftekhimik Nizhnekamsk | Top-line Forward
When the 2005 NHL Draft was nearing, Brule was one of the biggest names around. The Columbus Blue Jackets selected him sixth overall, five picks behind Sidney Crosby (Pittsburgh – first overall) and just one pick after Carey Price (Montreal – fifth overall).
Injuries, a poorly handled development process, and size worked against Brule ever living up to his draft status. Aaron Portzline (Columbus Dispatch) wrote about that sixth overall pick by the Jackets, and how they drafted Brule over Anze Kopitar.
| | | | | |
| --- | --- | --- | --- | --- |
| PLAYER | TEAM | GP | G | PTS |
| Gilbert Brule | Neftekhimik | 50 | 17 | 38 |
The Jackets eventually traded Brule to the Oilers in 2008 for another former sixth overall pick in Raffi Tores. It was in Edmonton that Brule had the best year of his NHL career, scoring 17 goals and 37 points in 2009-10. After four years in the Oilers organization, Brule was claimed off waivers by Arizona. He put up 14 points in 33 games, but then signed with ZSC Lions in Switzerland for the 2012-13 season and has spent the last three seasons in the KHL.
Brule put up 95 points in 299 NHL games but now finds himself playing for Neftekhimik and is a top-30 scorer in the KHL. It was at one of his lowest points near the end of his NHL career where Brule supposedly was tired of living out of a suitcase, hotels and was going to quit hockey to become a firefighter. In what's turned out to be a feel-good story, life has turned around, and Brule has found a new love for the game.
---
Viktor Fasth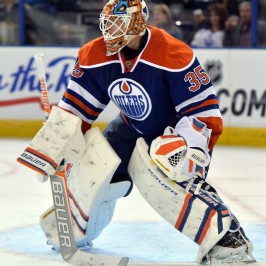 CSKA Moskva | Backup Goaltender
Viktor Fasth, 34, played parts of two seasons with the Oilers mainly as a backup to Ben Scrivens. The Swedish netminder was high on the organization's radar before he signed with the Anaheim Ducks in 2012-13. Edmonton was close to signing Fasth a few years prior, as he was one of the more heralded goaltenders in Europe. 
Nonetheless, the Oilers acquired Fasth after two seasons with the Ducks that saw both Frederik Andersen and John Gibson emerging as NHL regulars. The Oilers traded a 2014 fifth-round pick (D Matt Berkovitz) and a 2015 third-round pick (LW Dennis Yan) at the 2014 NHL Trade Deadline.
| | | | | |
| --- | --- | --- | --- | --- |
| PLAYER | TEAM | GP | GAA | SV% |
| Viktor Fasth | CSKA Moskva | 21 | 1.69 | 0.929 |
Fasth started well but in 2014-15 struggled with consistency and injuries. He eventually lost the confidence of the coaching staff, and Edmonton chose to let Fasth become an unrestricted free agent (UFA). He's since played the last two seasons with CSKA Moskva, where he's been the backup to New York Islanders prospect Ilya Sorokin.
It's as if Fasth himself left a lot to be desired. A large part of that might've been the fact he started his NHL career as a 30-year-old. Would Fasth have had more success if he came over three to four years earlier as as a 26-year-old and allowed himself some time to learn the North American style and smaller ice surfaces?
---
Teemu Hartikainen
Salavat Yulaev Ufa | Top Line Forward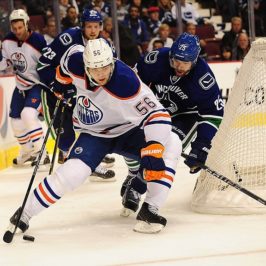 In what became a theme with a majority of Oilers European-born prospects during their rebuild, Hartikainen was unsatisfied with his usage in North America. The now 26-year-old had a favorable 6-foot-1, 230-pound NHL-ready frame, could play all three forward positions and was active along the boards.
The Oilers drafted Hartikainen in the 2008 sixth round, and he'd stay in Finland for two seasons before coming to North America. In three seasons with the Oilers, Hartikainen scored 13 points in 52 NHL games. He was a decent offensive player in the AHL, scoring 111 points in 164 games.
| | | | | |
| --- | --- | --- | --- | --- |
| PLAYER | TEAM | GP | G | PTS |
| Teemu Hartikainen | Salavat Yulaev Ufa | 46 | 19 | 36 |
Hartikainen, similar to another Oilers alumnus on this list, wanted a guaranteed role in the NHL according to reports. When his entry-level contract (ELC) expired in 2013, Hartikainen chose to sign with Salavat Yulaev Ufa in the KHL.
Hartikainen currently plays alongside another former Oiler, Linus Omark. The two play on the top line of a team that currently has the third most goals scored (161) in the KHL. Still just 26 years old, Hartikainen could potentially make another run in North America. It won't be the top-line forward role he has in the KHL, but likely a spot in the bottom-six on an NHL roster.
---
Jesse Joensuu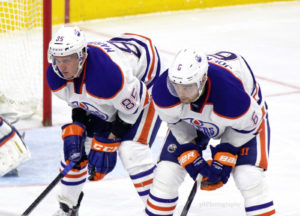 Jokerit | Top-six Forward
Joensuu, 29, is a former 2006 second-round pick of the New York Islanders that never materialized into the top-nine power forward he was projected to be. At 6-feet-4 and 210-pounds, Joensuu was an imposing figure with a strong net-front presence. After six seasons in the Islanders organization, the team chose not to qualify him when he became a restricted free agent (RFA) – insert the Edmonton Oilers.
| | | | | |
| --- | --- | --- | --- | --- |
| PLAYER | TEAM | GP | G | PTS |
| Jesse Joensuu | Jokerit | 48 | 14 | 27 |
The Oilers believed Joensuu was still a salvageable prospect and offered him a two-year deal during the summer of 2013. He mainly played on the Oilers' fourth line and in two seasons scored just five goals and nine points in 62 NHL games. Edmonton waived him in December 2014 and eventually came to terms to transfer him to SC Bern in Switzerland.
Joensuu has spent the last two seasons playing for Jokerit as a top-six forward and is third in team scoring with 27 points in 48 games. He's also serving as an alternate captain.
---
Rob Klinkhammer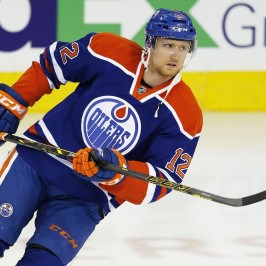 Dinamo Minsk | Top-line Forward
Klinkhammer, 30, wasn't a household name, nor was he once projected to be a key piece in the Oilers' rebuilding years. That said, Klinkhammer has found a home in the KHL and is one of the better players for Dinamo Minsk.
Other members of the team include several former NHLers not limited to just Matt Ellison, Marc-Andre Gragnani, and Sergei Kostitsyn. Another former Oilers alumnus, Ben Scrivens, is the starting goaltender. The former Oilers duo currently has the team sitting in sixth in the Western Conference.
| | | | | |
| --- | --- | --- | --- | --- |
| PLAYER | TEAM | GP | G | PTS |
| Rob Klinkhammer | Dinamo Minsk | 44 | 18 | 34 |
At 6-foot-3 and 215 pounds, Klinkhammer was an impressive player from a size perspective. He was a tweener between the Oilers' fourth line and playing for their AHL affiliate in Bakersfield. An undrafted NHL journeyman, Klinkhammer bounced around between Chicago, Ottawa, Arizona, Pittsburgh and eventually spent parts of two seasons in Edmonton. In 54 games as an Oiler, Klinkhammer scored just four points.
He's since found a home for Dinamo Minsk and has 34 points in 44 games. If the team can qualify for the playoffs, Klinkhammer will see a role reversal, as he's suddenly become an integral piece for his team as a leading scorer. He's also serving as an alternate captain for his team.
---
Linus Omark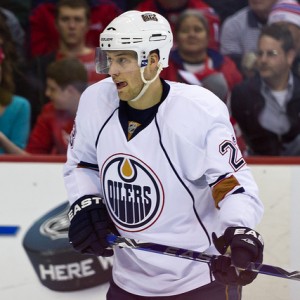 Salavat Yulaev Ufa | Top-line Forward
Omark, 30, was a lightning rod for controversy during his time in the NHL. The former 2007 fourth-round pick was arguably one of the more creative puck handlers in Europe and a YouTube sensation.
After three years in Europe, Omark joined the Oilers for 2010-11 and put up 27 points in 51 games. Edmonton believed they'd have a key piece to their future with a creative playmaker in Omark. Unfortunately, the divide came down to how Omark would develop in North America.
| | | | | |
| --- | --- | --- | --- | --- |
| PLAYER | TEAM | GP | G | PTS |
| Linus Omark | Salavat Yulaev Ufa | 55 | 14 | 56 |
The Oilers wanted Omark to split time between their AHL affiliate and their NHL club. The player and agent were adamant in Omark maintaining full-time duties on an NHL roster. The dispute went public, and Omark eventually asked for a trade in 2014. He further pressed the issue when he signed with Zug in Switzerland instead of signing the Oilers' qualifying offer.
Edmonton eventually traded him to the Buffalo Sabres for a conditional sixth-round pick, based on how many NHL games Omark would play for the Sabres. Omark would score just two points in 13 games with the Sabres and returned to Europe. In 79 NHL games, Omark put up 32 points and left a lot to be desired, similar to others on this list. He's since turned into an offensive dynamo and is a top-10 scorer in the KHL playing for Salavat Yulaev Ufa on a line with another former Oiler in Hartikainen.
---
Ben Scrivens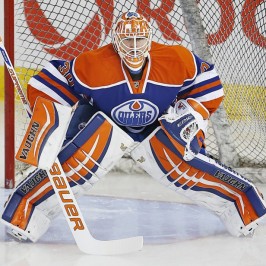 Dinamo Minsk | Starting Goaltender
Scrivens, 30, was once the darling of Edmonton. He captured the spirit and frustration of what it meant to cheer for the highs and lows in Oil Country. When the Oilers acquired Scrivens from the Los Angeles Kings in January 2014, Edmonton was getting a hot goaltender who stuck behind a bonafide starter in Jonathan Quick.
The Alberta-native had played in 19 games for the Kings that season and had a sparkling 1.97 GAA and a .931 SV%. Having grown up cheering for the Oilers, going undrafted and getting a chance to be the starting goaltender for his hometown team was a tantalizing storyline.
| | | | | |
| --- | --- | --- | --- | --- |
| PLAYER | TEAM | GP | GAA | SV% |
| Ben Scrivens | Dinamo Minsk | 52 | 2.27 | 0.919 |
Unfortunately, the Oilers were in the midst of their rebuild, were defensively irresponsible and left Scrivens out to dry more often than not. Scrivens never got the support the needed, and the bottom fell out. After posting a 3.16 GAA and a .890 SV% through 57 games, Scrivens was the starting goaltender of the worst goaltending duo in the league.
Peter Chiarelli went out and acquired Anders Nilsson, effectively pushing Scrivens into the third-string spot. He started that year in the AHL. Scrivens was eventually traded to the Montreal Canadiens for Zack Kassian and is now the starting goaltender for Dinamo Minsk, and even played in the Spengler Cup.
A deep playoff drive could put Scrivens back on the NHL radar for teams looking for a veteran backup.