While the focus now is on the Detroit Red Wings making the playoffs for a 26th consecutive season, general manager Ken Holland is going to have his hands full this summer. The Red Wings are going to have a busy offseason, with 10 restricted or unrestricted free agents heading into the 2017-18 season.
Though names like Kevin Shattenkirk, Alex Radulov and T.J. Oshie are enticing, they are likely to attract multiple suitors, and Holland will have to decide how to approach his own pending free agents first. In this week's edition of The Grind Line, we look at the Red Wings' restricted and unrestricted free agents, and discuss which ones the team should prioritize.
Tom Mitsos:
1. Andreas Athanasiou
2. Tomas Tatar
3. Nick Jensen
Andreas Athanasiou, a restricted free agent, has to be priority No. 1. The 22-year-old, who has 16 points in 37 games, has been the team's most efficient goal scorer. According to Corsica, Athanasiou leads the team in five-on-five goals per 60 minutes (1.68) and is second behind Thomas Vanek in points per 60 (2.45) and primary points per 60 (2.14). Not bad for a player who is averaging about 10.5 minutes of five on five ice time.
Jeff Blashill has been hesitant to loosen the leash on Athanasiou, citing defensive breakdowns, but he's been one of the bright spots on offense for a team that ranks 25th in the league in goals per game (2.4).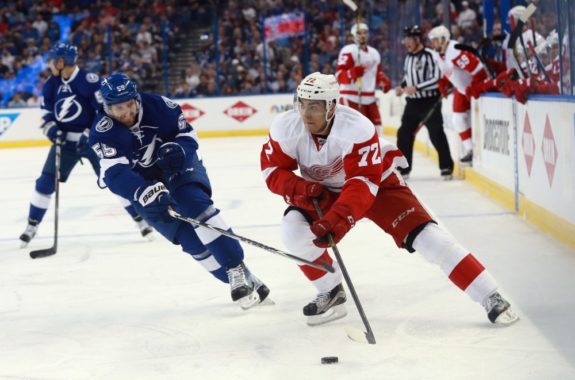 Tomas Tatar, a restricted free agent, is second on the Red Wings' list. After scoring 69 goals and 71 assists in his first three full seasons, the 26-year-old is having quite the down year, with 12 goals and 14 assists in 52 games.
I think Tatar still is a valuable player, but he might be more of a second- or third-line player rather than the first-line player many thought he would be when he scored 29 goals during the 2014-15 season.
Over the past three seasons, Tatar is third in goals per 60 (0.96) behind Athanasiou and Vanek and is leading the team in shot attempts for percentage (55.45) since Pavel Datsyuk, Teemu Pulkkinen and Jakub Kindl no longer are on the team.
Finally, Jensen, another restricted free agent, is No. 3. Jensen has shown some promise in just 19 games with the Red Wings. He is fourth on the team in shot attempts for percentage (49.23) on a team that has been outshot 32 of 52 games (62 percent). Nineteen games is a small sample size, but it's a good sign moving forward.
Jensen also has contributed offensively, with one goal and four assists, which is just as many points as Niklas Kronwall, who has played 11 more games.
Brandon Peleshok:
1. Andreas Athanasiou
2. Tomas Tatar
3. Thomas Vanek
While Andreas Athanasiou is unlikely to cash in on his next contract with the Red Wings, he is arguably the team's most important signing this summer. Despite skating an average of 12:52 per game this season, the 22-year-old forward has capitalized on his opportunities, and wowed Red Wings fans with his exciting play. The 16 points he has accumulated through 37 games may not look impressive, but Athanasiou leads the Red Wings in five-on-five goals per 60 minutes (1.68), according to Corsica.
Considering the number of underperforming players with inflated contracts on the books, it is crucial that the Red Wings hang on to the promising, young talent they have on the roster. Athanasiou provides an offensive spark for the Red Wings at a low cap hit. While he is likely in line for a bit of a raise, his cap hit should fall somewhere within the range of $1.2-1.8 million per year.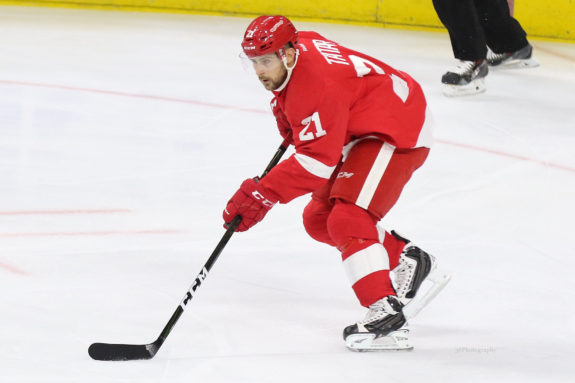 Despite some inconsistent play with the Wings this season, Tatar is Holland's second-most important signing this offseason. Through 52 games, the 26-year-old has accumulated 26 points, placing him fourth overall on the team. With the Slovakian-born forward entering his prime, the Red Wings are likely looking to sign him to a multi-year deal.
Tatar's last contract with the team was a three-year deal worth an annual average value of $2.750 million. Holland signed Gustav Nyquist to a four-year deal worth an annual average value of $4.750 million heading into the 2015-16 season, and it's reasonable to assume Tatar will receive something similar.
Finally, Vanek ranks third on Holland's to-do list heading into next season, but only if they can re-sign him at a manageable term and cap hit. In a previous article, I suggested the 32-year-old winger could fetch $4-5 million this offseason, and that the Wings are probably better off trading him for a draft pick or two. While I still feel Holland should move him at the trade deadline, it is possible that Vanek could sign with the team once again. Considering the number of veteran Red Wings on multi-year deals, it is unlikely the team can pay Vanek what he is worth. If Holland can manage to knock the cap hit down, and limit the term on the deal, they should look to bring Vanek back again next season.
Tony Wolak:
1. Tomas Tatar
2. Andreas Athanasiou
3. Thomas Vanek
Of the unrestricted free agents set to hit the market this summer, Shattenkirk is the most attractive for the Red Wings. The 28-year-old defenseman could seamlessly slot into a first pairing role and man the power play in Detroit. However, before the team explores free agency, they have a number of pending free agents to address from their own roster.
First and foremost, the Detroit Red Wings need to lock up Tomas Tatar. The Slovakian winger has a lethal shot and is capable of scoring 30 goals per season when utilized correctly. Holland will probably want to sign his goal-scoring winger to a long-term contract – similar to that of Nyquist and Justin Abdelkader. A five-year, $25 million contract would be a fair estimate for Tatar's next deal.
After Tatar is re-signed, Detroit's next priority would become fellow restricted free agent Andreas Athanasiou. With a 2016-17 cap hit of $628,333, the 22-year-old should expect a bridge deal with an AAV around $2 million per season. Athanasiou—along with Dylan Larkin and Anthony Mantha—represents the future up front. Holland will make sure his speedy forward is signed to an appropriate deal, with Athanasiou still a restricted free agent upon the contract's conclusion.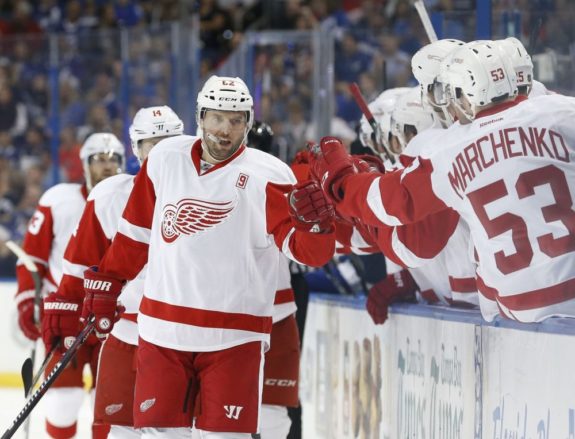 Signing Thomas Vanek to another one-year deal would a solid bet for Detroit, though. Whether or not the Red Wings move Vanek at the 2017 NHL Trade Deadline, they should consider re-signing the veteran winger in the offseason. Vanek's production, chemistry with Athanasiou, and his on-ice leadership warrant a one-year, $3 million deal with the Red Wings.