Plenty of free agents will be looking for new contracts come the summer of 2017. The expansion draft and the preceding moves will take centre stage this offseason. Consequently, free agency will take a back seat with many of the big moves being completed. Similar to the trade deadline slowly losing its appeal, free agency now rarely offers elite talent worthy of headlines. Brent Burns was the biggest name available, but the San Jose Sharks gave him an extension in November. Teams may try to sign their pending unrestricted free agents prior to July 1. That being said, here is our take on the top NHL free agents likely available this summer.
As the NHL free agency period begins annually on Canada Day, it is the perfect accompaniment to the national celebration. Teams and players both can celebrate earning what they feel they deserve. Here are 15 of the top available pending unrestricted free agents and where they may end up.
15. Thomas Vanek – LW – 33
Previous team

Florida Panthers

2016-17 cap hit

$2.6 million

2016-17 stats

68 GP, 17 G, 31 A, 48 P, -5

Prediction

$6 million, two years, Florida Panthers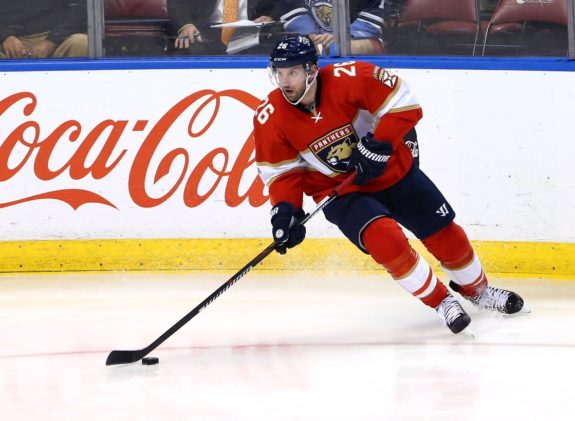 Vanek is a player with plenty of talent but he has not been able to maximize its use consistently. Consequently, Vanek has become quite the journeyman since playing most of nine seasons in Buffalo. The Panthers felt that his addition would make them playoff contenders when they traded for him at the deadline. Although they missed the playoffs, they may feel that they can bounce back next season and that Vanek could support that. He had somewhat of a bounceback season, so the Panthers hope that he is trending back up.
14. Karl Alzner – D – 28
Previous team

Washington Capitals

2016-17 cap hit

$2.8 million

2016-17 stats

82 GP, 3 G, 10 A, 13 P, +23

Prediction

$40 million, seven years, Toronto Maple Leafs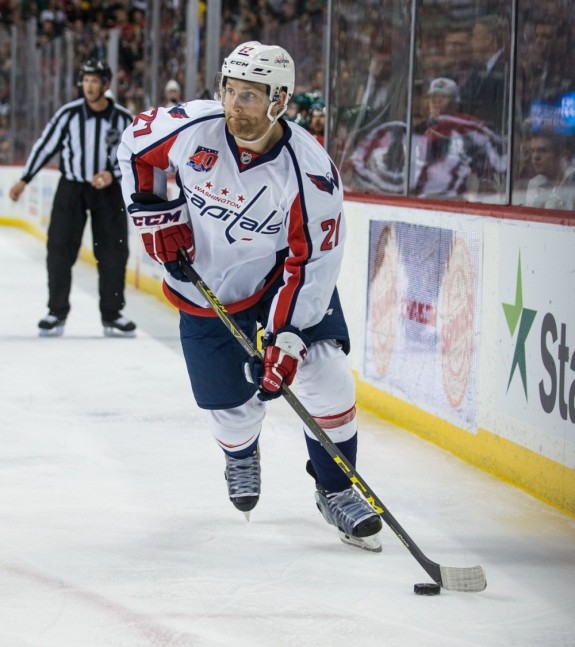 Alzner is a young veteran defenceman still playing in his prime. The Leafs have sped up their rebuilding process and look to be done with it sooner than expectations indicated. They're looking to improve their defence and Alzner has been consistently solid defensively behind a high-flying offence. With a similar style of play to his current team, the Leafs could offer the pending unrestricted free agent a similar comfort to what he had in Washington. As the two teams currently battle each other in the first round, the Leafs are understanding Alzner's importance to a team.
13. Dmitry Kulikov – D – 26
Previous team

Buffalo Sabres

2016-17 cap hit

$4.333 million

2016-17 stats

47 GP, 2 G, 3 A, 5 P, -26

Prediction

$2 million, one year, Philadelphia Flyers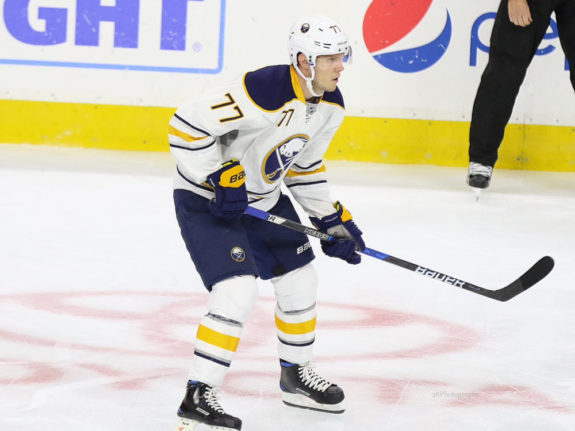 There's no use hiding it; Kulikov had a brutal year with the underwhelming Sabres. Young for a free agent and a defenceman, he has plenty of room for improvement and reaching his potential. With turmoil with the Sabres and their offseason trade for him not working out, he may look to sign elsewhere. With his situation, he may be a better fit for a younger team willing to put a long-term investment in someone with an inconsistent career. Alternatively, Kulikov may look to sign a short-term deal to improve his stock to cash in on later.
12. Patrick Eaves – RW – 32
Previous team

Anaheim Ducks

2016-17 cap hit

$1 million

2016-17 stats

79 GP, 32 G, 19 A, 51 P, -2

Prediction

$24 million, five years, Dallas Stars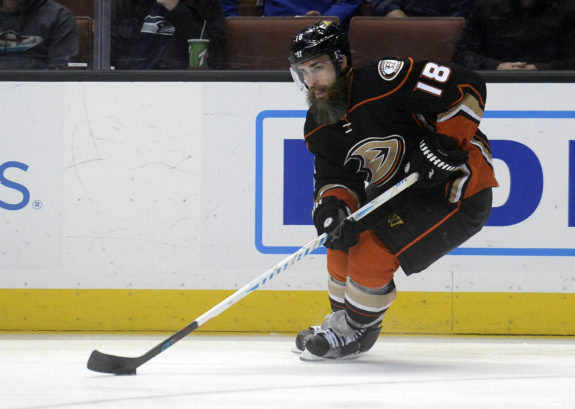 At the beginning of the season, very few foresaw Eaves being such an attractive trade piece at the deadline. He became one thanks to his low cap hit and exploding with 21 goals in 59 games. He continued with a strong pace after changing teams, scoring 11 goals in 20 games. With a career year, Eaves could sign his biggest contract yet despite his age. The question is whether teams feel he is trending in the right direction or if his season was a one-off. He may aim to sign with a Western Conference team trending upwards or already with Cup aspirations.
11. Patrick Sharp – LW – 35
Previous team

Dallas Stars

2016-17 cap hit

$5.9 million

2016-17 stats

48 GP, 8 G, 10 A, 18 P, -22

Prediction

$3.8 million, one year, Montreal Canadiens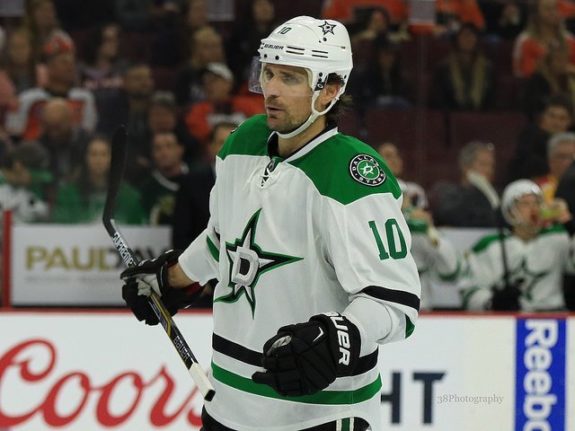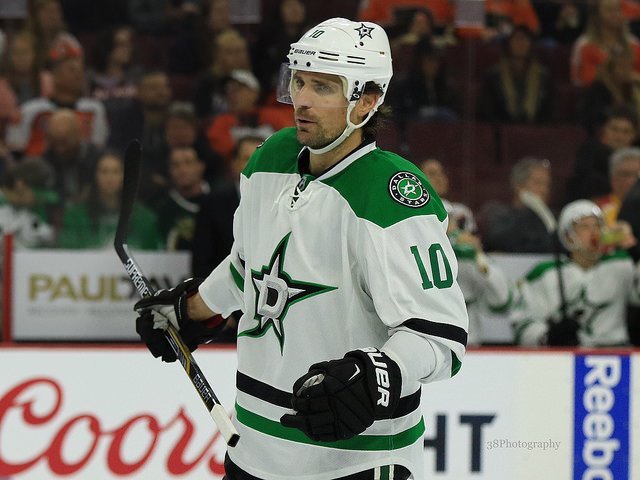 Another player who had a difficult season, Sharp still has some very desirable qualities that teams seek. He has experience from winning a Stanley Cup and an Olympic gold medal. Injuries played a big part in the steep drop in goals and he underwent season-ending surgery. If being healthy can bring those totals back him, Sharp could be a valuable free agent commodity. A team with Stanley Cup aspirations but need aid in scoring could be a good short-term fix for Sharp at a frugal price.
10. Justin Williams – RW – 35
Previous team

Washington Capitals

2016-17 cap hit

$3.25 million

2016-17 stats

80 GP, 24 G, 24 A, 48 P, +14

Prediction

$11 million, three years, Nashville Predators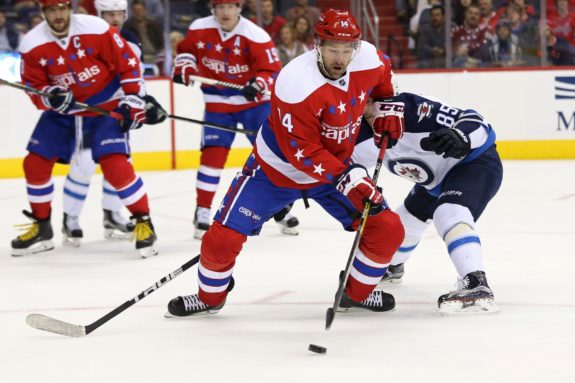 As clutch as they come, Mr. Game Seven might be looking for a new home for next season. With the Capitals needing to give raises to a few of their young forwards, keeping Williams is unlikely. He still has a few years during which he could contribute to a team with championship aspirations, but the Capitals need to focus on their youth. The last time he was a free agent, the former three-time champion chose an opportunity to win another ring rather than security. Now nearing the end of his career, he may prefer the latter this time but with still a good chance to win. A team that sees its "window" open for a few more years could be a good fit for him.
9. Patrick Marleau – LW – 37
Previous team

San Jose Sharks

2016-17 cap hit

$6.667 million

2016-17 stats

82 GP, 27 G, 19 A, 46 P, +4

Prediction

$13.5 million, three years, Vegas Golden Knights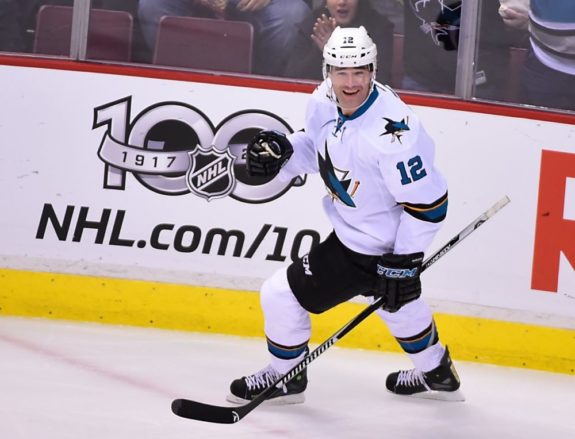 The lifelong San Jose Shark veteran was the most recent player to score his 500th career goal this season. It could be easy to forget that Marleau is the franchise leader in games, goals, and points since it's been years since his dominant playing days. The Sharks will need to focus on their youth, so they can't keep all of their aging veterans. He will need to find a short-term deal with a team believing he has enough left to excel with top-six minutes.
8. Jaromir Jagr – RW – 45
Previous team

Florida Panthers

2016-17 cap hit

$4 million

2016-17 stats

82 GP, 16 G, 30 A, 46 P, +2

Prediction

$3.5 million, one year, Florida Panthers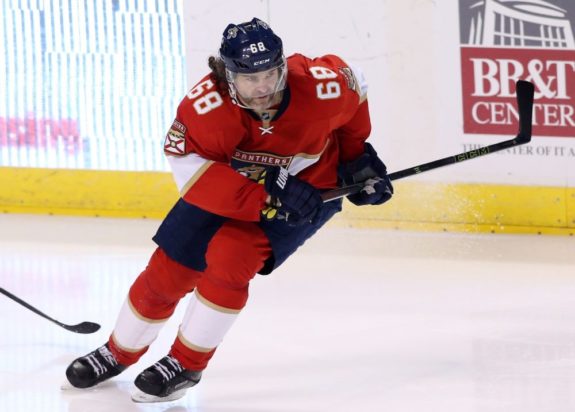 It would be easy for the ageless wonder to resign with the Panthers. Despite a disastrous season, the team can easily turn it around next season and Jagr could remain a big part of that. He's enjoyed playing in Florida and he can continue mentoring the youth there. Although he mentioned his desire to play until the age of 50, it's possible that he may not believe deep down that he can do it. He'll take every opportunity to win a Stanley Cup sooner rather than later.
7. Martin Hanzal – C – 30
Previous team

Minnesota Wild

2016-17 cap hit

$3.1 million

2016-17 stats

71 GP, 20 G, 19 A, 39 P, -17

Prediction

$28 million, five years, New York Islanders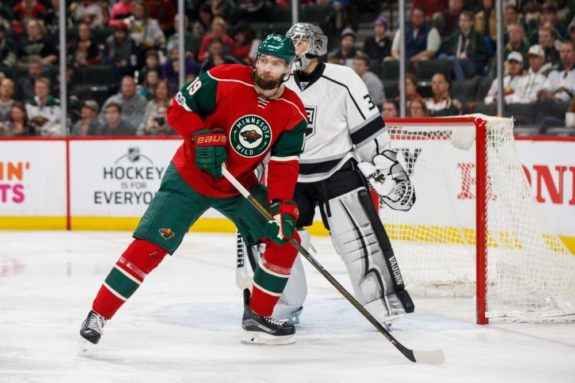 Martin Hanzal is a curious case. He isn't the most offensively talented player but is more of a shutdown centre. You won't notice him by looking at the scoresheet but by watching him frustrate skilled forwards. Standing at 6 feet 6 inches tall, he is a difficult man to push off the puck. As the Wild learned after they traded for him, Hanzal projects a presence in the middle of the ice that not many players project.
For teams looking for depth at centre, the former Arizona Coyote would be a good fit to help an organization take the next step. The biggest concern is his durability, as he hasn't played 70 games in a season since 2009-10. He may not receive the maximum term but could be comfortable playing behind John Tavares if the franchise cornerstone extends his contract.
6. Andrei Markov – D – 38
Previous team

Montreal Canadiens

2016-17 cap hit

$5.75 million

2016-17 stats

62 GP, 6 G, 30 A, 36 P, +18

Prediction

$11 million, two years, Montreal Canadiens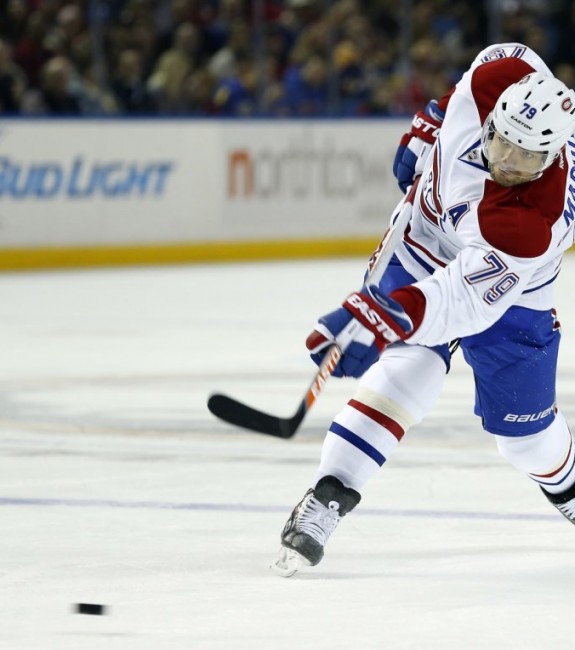 The longest-serving player on the Montreal Canadiens, Markov has taken second place for most points by a defenseman in franchise history. With his vision and hockey smarts serving as his best attributes, he proved that he is still able to excel in his role. Despite suffering two major knee injuries a few years ago, those challenges are now a distant memory. He wants to finish his career in Montreal and believes he has at least two years left in him. The Canadiens don't have anyone ready yet to take his place as the best left-shooting defenseman. Having Markov for two more years will ease the transition for his eventual successor.
5. T.J. Oshie – RW – 30
Previous team

Washington Capitals

2016-17 cap hit

$4.175 million

2016-17 stats

68 GP, 33 G, 23 A, 56 P, +28

Prediction

$50 million, seven years, Carolina Hurricanes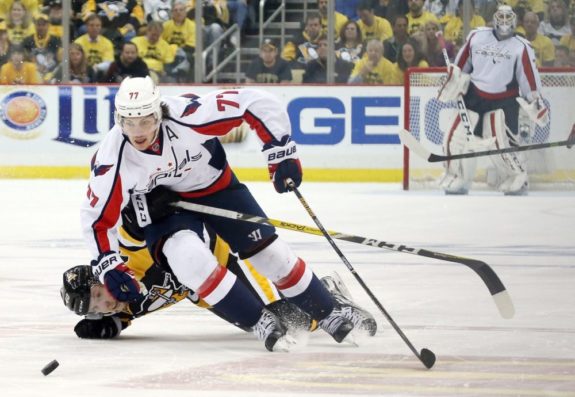 It will be incredibly difficult for the Capitals to keep all of their pending unrestricted free agents. Holding onto T.J. Oshie could be their top priority, as he provides important offensive depth on their top six. However, they may not be willing to offer him the full eight years at a maximum dollar value. With their need to re-sign their other forwards, the Capitals may not be able to give Oshie what he wants. He is due for a raise, as he scored a career-high in goals this season and will likely be one of the top NHL free agents this offseason.
The former St. Louis Blue also has two goals and four points in four games through four postseason games this year. A team with higher aspirations than their season result that struggled to score goals could come out with the winning bid. The Carolina Hurricanes came very close to climbing into a playoff spot, so they may believe that they can push through next season.
4. Ben Bishop – G – 30
Previous team

Los Angeles Kings

2016-17 cap hit

$5.95 million

2016-17 stats

18-15-5, 2.54 GAA, .910 SV%, 1 SO

Prediction

$44 million, seven years, Calgary Flames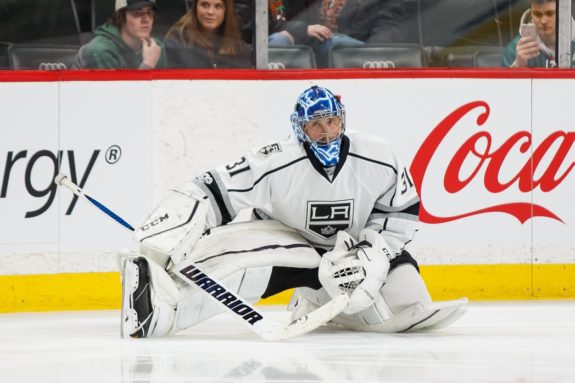 Although he had an off year by his standards, Bishop is the best goalie on the free agent market. With the Tampa Bay Lightning selecting Andrei Vasilevskiy over him, they traded him to the Kings. With several teams looking for a serious upgrade in goal, Bishop should be in high demand. Seemingly, a trade was close to send him to the Flames last offseason. With goaltending proving to be a weakness for Calgary in the playoffs, the organization may have better luck getting him via free agency. Both Flames' goaltenders' contracts expire this summer as well, so they will have options.
3. Alexander Radulov – RW – 30
Previous team

Montreal Canadiens

2016-17 cap hit

$5.75 million

2016-17 stats

76 GP, 18 G, 36 A, 54 P, +10

Prediction

$26 million, 4 years, Montreal Canadiens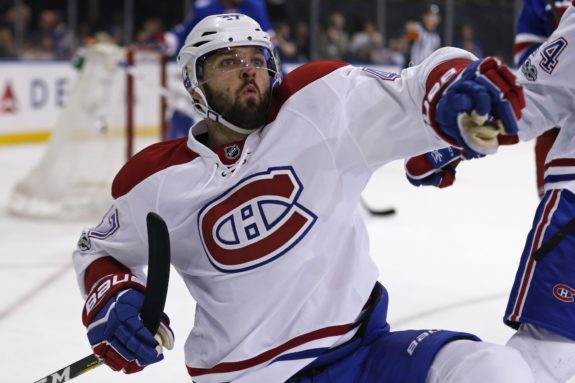 It was quite the gamble when the Canadiens signed Radulov for a year as a free agent in 2016. He worked hard this season to put his past with the Nashville Predators behind him and did so admirably. He is continuing to prove his worth, with two goals and six points in five games in the playoffs. There were rumours earlier that his side was looking for the maximum eight-year term. It is more likely that it was simply a starting point for negotiations, as there is no chance that the Canadiens agree to that.
Finding a middle ground will be the challenge, but the chances of a resolution are favourable. He could have signed elsewhere for longer last summer, but he wanted to sign with the Canadiens from the start. There is little reason to think that will change this time.
2. Joe Thornton – C – 37
Previous team

San Jose Sharks

2016-17 cap hit

$6.75 million

2016-17 stats

79 GP, 7 G, 43 A, 50 P, +7

Prediction

$12 million, two years, San Jose Sharks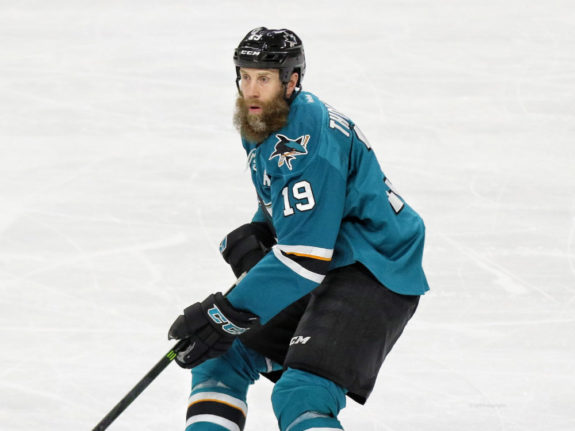 Jumbo Joe is one of those great players of his time who has seen a championship elude him. He helped lead the Sharks in coming close last season and remains an important part of their core. The emergence of the Edmonton Oilers and Calgary Flames in the Pacific will make things tough for the Sharks. They will need to keep their best players like Thornton if they want to remain competitive.
Thornton has expressed his desire to stay with the Sharks until the end of his career but wants another three-year deal. He will turn 38 in July, though he believes that he can play as long as Jaromir Jagr has. Thornton certainly has reasons to think so with plenty of gas left in the tank. The question remains whether the Sharks believe in him as much.
1. Kevin Shattenkirk – D – 28
Previous team

Washington Capitals

2016-17 cap hit

$4.25 million

2016-17 stats

80 GP, 13 G, 43 A, 56 P, –7

Prediction

$47m, 7 years, Vegas Golden Knights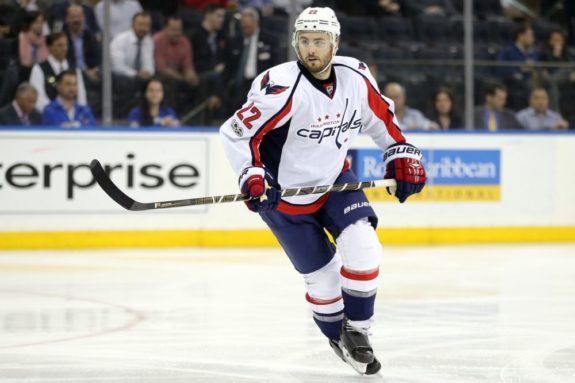 A big part of the St. Louis Blues' defence corps for several years, Shattenkirk knew for years that he would not re-sign with them. The Blues had no desire to lose yet another player in free agency, so they traded him to Washington. A power-play specialist, Shattenkirk led all Capitals defensemen after the trade with 14 points in 19 games. Half of those points came on the man-advantage.
Although many project him as a second-pairing defenseman, many teams will bid on him to play an important role. Some teams with a great desire to sign him may not be able to due to their tight cap situation. Unfortunately, that means the New York Rangers may have to pass on the state native unless they find a way to somehow rid themselves of some massive contracts.
More top NHL free agents available in 2017
Honourable mentions: Nick Bonino, Brian Boyle, Trevor Daley, Shane Doan, Mike Fisher, Sam Gagner, Jarome Iginla, Ryan Miller, Brendan Smith, Drew Stafford, Mark Streit, Dennis Wideman