Former Calgary Flames goaltender Joni Ortio is leaving North America to play professional hockey in Sweden. Ortio signed a contract with Skellefteå of the Swedish Hockey League, the team announced on Wednesday.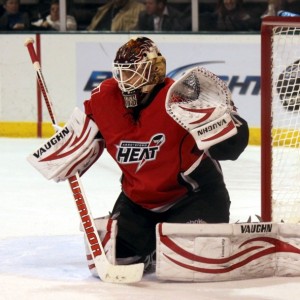 After the Flames did not extend a qualifying offer to Ortio earlier this summer and acquired goaltenders Brian Elliot and Chad Johnson, it became clear that Ortio was not in general manager Brad Treliving's plans for the team's future.
Ortio was originally drafted by the Flames 171st overall in the 2009 NHL Entry Draft and was once a promising young prospect for the Flames. In 2013-14, Orio went 27-8-0 with a 2.33 goals against average and a .926 save percentage with the AHL's Abbotsford Heat. He made his NHL debut with the Flames that season, appearing in nine games and posting four wins and four losses.
In 2014-15, Ortio went 21-13-1 with the AHL's Adirondack Flames and appeared in six games with the NHL club, where he recorded four wins and posted a 2.52 goals against average and a .908 save percentage.
Despite his success the previous two seasons, 2015-16 was somewhat of a step back for the 25-year-old goaltender. Ortio saw action in 22 games for the Flames but went 7-9-5 and was placed on waivers. In 20 games with the AHL's Stockton Heat, Ortio struggled, posting nine wins and nine losses with a 3.36 goals against average and an .893 save percentage.
While today's announcement means Ortio will be playing in Europe next season, if he is able to re-establish his game overseas it is possible the NHL has not seen the last of the Finnish netminder.