Teams always see players move, whether it be through trade or contract negotiations. Today we will have a look at how some former Rangers have fared since departing New York. To be clear I only covered players that left over the past few years, I made an exception for Brandon Prust because I feel like he was beloved in New York and deserved coverage.
Carl Hagelin
Hagelin was dealt this off-season along with draft picks 59 and 179 to the Anaheim Ducks for Emerson Etem and pick number 41. The Rangers had cap issues and need to make a move so Haglein was the guy who ended up moving on.
Hagelin's departure this off-season left the Rangers faithful in question of whether or not the team could replace the speedy Swedish winger. Some blame the struggles of center Kevin Hayes on the departure of Hagelin. There's no doubt that the winger was a crucial component of previous Rangers teams, but this season he has struggled to find a rhythm with the Anaheim Ducks. In his final season in New York Hagelin posted 35 points, but thus far he's on pace to finish the season with only 16 in Anaheim. My colleague Dan Rice explained recently that the struggles are there for a few reasons, mainly being in a completely different environment,  "Now, he's not only on a new team, in a new conference, on another coast, but his current team is not having any of the successes that it's predecessor's have had over the past few years."
I agree with this assessment, I would also think that the pressure of signing a $16 million contact for four-years puts him in a class where he needs to produce, and the truth is that Hagelin was always a complementary player, not a main weapon.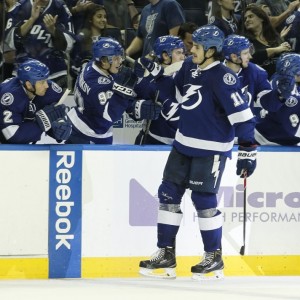 Brian Boyle
Boyle has continued to be a sturdy player since leaving the Rangers to sign with the Tampa Bay Lightning. In his final year in New York he posted 18 points in 82 games, in his first year with Tampa Bay, he lived up to his two million dollar cap hit by posting 24 points in 82 games; and so far this year, he's on pace to produce 22 points. Boyle has an important role with last seasons Eastern Conference champs, as he currently plays an average of 13:37 a game for the team. He is still deployed for his defensive acumen, but the center seems to have a bit more offensive confidence in his new environment.
Boyle has done a nice job in Tampa Bay, he was loved in New York and it's good to see that he has continued to produce quality hockey after leaving the big city.
Anton Stralman
Stralman turned his career around when he got to New York; prior to signing he had been bouncing around, never really carving out a niche for himself; but when he started skating on Broadway everything clicked for the Swedish defender. In his final year in New York the defender was averaging 19:24 a game and was pivotal in a Rangers Stanley Cup appearance. The off-season came and Stralman cashed in with Tampa Bay signing a deal reported to be worth $22.5 million over the course of five years.
In his first year the defender payed off big dividends by posting 39 points in 82 games which was a big leap from the 13 he posted the season before in New York. Stralman continues to play well and is on pace to post 35 points this year. One thing the Rangers should make note of is how Tampa Bay was able to utilize Stralman as a key power-play man. In his final year in New York he was hardly ever deployed on the man advantage, and he had no points. The very next year he was a fixture on Tampa Bay's man-advantage playing 2:28 per game on the unit, and he was able to give the team 14 points. Stralman could always move the puck well, and the Rangers need to learn from this and perhaps re-analyze their assets.
Ryan Callahan
Rangers fans still reference the trade that sent Callahan (the Rangers captain at the time), two first-round draft picks, and a seventh-round pick to Tampa Bay for Martin St. Louis (the Lightning captain at the time), and a second-round pick. (If your interested in reading some analysis on the deal, my colleague Devin Slawson wrote a terrific article discussing the transaction.)
Callahan got off to a good start in Tampa Bay by posting 11 points in 20 games, he seemed likely to continue his solid play so the Lightning decided to give him a deal that runs until the end of the 2019-2020 season and holds a cap hit of $5.8 million annually. In the first year of his deal the winger was able to post 54 points in 77 games, a really nice boost from the 36 points he had the year prior.
Now in the second year of his contract, the deal is looking less appealing. Callahan is on pace to play in 81 games, but is also on pace to post only 27 points. He still has some jump left, but I think the concern is where his game will be next year. It isn't the worst contract, because Callahan still does bring those intangibles, but the fact is that he is essentially doing what his teammate Boyle is doing, but for much more money. That being said, the team knows they can still get some clutch plays out of the forward when they need him.
Brad Richards
Richards was bought out by the Rangers following their Stanley Cup appearance against the Los Angeles Kings. Following the buyout, Richards moved onto Chicago where he won a Stanley Cup in 2014-2015 on a one-year-contract, and has now moved onto the Detroit Red Wings on another one-year-deal. When Richards left the Rangers he was clearly a player in decline (hence the buyout), and that fact held true as the center-man only posted 37 points in the Windy City a step down from the 51 he produced in New York the year before.
Now in Detroit the trend is continuing as he's currently on pace to produce 30 points in 69 games. Richards hasn't been awful, he just wasn't worth what the Rangers were paying him. Richards was a fabulous player in his prime, but I think it's becoming clear that his best days are a bit too far behind him to continue to play at this level. There's no doubt in my mind that the Rangers made the correct move in buying him out, otherwise they would still be looking at four more years of Richards in full decline.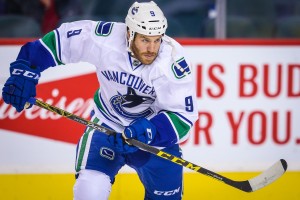 Brandon Prust
Prust was beloved by Rangers fans for his bull headed approach to hockey, and his ability to be a productive force on the ice. Prust signed a nice deal with the Montreal Canadiens where he played for three seasons before being moved along with a fifth round pick in 2016 to the Vancouver Canucks in a trade for Zack Kassian.
Prust is an unrestricted-free-agent at the end of the season and he's currently on pace to post 17 points in 71 games this year. Prust's game has remained largely intact, in fact it might even be better. The rugged winger is still one of the tougher guys in the league, and he continues to find points. The grizzly winger is currently tied for first in the NHL in fighting majors according to hockeyfights.com.
Derek Dorsett
Dorsett played for the Rangers with stalwart determination. He finished every check, was in opponents faces all game, and displayed some skill for a guy who played with such brutishness. Dorsett was moved out by the Rangers after the 2013-2014 Stanley Cup appearance; as good as he was the Rangers needed money and could no longer afford to allocate $2.65 million to the winger; they did end up getting a third round pick for the player which is a good return.
For Dorsett, getting to Vancouver set his game in a great direction as he followed up his eight point season in New York with a 25 point campaign for the Canucks. He's on pace to see a dip in production this season, but 14 points is still a decent output for a guy who will play with such physicality. He is right behind his teammate Prust with six fights so far this year.
Matt Hunwick
Hunwick was only with the Rangers for one season, but the feeling about the defender was something of disbelief; that the Rangers got a guy who was so solid on defense so cheap (one-year, $600,000) was just hard to understand. Hunwick played 55 games for the Rangers, and provided the team with 11 points, while averaging 15:48 in the games he got into. After his one year in New York; Hunwick moved to the Toronto Maple Leafs on a two-year deal where he's been excellent.
Hunwick is averaging 22:30 a game, is a key penalty killer, and is showing that he's the kind of player that could eat up minutes. He's only on pace to produce nine points, but I don't think theirs any complaint about a guy whose so consistent. He's showing that he still belongs in this league and I'm sure most Rangers fans are happy to see him have success.
Greener Pastures
I personally think it's great to see some of the former Rangers moving on and having some level of success. Almost everyone is doing well after leaving, and I'm confident that guys like Hagelin will get it going. Everyone on this list is unique in their own way, but one common thread is that they are all classy players who will always find work because of the incredible professionalism that they all possess.