No one gave the Pittsburgh Penguins a shot last season, despite how dangerous they looked on offense. Anyone you asked about Pittsburgh responded in a similar fashion:
Their defense is nowhere near good enough to contend for a Stanley Cup.
Interestingly, their defensive group ended up being a major strength for them down the stretch. Part of that was due to the acquisition of Trevor Daley and the emergence of Brian Dumoulin, both of whom still hold prominent roles in the lineup. The other major contributing factor was the Penguins' system under Mike Sullivan. Prior to Sullivan, former head coach Mike Johnston tried to protect his defensemen too much, stymieing Pittsburgh's offensive abilities by asking stars like Sidney Crosby and Evgeni Malkin to play more defensively.
Unfortunately for the 2016-17 Penguins, the defensive issues that many assumed would be their downfall last season are becoming a reality. The same group that we watched excel beyond imagination just a few months ago is now haemorrhaging shots and scoring chances at an alarming rate. It's very early and you can't put too much stock in the numbers just yet, but the eye test tells us the same thing:
Pittsburgh needs to be better at suppressing their opponents' opportunities.
Shooting Gallery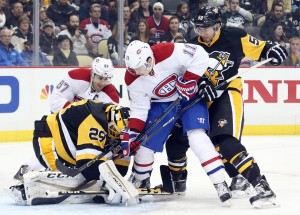 Marc-Andre Fleury has been extremely busy so far. While the veteran goaltender has been up to the task, for the most part, the siege on Pittsburgh's crease is reminiscent of their early season struggles last year. The Penguins rank 28th in the league in total shots against at even strength. After driving possession so successfully to close out last season and throughout their postseason run, they've dropped to the bottom half of the league and boast a concerning 48.41-percent score-adjusted Corsi-for percentage.
Small sample size? Yes. Is it still concerning to see them getting beat so badly at their own game? Absolutely.
Maybe the most concerning stat so far is scoring chances. Pittsburgh ranks tenth in the league for scoring chances per 60-minutes. However, they're currently the fifth worst team when it comes to scoring chances against per 60-minutes of play. High-event hockey is expected from this team, but they ranked sixth in the NHL last season in scoring chances against and while they're clearly an offense-first team, that's normally a proxy for solid defensive numbers because they spend so much time in the opponent's end.
The Montreal Canadiens are the only team in the NHL to outshoot the Penguins at even strength so far. However, they've also forfeited 20 fewer shots. Kris Letang's injury is a factor but the Penguins have a lot of work to do in order to clean up the play in their own end. It has only been six games, but aside from an explosive third period against the San Jose Sharks, they've been subpar to start the 2016-17 campaign.
What's the Maatta With Olli?
All eyes are on Olli Maatta this season and so far, he hasn't shown much progress. The Penguins signed Maatta to a new deal worth a hair over $4 million annually on, what seems to be, good faith. They want the version of Maatta we all witnessed during his rookie campaign but that just isn't happening these days. Below is his impact on teammates throughout last season, courtesy of Corsica.Hockey.

The above chart provides a great visual of how he has negatively impacted nearly every player she shares the ice with. There haven't been enough games to chart it out, but have we seen a boost in his performance over last season? I'd say no.
Maatta was average at best during the World Cup of Hockey after a full offseason to recover from any lingering ailments. At this point, Derrick Pouliot outperformed him in his short stint before being injured and David Warsofsky also looked better in his first game with the Penguins this season. At that cap hit, and considering the role they want Maatta to play, he has to be better. At this point, that's the most important piece of the Penguins' defensive puzzle. The rest will come with time and as the season progresses, and when the hockey becomes more meaningful, we'll see the championship version of the Penguins again.