Just two weeks into the new season and the Los Angeles Kings and fantasy hockey owners are already struggling to stay afloat thanks in large part to their goaltending issues.
Starters like Coyotes' Mike Smith and Kings' Jonathan Quick are already sidelined – likely creating major holes in some fantasy lineups and their backups aren't exactly getting the job done either.
Louis Domingue has a goals against average over 5.00 in his four games played since taking over for Smith, while Jeff Zatkoff got bad news when he pulled his groin during a Kings' practice.
[ALSO: L.A. Exploring Goaltender Trade, Depres Hits LTIR, Mike Smith Update & More News]
So, with those two either struggling or injured and most starting goaltenders already on other rosters in your fantasy league, where are you going to find that band-aid fix to keep you afloat in the crease? While pickings are certainly thin, here are three options to fill that massive hole on your fantasy roster.
Peter Budaj, Los Angeles Kings
The easiest waiver claim is Peter Budaj who – for the time being – will take over goaltending duties for the Kings during this desperate time.
Over a career that has spanned 11 NHL seasons, Budaj's played with Colorado, Montreal and now Los Angeles. He's had 300 career appearances during the regular season with a .903 save percentage and 2.76 goals against average to go along with 11 shutouts.
So far this season, he's played three games for the Kings with a 2-0-0 record, an .889 save percentage and 2.47 goals against average. While they are outstanding numbers, you know he's playing behind a perennial defensively minded squad and could be a surprise while their regular tenders are out.
Jacob Markstrom, Vancouver Canucks
With the luck the Kings' goalies have had so far this season however, you're best option might be to look outside of that particular organization. The Vancouver Canucks have had some early success this season and part of that is thanks to Jacob Markstrom.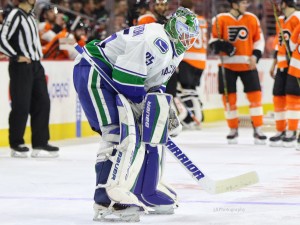 Markstrom's appeared in four games so far this season for the Canucks with a 3-0-1 record. He has a sub-2.00 goals against average (1.94) and a .923 save percentage. While his career numbers are nowhere near his early season stats, Markstrom has a winning record in four seasons with the Canucks. Look for him to be a solid short-term fill in on your fantasy team.
Carter Hutton, St. Louis Blues
He's played just 77 regular season games in the NHL with Chicago, Nashville and St. Louis – and just one game so far this season. But the Blues' Carter Hutton could be a good third goaltender for fantasy owners to pick up.
He has a career record of 34-24-12 with a .910 save percentage and 2.55 goals against average. With St. Louis, he's played just one game winning it and giving up just two goals.
While Jake Allen is the legitimate number one in St. Louis, he has faltered in the past. If he finds himself struggling again, Hutton could see more time in the Blues' net as the season goes on.
Keep in mind: Ondrej Pavelec, Winnipeg Jets
Don't ignore the speculation that's been surrounding the Jets and Ondrej Pavelec. Currently playing for their affiliate, Pavelec could be moved by Winnipeg and at the moment the Kings seem to be the most likely landing spot.
Pavelec's played all 371 career regular season games with the Atlanta/Winnipeg franchise. He has a losing record of 148-154-47 all-time with a .907 save percentage and 2.85 goals against average.
With the AHL's Manitoba Moose this season, he holds a 1-1-1 record with a goals against average over three. However, if Pavelec gets an opportunity to play for a defensive-minded team, he could put up some good fantasy numbers while you wait for your starters to get back from injury.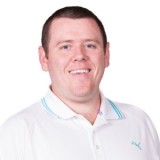 Andrew is in his 8th year reporting for The Hockey Writers covering the Toronto Maple Leafs. He began his broadcasting with CBC's Hockey Night in Canada team as well as being part of their coverage of the 2014 Winter Olympic Games in Sochi. He's the former play-by-play voice of the London Jr. Knights for Rogers TV and currently hosts the Sticks in the 6ix podcast. You can follow him on Twitter at @AndrewGForbes.