The women's college hockey season is getting underway. It's an interesting season after an almost unparalleled amount of talent left the college game in the spring. Big opportunities await a senior class at times overshadowed by top players like Alex Carpenter, Hannah Brandt, Shelby Ansley-Benzie, Haley Skarupa, Kendall Coyne and Amanda Kessel. It's also a chance for an exciting set of underclassmen to try to take the reins.
Amid all that change is also the opportunity for a shift in the power between conferences. Boston College almost emulated the University of Minnesota's perfect season last year. This year, Hockey East and the ECAC have a crop of strong programs that could challenge the WCHA's long-running supremacy, having claimed 15 of 16 national titles. But the WCHA is far from being thin, with the Badgers and Gophers starting the year ranked one and two in the nation, respectively.
With that in mind, here are 13 forwards worth keeping an eye on in the 2016-17 season.
Ashleigh Brykaliuk, University of Minnesota-Duluth, Sr.
The Manitoba native enters her senior season having taken large steps forward in offensive production every year since entering college. Last year was the first time she surpassed a point per game pace, posting 18 goals and 29 assists. That 1.27 points per game pace ranked 10th in the nation.
#WCHA Offensive Player of the Week, @abrykaliuk: 5 pts (4g-1a), including hat trick in 3-3 tie, as @UMDWHockey went 1-0-1 vs. then-No. 3 BC pic.twitter.com/8p6YfjNZLp

— WCHA Women's Hockey (@WCHA_WHockey) October 5, 2016
She'll be a leader for the Bulldogs this year. They didn't enter the season highly ranked, but that could change. They opened non-conference play by going 1-0-1 against the then third-ranked Boston College Eagles. Brykaliuk posted a hat trick in the first game and finished the series with four goals and an assist.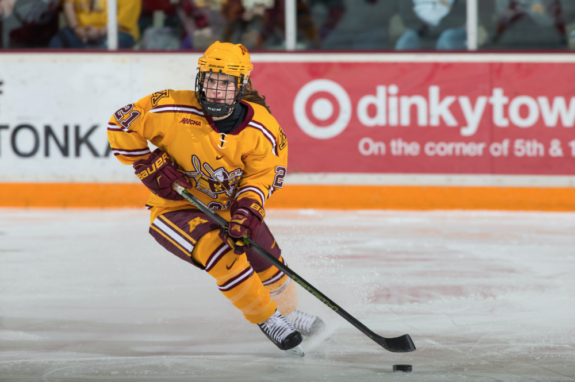 Dani Cameranesi, University of Minnesota, Sr.
In the absence of Hannah Brandt and Amanda Kessel, Cameranesi could be in line to take the spotlight for the Gophers this season. She led the team in points last season (second in points per game) with 33 goals and 68 points in 40 games.
Coach Brad Frost seems to be pleased with Cameranesi functioning as a wing alongside Kelly Pannek on the team's top line. The other wing might not be consistent, but that duo could cause havoc and with the Gophers' depth, it will be difficult for opponents to focus on putting a lid on any single line. Add it all to the long list of reasons why Cameranesi's senior season could be another outstanding year that lands her in the Patty Kazmaier discussion.
Taylar Cianfarano, Quinnipiac, Jr.
A solid freshman campaign gave way to an outstanding sophomore season, in which Cianfarano tallied 28 goals and 52 points in 37 games. Named last season's ECAC Player of the Year, Cianfarano has a bright future as she enters her junior campaign.
Her 52 points put her 15 points over the team's next highest scoring player. She led the ECAC in goals, goals per game (0.81) and plus/minus (plus-45). She's going to tear up the ECAC this season.
Denisa Krizova, Northeastern, Jr.
Krizova's accomplishments have been buried a bit by playing on the same team as 2016 Patty Kazmaier award winner Kendall Coyne, who put up a ridiculous 50 goals and 84 points in 37 games last year. Krizova was no slouch, though. She was second on the team with 20 goals and 59 points.
Entering her junior season, the Czech forward is poised to breakout and earn her share of the spotlight. As usual, Hockey East will be a tough conference, but Krizova is one reason Northeastern has a shot at making some noise.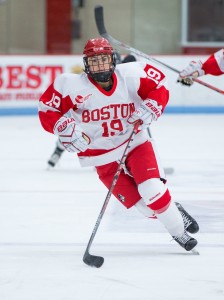 Rebecca Leslie, Boston University, Jr.
Leslie led a strong Terrier squad in scoring last season. Unlike most teams, they're getting their biggest threat back in the lineup. The progress she showed last season, increasing from a 0.89 points per game pace her rookie year to a 1.26 pace with 15 goals and 49 points in 39 games was impressive. She has great hands and has a strong awareness of the ice.
Despite the loss of Rebecca Russo, Sarah Lefort and Kayle Tutino, BU still has some offensive punch and it will be led by Leslie, along with Victoria Bach, Samantha Davis and Maddie Elia.
Karlie Lund, Princeton, So.
The Eden Prairie, MN-native had a very strong freshman season for Princeton, scoring 17 goals and 39 points in just 33 contests. Coming in and leading the team in scoring as a rookie is a difficult feat no matter what team it is. The 2016 ECAC Rookie of the Year was the first rookie to lead the ECAC in scoring since Cornell's Brianne Jenner in the 2010-11 season. She was also the only rookie given First Team All-ECAC honors.
With Princeton retaining key players like Patty Kazmaier top-10 finalist Kelsey Koelzer and promising junior goaltender Alysia DeSilva, likely to take starting duties for the first time, this could be a big year for the program and Lund might wind up being the face of that success.
Amy Menke, University of North Dakota, Sr.
The North Dakota senior forward led the team in scoring last year and should find herself in a similar role this season. With smooth hands and the ability to kick her speed up to another gear, she's used in almost every situation North Dakota faces.
After the graduation of All-American goaltender Shelby Amsley-Benzie, there are no guarantees in net and forwards like Menke and Halli Krzyzaniak will be leaned on to make UND a serious threat to Minnesota and Wisconsin's supremacy in the WCHA. Last season, they were the only team in the conference to beat both of those teams.
Mackenna Newkirk, Boston College, So.
As a freshman at Boston College, Newkirk played alongside an outstanding senior class that featured Haley Skarupa, Dana Trivigno and Patty Kazmaier-winner Alex Carpenter. This season, Newkirk will be expected to carry the torch a little bit more in their absence.
As a freshman, she scored 22 goals and 49 points in 41 games. She was named to the Hockey East All-Rookie Team and is poised to do much more this year.
Sarah Nurse, University of Wisconsin, Sr.
After Annie Pankowksi, there's a whole load of Badgers that are immensely talented and can get lost in the mix of a team as deep as Wisconsin is. Nurse's final collegiate season starts with the Badgers ranked number one in the nation and that could provide extra motivation to go out on a high note.
Nurse topped a point per game pace for the first time last year when she put up 25 goals and 38 points in 35 games. She's a dangerous goal scorer and with an impressive crop of freshman joining the team, look for her to have a standout year in Madison.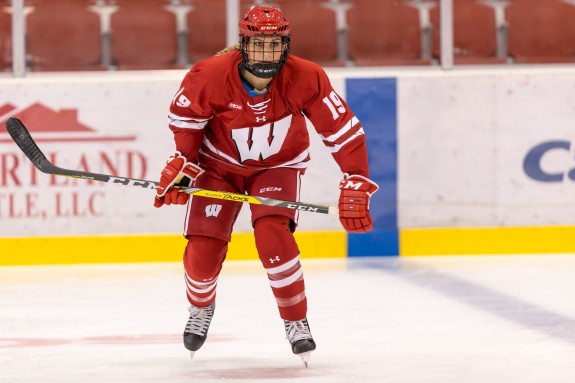 Annie Pankowski, University of Wisconsin, Jr.
Pankowski enters her junior season as one of the nation's best forwards. She's one of just five of last year's Patty Kazmaier top-10 finalists who is returning. With 62 points in 42 games last season, she's the second highest scoring player from last season that's still in school.
The Badgers will be a force this year, dominating preseason coaches poll rankings, and she's going to be a driving force in their success, along with the nation's best goaltender Ann-Renee Desbiens.
Sarah Potomak, University of Minnesota, So.
Potomak had an incredible rookie season. She was named the USCHO National Rookie of the Year and proved herself to be a clutch player for the Gophers. She scored the overtime goal against the Badgers in the Final Four to get to the national championship and then scored just seconds into the championship game.
This season, coach Brad Frost has moved Potomak to center and is still working on getting her linemates sorted out. But it shouldn't matter. Her talent is undeniable and she could have a huge impact on the WCHA this season. Rather, an even bigger impact than she had last season.
Hayley Scamurra, Northeastern, Sr.
Scamurra battled injury her first two collegiate seasons, having her sophomore campaign cut short by injury after just 19 games. That made it tough to project just how good she would be in her junior year at Northeastern. She wowed, posting 14 goals and 43 points in her first full season.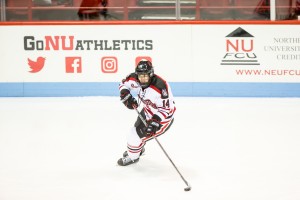 Like Krizova, she's going to be a key to Northeastern's success, particularly in the absence of Coyne. While playing on a team with Coyne can help boost point totals for just about anyone, Scamurra is talented and should be looked at as a player capable of exceeding expectations in her senior year.
Lara Stalder, University of Minnesota-Duluth, Sr.
The Swiss Olympian has increased her offensive production each year of her college career and there's little reason to think she isn't capable of doing that one more time. Last season's 41-point campaign had her ranked 22nd in the nation. If the Bulldogs are able to take some teams by surprise, as they did to Boston College already, she's going to be a key piece of the puzzle.
Dustin Nelson writes about news and the Minnesota Wild for The Hockey Writers.