Did you work late last night? Did your significant other make you run errands while the game was on? Did your dog chew off your TV cable wires?
Have no fear – THW's Monica McAlister has your back, covering everything in the hockey world from From Abdelkader to Zuccarello every morning. Check in daily to quickly get up to speed on all things hockey – recaps, storylines, videos and great links.
While You Were Sleeping
Toronto Maple Leafs 2 Boston Bruins 6
It did not take long for these two teams to remind everyone there is a heated history as Boston's Shawn Thornton dropped gloves with Toronto's Colton Orr less than two minutes into the game.
David Steckel would score his first of the season and give the Maple Leafs the early lead over the hometown Bruins; however penalties would get the best of Toronto early in this Original Six match up.
Maple Leafs Matt Frattin took an interference call that lead to a power play goal from Nathan Horton to tie the game just over ten and a half minutes into the first period. It would then be Bruins captain Zdeno Chara with his first goal of the season ad Boston went on another power play this time while Joffrey Lupul sat for tripping.
Having a one goal lead was not enough for Bruins Chris Kelly so he went back hand late in the first to make it 3-1 before the first intermission.
After an offensive first period there would not be a single goal scored in the second period even though six penalties were called – three to each time.
It took Milan Lucic two minutes and eight seconds into the third to score his first of the season and put the Bruins up 4-1 over the Maple Leafs. Patrice Bergeron would net his first of the season to make it 5-1 before Tyler Seguin would finish off Boston's offence to make it 6-1.
Mikhail Grabovski would put a wrist shot past Tim Thomas to bookend all six of the Bruins goals between the two from the Maple Leafs.
Washington Capitals 5 Philadelphia Flyers 2
Capitals move onto a new franchise best of being 6-0 to start the season. Only Washington and the Detroit Red Wings remain undefeated (if Detroit wins tonight against the Columbus Blue Jackets Saturday's game against the Red Wings will be an even bigger game for the Capitals).
It took a pit before the offense was kick started but Claude Giroux did just that as he gave the Flyers the first goal of the game just over fourteen minutes into the game.
The Capitals answered back for Giroux goal seeing Mathieu Perreailt score his first of the season to tie the game and then captain Alex Ovechkin gave Washington the lead with seconds left in the first.
The second period was an offensive drought for both teams that was not broken until Roman Hamrlik scored his first of the season giving the Capitals a 3-1 lead just two minutes and twenty three seconds into the third period.
Washington would go on to score two more goals within the first five minutes of the third period to make it 5-1 and until Philadelphia's Sean Couturier was able to get the puck past Tomas Vokoun with seconds left in the game.
Montreal Canadiens 1 Pittsburgh Penguins 3
The Penguins came out and dominated offensively on home ice. They may have squandered both power plays in the first but James Neal netted his seventh goal of the season to give them the lead and they didn't look back.
Penguin's Joe Vitale tipped-in a goal early in the second off of a shot from Deryk Engelland before Pittsburgh gave Montreal three power plays in the second period; but the Canadiens were unable to get the puck past Marc-Andre Fleury even with the man advantage.
The third period saw Arron Asham score his first of the season and give the Penguins the 3-0 lead just over five minutes into the final period. It would take a slap shot from Brian Gionta with about a minute and a half left in the game for the Canadiens to get on the scoreboard.
Winnipeg Jets 1 Ottawa Senators 4
Jets struggled last night in Ottawa as Dustin Byfuglien scored his first of the season; but the Jets only goal of the game.
The second period saw a regrouped Senators team as Milian Michalek was able to capitalize on a man advantage after Winnipeg saw Nik Antropov head to the penalty box for hooking. It would then be Jason Spezza with a snap shot to give the Senators the 2-1 lead over the Jets heading into the second intermission.
Captain Daniel Alfredsson would make it 3-1 for Ottawa as he net an unassisted wrist shot past Ondrej Pavelec.
It would be an empty net goal for Milan Michalek to give him two goals (and second star) in the game and set the Senators above the Jets.
New York Islanders 1 Tampa Bay Lightning 4
Coming out of the gate hungry helped the Lightning strike first as Ryan Malone scored a power play goal in the first period after Islanders Steve Staios was called for hooking.
Lightning would strike for a second time in Tampa as captain Vincent Lecavalier would put a wrist shot past Al Montoya to double the lead over the Islanders.
Third period would see Steven Stamkos make it 3-0 before Michael Grabner would put a wrist shot past Mathieu Garon to get the Islanders on the scoreboard. It would be Brett Clark with a tip-in goal late in the first to make its 4-1 Lightning and end the scoring in the game.
Islanders' John Tavres and Lightning's Victor Hedman would be called for coincidental Slashing calls at the end of regulation.
Buffalo Sabres 3 Florida Panthers 0
The Panthers tested Ryan Miller with only 22 shots – Miller responded by stonewalling Florida on home ice.
While Miller reminded everyone that he is an Olympic silver medalist Panthers net minder lived up to his nick name of Jose Three-or-more as Theodore allowed the Sabres to score three goals; but on thirty-eight shots. Florida might want to try some defense in front of the net… just my two cents.
The first period went scoreless and it was not until 2:33 of the second that Thomas Vanek was able to net his fifth of the season to give the Sabres the lead.
A fight broke out between Florida's Matt Bradley and Buffalo's Paul Gaustad before Jason Pominville would tip-in a shot from Ville Leino late in the second to make it 2-0 to head into the second intermission.
Panthers would take two penalties in the third and see the Sabres Thomas Vanek score on the second power play
Chicago Blackhawks 3 Colorado Avalanche 2 (OT)
Avalanche goaltender Semyon Varlamov may have gone on to lose the game in overtime but with his 0.931 save percentage he took first star of the game anyway.
Chicago captain Joathan Toews would score on Varlamov by going back hand in the first period.
It would be Ryan O'Byrne with his first of the season as he put a wrist shot past Corey Crawford to tie the game. The third period would belong to Chicago as Patrick Sharp would make it 2-1 just over seven minutes into the final period while a short handed empty net goal from Marian Hossa would wrap the game up for the Blackhawks.
New York Rangers 3 Calgary Flames 2 (OT)
It took overtime to do it but the New York Rangers have their first winning steak (and first two wins) of the 2011-12 season.
The game started off with a first between Calgary's Tim Jackman and New York's Mike Rupp just over two minutes after the puck dropped. It would be Marian Gaborik with his fourth goal of the season as he scored on the power play just under five minutes into the game.
It would be Flames captain Jarome Iginla with a wrist shot past Henrik Lundquvist to tie the game less than a minute later.
Brandon Prust would score a short handed goal to regain the Rangers lead over the Flames only to have a fight break out between Flames Cory Sarich and Rangers Kris Newbury before Mark Giordano tie the game back up at two for Calgary.
All before the first intermission.
Things would die down starting in the second and by dying down I mean no goals and only three power plays (all for the Flames) called in the next two periods.
It would take all but two seconds of overtime for Ryan McDonagh to beat the clock and put a snap shot past Henrik Karlsson for the win.
Minnesota Wild 2 Edmonton Oilers 1 (SO)
Shots were even at 31 a piece and the goals were even with one for each team after regulation.
So how did they get there? It was Oilers Ryan Jones just over sixteen minutes into the game with a goal as he tipped-in a shot from Ryan Smyth.
Shortly after the Edmonton goal a fight broke out between Oilers Ben Egar and the Wild's Brad Staubitz.
Then everyone decided to take a break. Only three more penalties would be called in the game and after a scoreless second period it would be Minnesota's Dany Heatley with a wrist shot past Nikolai Khabibulin with two seconds left in the game.
Heatley's late-as-possible goal forced over time and then the shoot out where Niklas Backstrom came out victorious.
Shootout Results:
Jordan Eberle (EDM) – Save
Matt Cullen (MIN) – Goal
Ryan Nugent-Hopkins (EDM) – Save
Pierre-Marc Bouchard (MIN) – Save
Eric Belanger (EDM) – Miss
Sidenote: scary moment involving Wild captain Mikko Koivu:
Mikko Koivu had a pretty scary moment when he caught Dany Heatley's skate on the chin. He kept playing until the puck was off his stick, as if nothing had happened. He's a machine.
Nashville Predators 1 Vancouver Canucks 5
If you wanted scoring and action and up late last night over on the East Coast you should of tuned into a feed of the game in Vancouver.
It took just over two minutes for Daniel Sedin to score his third of the season and give the Canucks the lead; less than two minutes after that for Matt Hallschuk to tie the game up for the Predators.
With the game already 1-1 Nashville would get the first penalty of the game at 5:46 and see the Canucks take advantage on the power play as Henrik Sedin would score his third of the season. Feels like Déjà vu…
Dale Weise would score his first of the season and increase the Canucks lead to 3-1 and Chris Higgins would make it 4-1 with an unassisted wrist shot past Pekka Rinne.
A late fight between Vancouver's Maxim Lapierre and Nashville's Colin Wilson would end the first period; and Pekka Rinne's night as Anders Lindback would be in net to start the second period.
The second period would look uneventful if you looked at the score with no goals in either direction but the Canucks gave the Predators an early power play; then Nashville gave them the man advantage back as Teemu Laasko was called for tripping only to have captain Shea Weber called for a cross check 28 seconds later.
With just over a minute left in the second a second fight broke out – this time between Canucks Aaron Volpatti and Predators Jordin Tootoo.
The third period would see Vancouver's Ryan Suter called for hooking and Nashville's Shea Weber called for boarding and unsportsmanlike conduct at 5:12 which would lead to Ryan Kesler's first goal of the season.
Los Angeles Kings 2 Phoenix Coyotes 0
A fight broke out 10:08 into the game when Coyotes Paul Bissonnette dropped gloves with Kings Kevin Westgarth.
After a scoreless first period it would be Dustin Brown with a power play goal just 56 seconds into the second period to give the Kings the lead and they didn't look back. Kyle Clifford would net his first goal of the season as he put a slap shot past Mike Smith for the insurance goal.
Up into the Netting
Hockey is back! The National Hockey League has announced distribution rights to Modern Times Group (MTG). What does this mean? Those in Sweden, Finland, Denmark and Norway can now watch NHL games on TV. Captain of the Bristol Pitbulls (ENL2) Janne Virtanen has a few thoughts on the new deal for his native Finland and other Nordic countries.
Last night Philadelphia Flyers Kimmo Timonen became the third Finnish defenseman to play 900 NHL games; only Teppo Numminen (1372) and Jyki Lumme (985) have played more than he has.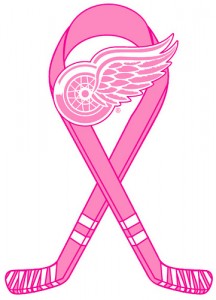 Tonight is Breast Cancer Awareness night in Detroit as the Red Wings host the Columbus Blue Jackets. The players will be using sticks with pink tape during warm up that will be auctioned off, there is a silent auction, and for $25 fans and draw wrapped autographed pucks at random (whomever draws the Jimmy Howard puck in gold will get to meet the goalie after the game). Click here for more information on these and more events at Joe Louis Arena tonight.
Want to get your hands on an autographed Red Wings Drew Miller jersey? How about one from Buffalo Sabres Ryan Miller? You could for as little as a buck. Former NHL and Team USA Olympian Kevin Miller is having a raffle with a jersey from each of his cousins up for grabs. More information on how to enter.
The Los Angeles Kings announced on Twitter that $15,904 was raised in their last game for Love for Lokomotiv via bracelet sales and that they will also have them available at Saturday's game.
Speaking of NHL alumni Jarkko Ruutu is over playing in Finland for Joker it (SM-liiga) and yesterday they played against across town rival HIFK where he tackled Minnesota Wild prospect Mikael Granlund:
Top Spots:
Points: Phil Kessel – Toronto (12)
Goals: Phil Kessel – Toronto (7)
Assist: Daniel Sedin – Vancouver (7)
Plus-Minus: Tim Gleason – Carolina (7)
GAA: Nikolai Khabibulin – Edmonton (0.95)
Save Percentage: Jonathan Quick – Los Angeles (0.967)
Wins: Kari Lehtonen – Dallas (5)
Shutouts: Jonathan Quick – Los Angeles (2)
Northwest: Colorado Avalanche
Pacific: Dallas Stars
Central: Chicago Blackhawks
Atlantic: Pittsburgh Penguins
Northeast: Buffalo Sabres
Southeast: Washington Capitals
Face-Off
San Jose Sharks at New Jersey Devils 7:00 p.m.
Columbus Blue Jackets at Detroit Red Wings 7:30 p.m.
Carolina Hurricanes at St. Louis Blues 8:00 p.m.
Dallas Stars at Anaheim Ducks 10:00 p.m.
Love for Lokomotiv