Thursday night, the University of North Dakota Fighting Hawks did something they hadn't done in their past six trips to the Frozen Four.  They won a semifinal game. Thursday's win in the semifinals was the first time since 2005 (4-2 win against Minnesota). UND would advance to the Frozen Four championship game where they would lose 4-1 to the Pioneers.
A Look Back
Thursday, the game started slowly and was tied 0-0 after one period of play. In the second period, the momentum swung UND's way. True to form, senior forward Drake Caggiula would spot UND a 2-0 lead, with two beautiful highlight-reel goals.
Like everything else this season, the win didn't come easy. The game almost got away from UND in the third period. There were a few anxious moments in the third period. Entering Thursday's game, UND had a 25-0-2 record when leading after two periods. That record would be challenged when the Denver Pioneers tied the game at the 10:51 mark of the third period. UND fans were suddenly experiencing déjà vu all over again.
In the end, this team wouldn't be denied. Sophomore forward Nick Schmaltz would bail out the Hawks when he scored the game-winning goal with .56 second remaining in the game. Gardner would score an open net goal in the waning seconds of the third period to ice the game for UND.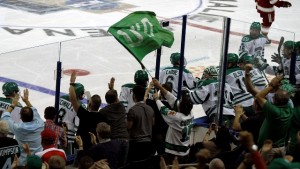 Every Game Feels Like a Home Game
It's well documented, the UND hockey team has a large, fanatical, loyal fan base. On Thursday night, the Amalie Arena was full of green and white clad UND fans. On the television broadcast, you could hear the UND fans chanting "Let's Go Sioux". This hasn't gone unnoticed by the UND players. They acknowledge that having a loyal following gives them a big advantage.
"Our fans are the greatest in the world," Caggiula said. "They travel anywhere we go. I bet if you go back to our campus the students are probably going crazy. Even the faculty is probably going crazy as well."
"Our fans travel everywhere with us, and they support us everywhere we go, no matter what happens. We love them as much as they love us. I know it's a special relationship, that's for sure. It's certainly it's a lot easier to playing in an atmosphere where it's pretty much a home ice advantage where ever you go."
"We're pretty privileged to get to play with the program that we do," senior forward Coltyn Sanderson said. "With that comes those fans and that support that we get. I think there's a slogan that goes around that every game is a home game. That was definitely true tonight. We appreciate their support. We were happy to get this done and get rid of the ghost a little bit. But we have a job to do Saturday and we know that they will be cheering us on."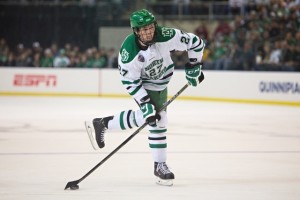 Heavy Line Stops Pacific Rim Line
On February 26, 2016, the UND coaching staff assembled the Heavy Line. The less heralded Heavy Line consists of forwards  Austin Poganski, Luke Johnson, and Rhett Gardner. Since that time, their job has been to check the opposition's top forward lines. That trio has been relentless and hard to play against. During the past two games, they held  the CCM Line and the Pacific Rim Line to a combined two points. Thursday, they continued their tenacious play shutting out the famed Pacific Rim Line.
Next man up, has been a season long theme. When Luke Johnson suffered a lower-body injury after colliding with freshman Brock Boeser, Sanderson stepped up and took Johnson's spot on that line.
One of the big stories lines of Thursday's semifinal game was the play of the CBS Line. They finished the game with 3 goals, 6 points. They were also a +9. Denver famed Pacific Rim Line was held scoreless and finished. That's not a misprint, the Pacific Rim Lin had 0 goals, 0 points. They were also a minus-5.
Notes of Interest
Over the past two seasons, UND has won 75 straight games when leading after two periods of play.
On Thursday night, UND did something they hadn't done in the last five visits to the Frozen Four. UND scored the first goal of the game.
Eric is a 1996, 1999 graduate of the University of North Dakota. Eric covers the University of North Dakota Hockey and Division I college hockey. Eric is the Contributing Editor for Inside Hockey.