Paying your dues. It's something Geordie Kinnear knows plenty about from his playing days to his coaching career. Now, the man affectionately known as "Champ," will be able to make good on an overdue opportunity. The Florida Panthers named Kinnear the head coach of their new yet to be named American Hockey League affiliate in Springfield, Massachusetts.
Additionally, Geordie Kinnear has been named the head coach of Springfield (AHL).https://t.co/11eqqkY38E pic.twitter.com/X7B7sS3iy1

— Florida Panthers PR (@FlaPanthersPR) June 7, 2016
Kinnear broke into the AHL as a rookie blueliner on the inaugural squad of the 1993-94 Albany River Rats, under the tutelage of Robbie Ftorek. Kinnear would spend parts of seven seasons with Albany, helping the club with the Calder Cup in 1994-95 and serving as captain from 1996-1999. Kinnear ranks second in franchise history with 406 games played 1,094 penalty minutes and his No. 4 still hangs from the rafters at Times Union Center. The fearless Kinnear also played parts of two seasons with the IHL Orlando Solar Bears and got into four games of NHL action with the Atlanta Thrashers in 1999-00.
As described by some of his former teammates and those around the Rats, "Champ" was a leader and a guy who you didn't want to cross as an opponent or letdown as a teammate. It's no surprise he'd eventually wind up leading a club of his own.
Kinnear served as an assistant coach with the River Rats for seven additional seasons, between the New Jersey Devils and Carolina Hurricanes, then coaching six more seasons with the Charlotte Checkers. It was in 2006-07 when an affiliation change was made, that Kinnear and current Panthers general manager Tom Rowe struck up a relationship. Rowe was the Rats head coach and Kinnear, having not followed the Devils to Lowell, was looking for a job and helped with the club's defenseman for free that season. In 2007-08, Kinnear was back on the bench as Rowe's official top assistant.
Looking back at the roster from the 1993-94 River Rats, it's not difficult to ascertain how Kinnear would become a top bench boss. Below is a list of players from that squad and their coaching accolades.
Scott Pellerin –
Assistant coach with the AHL Manchester Monarchs from 2006-12, and head coach of the Bridgeport Sound Tigers from 2012-14.
Kevin Dean –
Assistant coach with the Lowell Devils from 2006-10, and after one year as head coach of the ECHL Trenton Devils, has served in an assistant coach capacity with the Providence Bruins from 2011 to present.
Pascal Rheaume –
Assistant coach with the Iowa Wild.
Bryan Helmer –
Assistant coach with the Hershey Bears since 2014.
Jason Smith –
Assistant coach with the Ottawa Senators since 2014.
Corey Schwab –
Goalie coach with the Tampa Bay Lightning, San Jose Sharks and is presently in that role with the Arizona Coyotes.
Mike Dunham –
New York Islanders goalie coach since 2008.
Tommy Albelin –
Assistant coach with the New Jersey Devils from 2007-10 and the Albany Devils from 2010-14.
Dan Bylsma –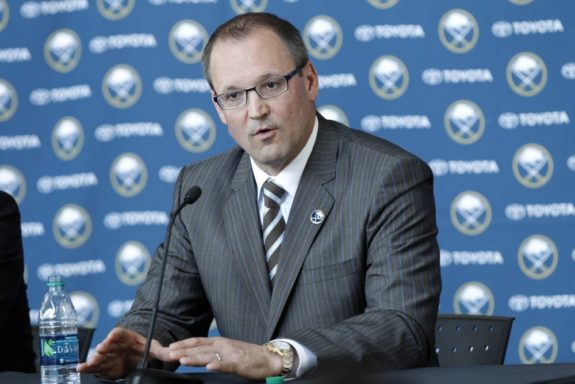 Won the Stanley Cup with the Pittsburgh Penguins in 2008-09 and the Jack Adams Trophy in 2010-11 and is currently the head coach of the Buffalo Sabres.
Michael Gwizdala covers the New York Islanders for The Hockey Writers. Michael is also an Associate Producer at WNYT NewsChannel 13. Additionally, Michael was once a Media Relations intern for the AHL Albany River Rats. Michael is a graduate of The College of Saint Rose in Albany, NY.