The saga about the Phoenix Coyotes took another twisted turn yesterday when the City of Glendale Mayor Elaine Scruggs "blew a fuse" during the Glendale City Council Budget Workshop. Before the Coyotes' last home game of the season where they blanked the Columbus Blue Jackets 2-0 thanks to a 54-save effort by goaltender Mike Smith, the City Council met for its monthly session. What was supposed to be a regular and informal session about the matters of the city turned into a key step in the whole saga surrounding the future of the NHL in the desert.
With only a few days remaining to the regular season, the clock is ticking fast to make a decision about whether or not the Coyotes will remain in Phoenix one more year. As there doesn't seem to be any apparent buyer interested in purchasing the team and keeping it in Glendale, CoG Mayor Elaine Scruggs decided she had enough of the whole situation and decided to rant and rave about the NHL, Gary Bettman and Bill Daly.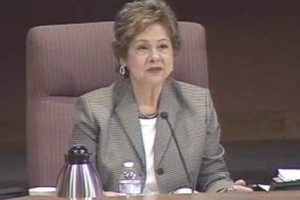 Below you will find an excerpt of Mayor Scruggs at the city council budget meeting regarding this year's $25M payment to the NHL and where they stand now:
"We have $20 million plugged in for next year. I will not support a budget that has $20 million plugged in for arena management… and I'm not just going to end it right there. I'm gonna tell you. I have been asking for information (regarding arena management fee) since June. I have repeatedly done this in every way, shape or form possible and have gotten nothing."

"Last time at our meeting of February 28th 2012, everyone agreed we would get it on March 20th. I watched, listened to the meeting on March 20th, not one word about it. So I'm going to come up with my own number. This is what I'm gonna do. If the team leaves, we still have to run that arena. So you cannot wipe out $20 million. You have to put in some amount of money to manage the activities that are going to be left there. Pay a management company to manage and keep the place running so forth and so on. Now, I have some figures. These are annual expenses to operate the Jobing.com arena as reported by the arena management group financial statements."

"I think,instead of $20M, I keep going back and forth between $10M and $12M. I'm looking at what it is going to cost to run the arena for all the other events, and hopefully, we will have more events. We are going to give up a lot of revenues that we get because of the hockey team being there and we are going to have to pay somebody to manage the arena. I'm going to say $11M because I cannot decide between $10M and $12M. So for me, when I look at a budget, if I see $20M there for arena management? That is not a budget that I am going to approve."

"The reason why we approved that second payment of $25M to the NHL. Why 5 of us voted for this, was because we were told that we were just this close to a deal being done. Mr. Daly stood right in front of us and he told us that. "We have never been closer… There was a deal that was going to be done so we should never have to pay that $25M and the NHL wouldn't go move the team off some place. So, here we are now, a year later, two months from having to pay this. No Mr. Hulsizer… No Mr. Anybody Else. No Deals, No Nothing. So we have a problem."

"My solution and my suggestion is that Mr. Beasley (City Manager representing Glendale in negotiations with the NHL) start talking to the NHL about what a great partner we have been with them. We have stuck to this. We have helped them get the TV rights for the west coast. Given the stress that our budget is under, that there be a payment plan developed so that we don't pay $25 million on May 2, 2012 or any other date. We structure a payment plan that fits within our budget."

"What I have been told is 'No that we won't have any leverage with the NHL if we talk about that'. Then I was told, 'Well, I proposed it to the NHL and they have taken it under advisement."

"We have never been allowed to be part of any of these negotiations, and so I'm going to ask you; Are you willing to sign your name to a letter, to Mr. Gary Bettman, Commissioner of the NHL and say "This is what is happening to the City of Glendale?"

"The NHL have been in control of this process the entire time. Everything had to start with them. We couldn't do anything until they said that we could talk to somebody. The NHL have been in control of this and they have led us to this terrible point that we are at today."

"If we don't pay that $20 million that is in escrow, which I have been told by our city attorney, we can't get out without the NHL's permission. It was put in an escrow account that we cannot terminate. If we get that out of the escrow account and we pay them $5M instead of $20M, our problems and everything that our employees are fearful of will pretty much go away."

"In terms of the extra $5 million to meet the $25 million that we never could come up with, I better not see it in any budget. If it is in a budget? I'm not voting for it, because they don't have it locked up in escrow yet. That is my answer to the $20M. You can't wipe it out entirely, but you can sure take a huge chunk out of it. I'm saying take $9 million out and we talk to the NHL."

"It is their problem they made. They misled us and they can't do this to our city."
Transcript by @NHLWiki on Twitter
Source: City of Glendale Council
So basically, Mayor Scruggs, who will not seek another term at the end of 2012, said the NHL misled the city into thinking they would find a buyer for the team that would keep the Coyotes in Glendale for the years to come.  She added that the search for an owner for the Phoenix Coyotes, who play at a city-built arena called Jobing.com, remains unresolved after three years since the previous owner Jerry Moyes incurred massive financial losses and went bankrupt. The city pledged $50 million to the National Hockey League to manage the team and arena the past two years.
Scruggs also denied rumors swirling about Sharks CEO Greg Jamison being a potential buyer and implied the CoG didn't want to give another $25 million payment to the NHL to keep the team in town for another year.
Now don't expect any announcement to be made until the Coyotes are eliminated from the playoffs since they will most likely clinch a playoff berth in the upcoming days after the Dallas Stars have lost three games in a row and fell out of the top eight seeds.
Stay tuned for more updates on the situation and see what the future holds for the Phoenix Coyotes.
You can also follow me on Twitter!