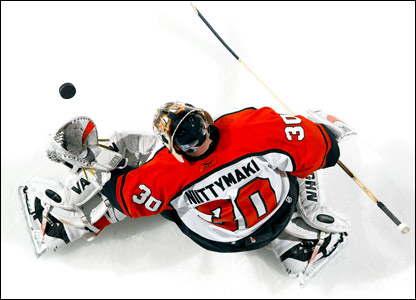 Flyers head coach John Stevens remained cool, calm, and collected the other day as he announced no actual goalie controversy in Philadelphia. He said Niittymaki had the hot glove, and he was in fact going to ride that glove until it cooled down. Of course he didn't have to wait very long as the Flyers brand new starting goaltender for little under a week let in 5 goals against the struggling Ottawa Senators tonight only managing to fend off 18 of the 23 fired shots in his direction.
Yes, Coach Stevens was completely correct about there being no such controversy in Philadelphia. There can't be goalie controversy if there aren't in fact any starting goalies. Martin Biron has played far under expectations all season and backup Antero Niittymaki is just that, a backup goaltender. While no one should jump the gun just yet because the Flyers are still in a very good position to make the playoffs they may never meet their expectations without a solution in net. The team has to either ride one of these two goalies through the playoffs or will have to find a better option.
Biron had shown the hockey world what he was capable of last season as he not only carried the Flyers into the playoffs but also led them through to the Eastern Conference Finals. Philadelphia fans are praying for a similar scenario. Both Biron and Niittymaki are out of their current contracts at the end of this season as UFAs. So far none have shown that extra little bit of effort that they want to be the guy to lead the Flyers to a Stanley Cup.
While the Flyers have defensive problems the biggest problem without a doubt is their goaltending situation. What that means going into the trade deadline no one knows for sure. It shouldn't take any stretch of the imagination to believe that Paul Holmgren is taking a good long look at the upcoming free agent market for goaltenders.
Big Names On The List:
Nikolai Khabibulin – Chicago Blackhawks – $6.75m
Manny Fernandez – Boston Bruins – $4.75m
Martin Gerber – Ottawa Senators – $3.75m
Martin Biron – Philadelphia Flyers – $3.50m
Niklas Backstrom – Minnesota Wild – $3.10m
Dwayne Roloson – Edmonton Oilers – $3.00m
Manny Legace – Saint Louis Blues – $2.50m
Olaf Kolzig – Tampa Bay Lightning – $1.50m
Antero Niittymaki – Philadelphia Flyers – $1.38m
Tim Thomas – Boston Bruins – $1.10m
Ty Conklin – Detroit Red Wings – $0.75m
Joseph Curtis – Toronto Maple Leafs – $0.70m
Brian Boucher – San Jose Sharks – $0.65m
Craig Anderson – Florida Panthers – $0.58m
Scott Clemmensen – New Jersey Devils – $0.50m