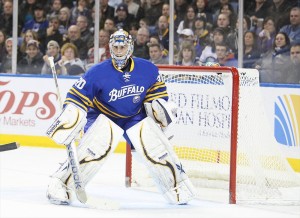 Back on November 12, Boston's Milan Lucic steamrolled Buffalo goaltender Ryan Miller after he saw reaching a dump-in was no longer an option. Skaters are supposed to at least attempt to avoid contact with the goalies, but Lucic made no such effort. For a collision that caused Miller to miss 8 games with a concussion, all Lucic received was a minor for charging. Instead, other forwards around the NHL have been taking the fall for Lucic's actions.
During the Flyers-Penguins game on February 18, Flyers forward Wayne Simmonds was called for goalie interference after barely grazing Penguins puck-stopper Marc-Andre Fleury. Yes, he did go through the crease, but he did make an effort to avoid Fleury and he was being hounded by a defender. On February 15 in a game between the Bruins and Canadiens, there were four goalie interference penalties called, including two on the same play. Each of those was largely the same as the Simmonds play; guys crashing the crease with a defenseman draped all over him who at least attempted to get out of the way. Contact was made, but the interference was minor.
Rule 69.1: Interference on the Goalkeeper states any contact with a goalie in his crease shall be cause for a penalty if "an attacking player initiates intentional or deliberate contact with a goalkeeper, inside or outside his goal crease." However, some contact is allowed if the "attacking player has been pushed, shoved, or fouled by a defending player so as to cause him to come into contact with the goalkeeper…provided the attacking player has made a reasonable effort to avoid such contact."
In both recent games, that's exactly what happened. Players at least attempted to get out of the way and there was minimal contact. No goalie was run over, no goalie was hurt. True, they need to be given the space to do their job properly and if there was a goal scored on any of them, it would have been perfectly reasonable to call it back, but goalies wear more pads than anyone else on the ice, they should be able to take a little bump.
And that Simmonds' and Lucic's plays both received the same penalty, just a two-minute minor, is ridiculous. That is to say they were the same play, which they weren't. Lucic's was much more similar to Tootoo's who, despite being shoved by Christian Ehrhoff, was suspended by VP of Player Safety Brendan Shanahan for not doing a better job of getting out of the way, yet there was no discipline for the Boston winger even though he was completely unimpeded.
Should Lucic have received a bigger penalty? Probably. Jordin Tootoo was suspended two games for a very similar play on Miller and he even had the argument a defenseman pushed him into the 'tender. Lucic saw Miller there and made no effort to stop, slow down or get out of the way. He made a solid bodycheck on the Sabres netminder and now the rest of the league is serving his time for it.