As it will be for the next six weeks, this past week was the most important one of the 2011-2012 season. With many teams hovering around the 58 games-played mark, every contest has a higher impact on playoff positioning, and ultimately decides who will be playing hockey come late-April. In the Eastern Conference, the playoff race continued to intensify. Teams such as the New Jersey Devils and Pittsburgh Penguins pulled themselves away from the pack, while the Ottawa Senators, Toronto Maple Leafs, Washington Capitals, and Winnipeg Jets continued to jockey for a position in the final two playoff spots. The Western Conference also has had its share of intensity, with the Phoenix Coyotes, Dallas Stars, Los Angeles Kings, and Calgary Flames all battling for the eighth and final spot.
This past week also saw certain players continue to climb up the leaderboard in separate statistical categories. Jason Spezza saw his point total surpass 60 after 7 points in 2 games, and Claude Giroux vaulted himself within striking distance of the league's assists leader, Henrik Sedin. In the goal category, Steven Stamkos continued to pad his lead, scoring his 38th, 39th, and 40th goals of the year. Goalies also were a topic of discussion over the past week, led by Henrik Lundqvist and his league-leading 7th shutout.
However, statistics such as the ones mentioned above are present every night in the NHL. What differentiates one NHL week from the next are what cannot be reflected on the stat sheet. It's the moments that cannot often be repeated, and ones that stand out as hilarious, disturbing, or fascinating. This week was highlighted by a record-breaking streak, a team's inability to stop long-range shots, a questionable hit that was not punished, and much more. Here is "The Week That Was" (from Sunday, February 12th to Saturday, February 18th ).
There's No Place Like Home
The biggest story of the week comes from Detroit, where the Red Wings entered Sunday with 19 consecutive wins at home, one away from a league record. With Philadelphia, Dallas, and Nashville on the schedule, the Wings had some healthy competition coming, and legitimate threats at ending the streak. On Sunday, the Red Wings hung on for a 4-3 victory; tying the record set at 20 by the 1929-30 Bruins and 1975-76 Flyers. On Tuesday, the Wings were back in the Joe Louis arena, and beat the Stars 3-1 to extend their streak and beat the old record. On Friday, Detroit beat Nashville in dramatic fashion, Thanks to Pavel Datsyuk. As it stands now, the Wings' streak is at a remarkable 22 games.
While the streak itself is unbelievable, the statistics that the Wings have had over the streak is even more astonishing. The Red Wings have outscored their opponents 89-32 over the 22 game streak, averaging 4.04 goals for and only 1.45 goals against. The team has also recorded 4 shutouts during the streak, and had to overcome adversity as star goaltender Jimmy Howard was injured. Detroit will attempt to keep their streak going on Sunday, when they take on the San Jose Sharks.
 "Enter Our Zone Before Shooting, We Insist" – Washington
If the Washington Capitals didn't have bad luck, they'd have no luck at all. Two weeks ago, Mikael Samuelsson fired a shot from center ice that beat Michael Neuvirth. Last week, Dustin Byfuglien wired a shot from center that hit Karl Alzner and beat Tomas Vokoun. On Monday, the Capitals faced the San Jose Sharks. With Vokoun out with the flu and Neuvirth getting the night off, Braden Holtby was given the start. For the third consecutive week, a goalie was fishing the puck out of his net as a result from a half-rink blast.
Over 12 minutes into the 1st period, Dan Boyle took a slap-shot from behind center ice. This time, the puck deflected off of Joe Pavelski en route to the net, catching Holtby off guard. While this goal was a turning point in a tied game (the Sharks won the game 5-3), the shot created a "record", one not seen in recent memory (or perhaps ever): In 3 consecutive weeks, a goal was scored from center ice on the same team. To make this unfortunate record even weirder, all 3 goals were scored against different goaltenders. Dany Sabourin better be prepared for a call-up next week, so he can keep this remarkable streak going.
Marchand "Lowthes" the Rules, Gets Away With It
On January 7th, 2012, the hockey community was up in arms. Brad Marchand, the scrappy (yet talented) Boston Bruin, was given a 5 minute major and a game misconduct for clipping Sami Salo. This play was deemed predatory and the "Little Ball of Hate" was suspended 5 games by Brendan Shanahan. Last Wednesday, the Bruins faced the Montreal Canadiens in a heated game. However, the fantastic game was tarnished by another low hit by Brad Marchand. With just over a second remaining in the 2nd period, Marchand hit Alexei Emelin with a relatively low hit. Marchand was given a minor penalty for clipping, and was ultimately not suspended for the act.
Many were dumbfounded by the decision to not suspend Marchand, and for a justifiable reason. The factors to put into consideration when suspending a player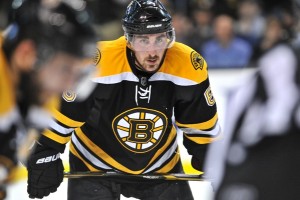 were heavily against Brad Marchand: Here is the hit against Sami Salo, and the hit on Alexei Emelin for referencing the points below:
First off, Marchand is a repeat offender. He did the exact same thing one month ago.
In his hit on Emelin, Marchand has no reason to duck down. He wasn't protecting himself, Emelin wasn't preparing to hit him, and Marchand was the one that initiated contact. A shoulder-to-shoulder hit would've been more than feasible.
The period was basically over. This was not to gain momentum or keep the puck in the zone. Making any vicious contact with another with 1.2 seconds to go is completely unnecessary.
Emelin did return to action, but he was briefly injured.
When Marchand hit Salo, he was suspended for a predatory and unnecessary act that endangered Salo. There is nothing in the second incident that justifies that it was a necessary and defensive act. It was Marchand trying to infuriate the Montreal Canadiens, and did so quite well. If Marchand continues to hit players that low, somebody is going to be seriously injured. The league should attempt to put a stop to malicious hits such as that before it is too late.
Another Week, Another Goal Drought Ended
To those who believed that Scott Gomez's goal drought was ridiculous, then this one will surely take the cake. Sheldon Brookbank has not had the convential route to the NHL that most players have had. Brookbank went undrafted and paid his dues in various minor leagues. After playing in the ECHL and the AHL for numerous years, he was finally given the chance to play in the big leagues. Entering his 5th season, Brookbank's NHL career has not been defined by his offensive productivity. The 31 year old has scored 1 goal in 252 games. His only tally came in the 2008-2009 season with his current team, the Anaheim Ducks. On Friday night, the Ducks visited New Jersey to take on Brookbank's old team. When the time was needed, Sheldon delivered.
In the dying minutes of the 3rd period, Brookbank pounced on a puck in the slot and drilled it home. This goal was his first in 3 years and against his former team nonetheless. The goal sent the Anaheim Ducks to overtime, where they eventually fell in a shootout. Despite this loss, the Ducks still garnered a point that will propel them in their push to the 8th and final playoff spot. Sheldon Brookbank gained them that extra point, one that wouldn't have been gained without his services. He may never be regarded as a decent offensive weapon, but Brookbank knew when the pressure is on, and gladly accepted the responsibility.
Opening The Trade Floodgates
One week ago, it seemed as if this year's trade deadline would be a dud. With players resigning and getting injured, it only seemed plausible to assume that there would be very little activity in regards to trades, and that it would ultimately be a letdown. This week tried to change that idea. Last week had 3 average deals that could change the landscape of the trade deadline.
1) Nicklas Grossman to the Philadelphia Flyers for a 2012 2nd and 2013 3rd
Who Wins? Philadelphia, for addressing their need for a hard-hitting defenseman.
How Does This Affect Trade Deadline Day? This deal directly affects the teams in the market for defensemen come the trade deadline. With 1 off the market, there is more demand for those still available.
Which Players Does This Affect? Luke Schenn, Jack Johnson, Bryan Allen, Jaroslav Spacek, Marek Zidlicky, and more.
2) Dominic Moore and a 2012 7th to San Jose for Minnesota's 2012 2nd
Who Wins? San Jose. Moore is a valuable asset come playoff time, and can really help teams that need depth scoring.
How Does This Affect Trade Deadline Day? More than anything, this deal is significant because it means that the Lightning will be sellers come deadline day.
Which Players Does This Affect? Dwayne Roloson, Ryan Malone, and more Tampa Bay Lightning.
3) Hal Gill and a 2012 5th to Nashville for Blake Geoffrion, 2012 2nd, and Robert Slaney
 Who Wins? Both teams. Montreal acquires a higher draft pick and a mid-level prospect, while Nashville acquires a very good penalty-killer that will take some of the work load off of Ryan Suter and Shea Weber
How Does This Affect Trade Deadline Day? This deal directly affects the deadline just like the first deal did. There is more demand for defenseman with Gill on the move.
Which Players Does This Affect? Luke Schenn, Jack Johnson, Bryan Allen, Jaroslav Spacek, Marek Zidlicky, and more.
4) Pavel Kubina to the Philadelphia Flyers for 2nd round and 4th round draft picks
Who Wins? Tampa Bay. They acquire another 2nd round pick, and a 4th round pick to boot. Philadelphia acquires another defenceman, and does not address the fact that their goaltending has been the main concern this season.
How Does This Affect Trade Deadline Day? Puts all the rumors of James van Reimsdyk for Luke Schenn to rest. It does not appear that Philadelphia will make another trade for a defender. However, it does intensify the market for the few defensemen still out there.
Which Players Does This Affect? Luke Schenn, Jack Johnson, Bryan Allen, Jaroslav Spacek, Marek Zidlicky, and more.
The Rick Nash Watch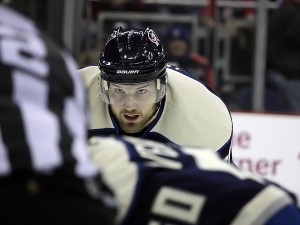 The biggest news of the week that immediately sparked the hockey world was the news that the Columbus Blue Jackets are fielding offers for superstar Rick Nash. While 29 teams would love to have Rick Nash, there are 5 teams that have a better shot than the rest:
1) Los Angeles Kings
What big assets would they have to give up? Jonathan Bernier, Jack Johnson, 2012 1st.
Why would they want him? Simply put, the King's offense is terrible. They are last in the league in goals for, despite their talented offensive core. Rick Nash would be the perfect player to play alongside Anze Kopitar. They also have star goaltender Jonathan Quick, so trading Bernier wouldn't be an issue.
Why wouldn't they want him? The price for Nash is incredibly high, possibly more than what the Kings would want to give up.
Odds that Nash becomes a King? 2 to 1
2) New York Rangers
What big assets would they have to give up? Michael Del Zotto, Chris Kreider, 1st round pick, Brandon Dubisnky.
Why would they want him? Nash would give the Rangers one of the most potent offenses in the league, and they'd love to acquire him.
Why wouldn't they want him? If they do acquire Nash, they'd be spending over 21 million dollars of cap space on 3 players.
Odds that Nash becomes a Ranger? 2 to 1
3) Toronto Maple Leafs
What big assets would they have to give up? Luke Schenn, Nazem Kadri, 1st round pick, Nikolai Kulemin, and more.
Why would they want him? Brian Burke wants a big power forward, and Nash is just that. Plus, Nash grew up in Brampton and has ties to Toronto.
Why wouldn't they want him? The Leafs' biggest need is a 1st line center. While they would like to get Nash, his high cap hit would leave little room to change the roster, or sign unrestricted free agents
Odds that Nash becomes a Leaf? 10 to 1
4) Vancouver Canucks
What big assets would they have to give up? Corey Schneider, Cody Hodgson, 1st round pick, and more.
Why would they want him? If the Canucks decided they wanted Nash, they'd have all the assets to get it done. Also, Sedin-Sedin-Nash. Need I say more?
Why wouldn't they want him? The biggest thing holding the Canucks back from this trade would be cap space. Vancouver has very little cap room, and wouldn't like to trade all of their future assets only to have their cap in a stranglehold as a result.
Odds that Nash becomes a Canuck? 20 to 1
5) (The Dark Horse) St. Louis Blues
What big assets would they have to give up? Chris Stewart, Vladimir Tarasenko, 2012 1st, Ben Bishop
Why would they want him? The Blues are contending in the tough Western Conference, and are only lacking a superstar forward. This would address that need.
Why wouldn't they want him? While they have lots of cap space, they have an internal cap due to management. They might not be prepared to spend up to the ceiling just for one player. It is also possible that Rick Nash would not accept a trade to the Blues, as he has a full No-Trade-Clause.
Odds that Nash becomes a Blue? 20 to 1
The Short Handed Powerplay
On Saturday, the Pittsburgh Penguins were losing 2-1 to the Philadelphia Flyers before an unbelievable turn of events occurred. Jordan Staal and Matt Cooke scored on the same penalty kill to lead the Penguins to a 6-4 victory. Matt Cooke's tally also came while two-men down, a rarity in today's NHL.
Play of The Week: Mike "Switch-Hands" Ribeiro
While some would argue that Benoit Pouliot's dangle is deserving of play of the week, Ribeiro's move and the bar-down slapshot were too much to ignore. In addition, the goal was scored in overtime to win the game.