The Vegas Golden Knights announced on Sept. 28, that they acquired Dylan Sikura from the Chicago Blackhawks. The other part of the trade was that Vegas forward, Brandon Pirri, is headed to Chicago. This trade does little in fixing Vegas' cap space issues, but it does bring another young player into the organization.
What Vegas is Receiving
Sikura is a 5-foot-11, 25-year-old forward from Aurora, Ontario. He is a product of the NCAA where he was a finalist for the Hobey Baker Award during the 2017-18 season. During his time playing college hockey, Sikura also helped lead the Northeastern Huskies to win the Hockey East championship in 2016. The Huskies also captured the Beanpot championship in 2018. While in college, he posted 58 goals and 146 points in 137 games in his four seasons with the Huskies. He was also the 178th-overall pick in the 2014 NHL Entry Draft.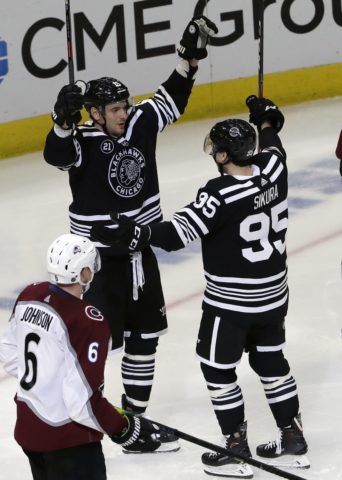 So far, he has spent time with both the Blackhawks and their affiliate the Rockford IceHogs. Sikura finished the 2019-20 season as the second-leading scorer on the IceHogs after posting 33 points in 45 games. At the NHL level, he has registered one goal and 13 assists in 47 career games. Over the last two seasons, he has split time between the NHL and AHL. So far in his professional career, Sikura has not been a minus player.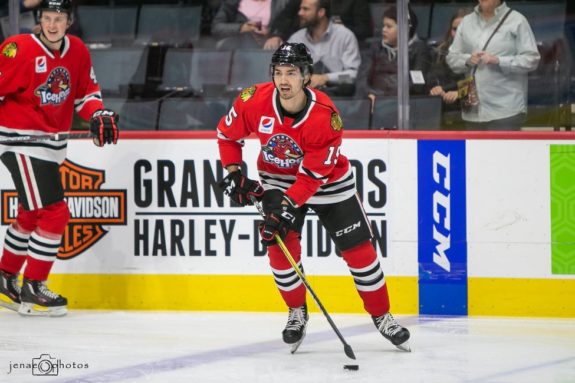 In Vegas, Sikura will hope to expand his role and take the next step in becoming a full-time NHL player. Currently, he is in the last year of his contract and will look to make an impact in the upcoming season. Vegas could be a solid home for him, as the Golden Knights have had a history of elevating younger players. Sikura could look to follow in the steps of William Karlsson, Alex Tuch, and Shea Theodore who all seemed to shine when they were given an opportunity in Vegas.
Who Vegas Dealt
Pirri is the other player involved in this deal, and is also in the last year of his contract, carrying a cap hit of $775,000. His departure from the Golden Knights would not be seen as a salary dumb because the 29-year-old forward is only earning $25,000 more than Sikura. Pirri split time between the NHL and AHL last year as well. This ends his three-year run with Vegas as he heads back to the team that originally drafted him.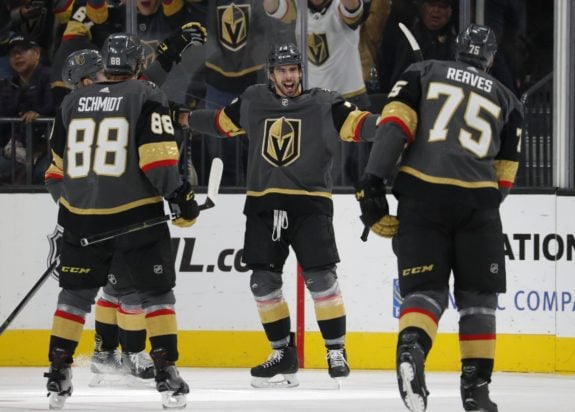 In his career, Pirri has played 275 games at the NHL level with 72 goals and 121 points. While in the AHL, he has collected 329 points (130 goals, 199 assists). Pirri also won the John B. Sollenberger Trophy during the 2012-13 season, as the AHL leading scorer. As a member of the Golden Knights, he only played 49 games over the course of three seasons. He did not register a goal for the Golden Knights in the 2019-20 season and his departure from the team could be seen as a way to bring in a younger player to fill his role. 
Who Won the Trade?
This trade appears to be a case of the Golden Knights trying to keep their team young. Sikura and Pirri seem to have similar stat lines and it appears as if a change of scenery will be good for both players. Sikura started his professional career in 2018 when he joined the Blackhawks after his college season ended. Pirri, on the other hand, is a veteran of 12 years. Both players will be a better fit in their new homes. Vegas is a young and hungry team determined to win the Stanley Cup, while Chicago is in the latter stages of a rebuild and could use some more veteran leadership to help their younger crop of players.
Related: Ranking the NHL's 31 Starting Goalies – 2019-20 Postseason
All in all, both sides seemed to make moves that were beneficial to their rosters. Although there is no true winner, Vegas did get a younger player with similar skills to that of a veteran, which could be seen as a win to the fanbase. If Sikura can prove himself at the NHL level, then Vegas could be declared the winner; however, until that happens, this was a fair deal for both parties. 
---
---