In the recent week, the NHL world has been a frenzy due to the news surrounding Columbus Blue Jackets' all-star center Pierre-Luc Dubois. The Quebec native recently inked a two-year/$10 million deal extension with the Blue Jackets, but it doesn't look like he will play out his contract in Columbus.
Strong rumors have been reported that Dubois wants out of Columbus, even going so far as requesting a trade. Unfortunately, for the Blue Jackets, the "disgruntled star wanting out" is not a new situation to the franchise. In the past, they had boatloads of talent in names such as Artemi Panarin, Sergei Bobrovsky and Matt Duchene. Even after management offered them "everything and a bit more", it wasn't enough to keep them from leaving. Now it seems, just as things were starting to look on the "up and up" they have been dealt another blow, with their star center adamant on leaving.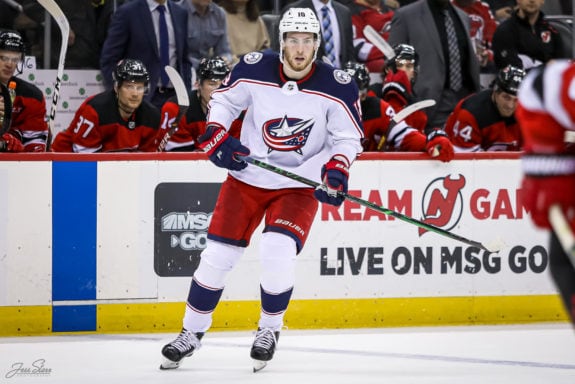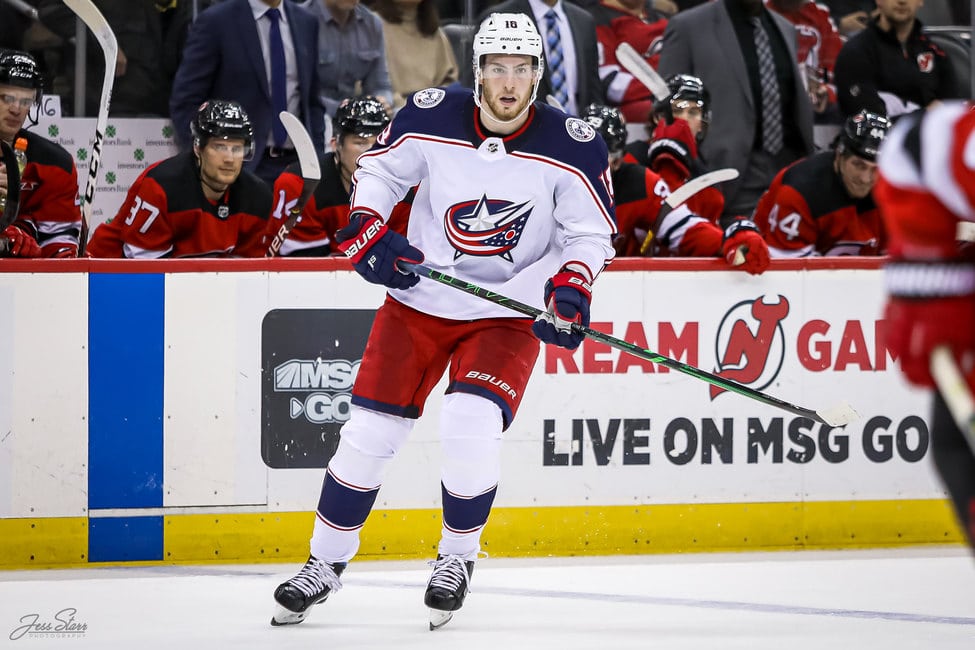 The NHL is a business, a sometimes cruel one at that, but that is the name of the game. All Columbus can do now is formulate a trade where they receive the most bang for their buck. With various suitors looking to acquire the services of Dubois, any team would get stronger down the middle of the ice instantly, especially the Vegas Golden Knights. A trade for Dubois may be just what they need in order to secure the coveted Stanley Cup, but what kind of deal would the two sides be able to work out?
What the Golden Knights Could Offer
The Golden Knights have been said to be shopping some of their big-name contracts in order to become cap compliant by the start of the season. They are currently $974,104 over the limit, a minuscule amount that can be solved with a minor trade. In all honesty though, minuscule is not exciting, so as a wise man once said: "Go big or go home".
If the Golden Knights and Blue Jackets were to hypothetically hook up on a deal involving Dubois, Vegas would definitely want to send one of those heftier contracts the other way, in order to alleviate cap space. Beautiful, we kill two birds with one stone. So, which big-name contract seems a more plausible fit to be moved in order to acquire Dubois?
The Blue Jackets already have two outstanding goalies in Elvis Merzlikins and Joonas Koorpisalo, so a trade involving Marc-André Fleury would be out of the question. A situation that seems more realistic would be a trade involving one of Vegas' offensive superstars, meaning either Max Pacioretty or Jonathan Marchessault could see a change of scenery.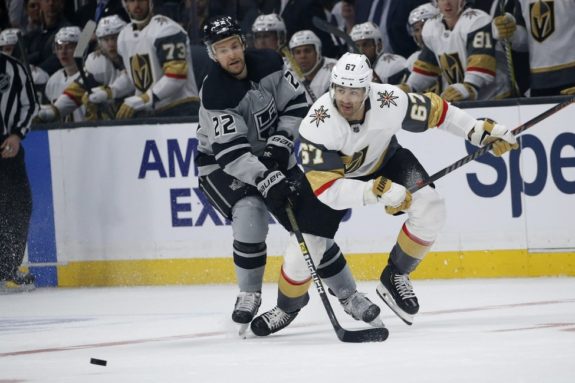 An offensive superstar would not be enough to jostle the Blue Jackets to send Dubois Vegas' way, but I do believe with the addition of a couple of first-round picks in upcoming drafts and a prospect, they could be swayed to complete a deal with Vegas. Seeing as we would be trading for such a high caliber player, a Grade-A prospect would have to be sent the other way.
With the offseason signing of Alex Pietrangelo, it is obvious Vegas is in "win-now" mode, so they can do with sending out a top prospect who may take a couple of years to develop. Some names that may be interesting to the Blue Jackets are Peyton Krebs, Lucas Elvenes and Brendan Brisson.
Krebs is number one in Vegas' prospect pool for good reason. A standout in the WHL, he posted 60 points in 38 games for the Winnipeg Ice, while also donning the "C". Elvenes is probably the most surprising and exciting prospect in Vegas' pool.
Having played his first SHL game at just 17 years old, and having led the AHL's Chicago Wolves in scoring (48 points in 59 games) at just 20 years old during the 2019-20 season, it would be hard not to get excited by Elvenes. Brisson was Vegas' 2020 first-round selection and has enjoyed much success in the USHL, putting up 59 points in just 45 games played.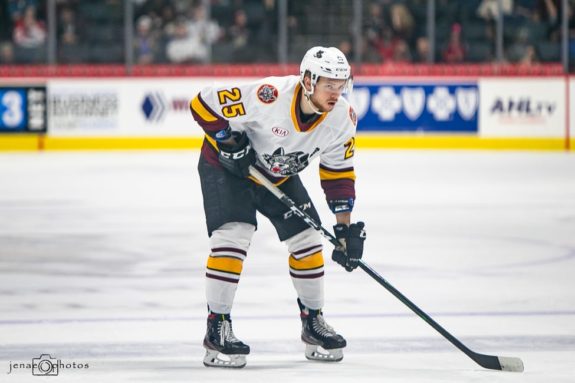 With an abundance of prospects who look like future NHL superstars, it would be great if Vegas could coax Columbus into working something out. With the Ohio team not likely to contend for a Stanley Cup in the near future and the Golden Knights looking to win now, it would be a "win-win" situation if both teams swapped assets.
Acquiring Dubois Would Fill Many Needs
If recent NHL championships have taught us anything, it is that having two marquee centers is optimal for Stanley Cup success. Tampa Bay had Brayden Point and Anthony Cirelli; St. Louis had Ryan O'Reilly and Brayden Schenn; Washington had Nicklas Backstrom and Evgeny Kuznetsov; just to name a few.
Although Vegas houses a packed offensive lineup, they do come up short in the middle of the ice. Their number one center is William Karlsson but, after him, the lineup down the middle does not look convincing. So far, Cody Glass is projected to slot into the second-line center role for the Golden Knights.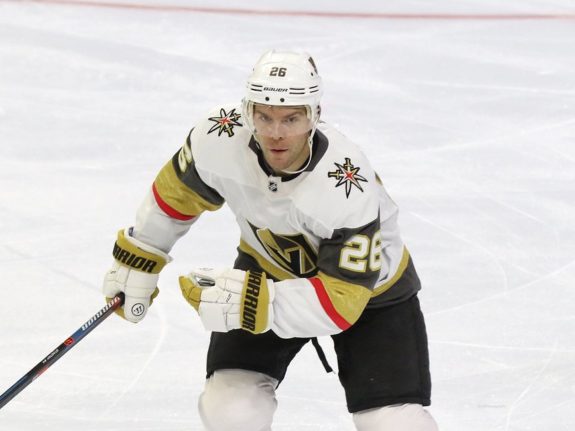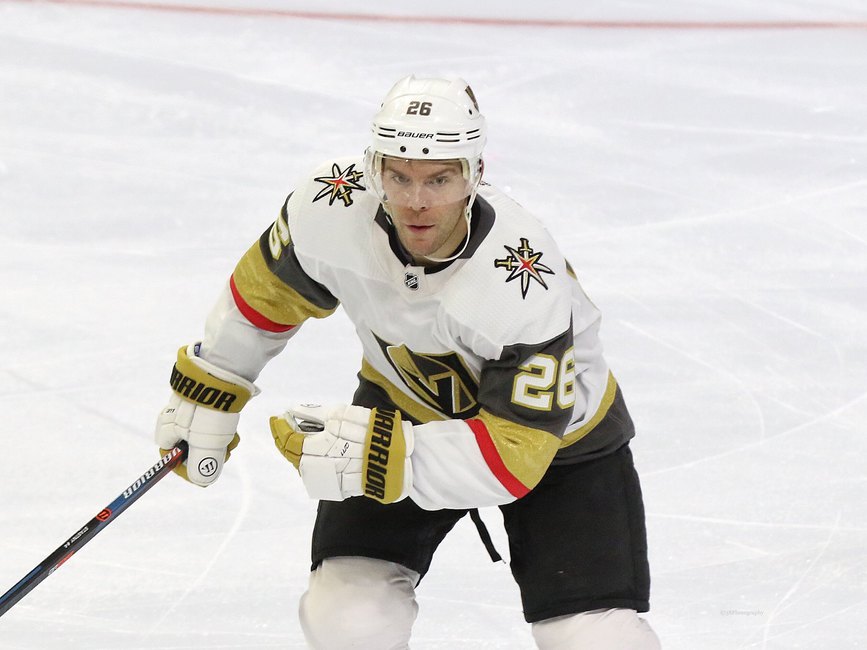 The first draft pick in franchise history is a highly touted prospect who has proven himself in juniors and the AHL but has yet to showcase a display of his talent in the NHL. With Vegas looking to qualify for the playoffs for a fourth straight year, it would be hard to argue against the fact they lack the number two center needed to get there. Since the trading of Paul Stastny back to the Winnipeg Jets, the Golden Knights are in a tricky situation.
Acquiring Dubois would not only fill the coveted number two role the Golden Knights need, he could also act as a mentor to the young Glass. Dubois is Glass' senior by only one year but has enjoyed much more success than the former Portland Winterhawks star. He has racked up 158 points in 234 games with the Blue Jackets, while also proving his clutch factor, by scoring 10 points in 10 games during the 2020 Stanley Cup Playoffs.
Having a successful and established NHL center such as Dubois serving as a mentor would not only be huge for Glass, but for the entire organization as well. Since they are so close in age, it would be easier to relate and may take the pressure off of Glass, who has yet to establish himself as a solid NHL player. The future of the franchise would be in good hands with those two manning the first and second-line center roles.
The Time is Now
Seeing as Dubois has made it clear he wants out of Columbus, this could prove to be perfect for the teams negotiating to acquire him. Because he has proved his dissatisfaction, the Blue Jackets have less leverage in negotiations. If I were Kelly McCrimmon, and I knew I had salary cap trouble, while also having the opportunity to acquire a stand-out NHL center with loads of untapped potential, I would be blowing up Jarmo Kekäläinen's phone trying to get some sort of deal done.
If Vegas were to make a push for his services, they would be acquiring much more than just a second-line center. At just 22 years of age, Dubois has room to grow and develop into an elite first-line center. His ceiling is very high and has yet to touch it, which is very exciting to any team he lands on.
The Golden Knights have already been to the Stanley Cup Final once before and were defeated. With the acquisition of big names in the past years, they have strengthened this team to a point where they have become Stanley Cup favorites. With the acquisition of Dubois, Vegas may finally have the final missing piece of their championship puzzle. It may be wishful thinking, but if there were any time to pounce on a liquidated asset that can help you win a cup that time would be now.
What do you think? Could you see a trade happening between these two teams? Let me know in the comments below!
---
---