One of the most remarkable components of the Vegas Golden Knights' organizational success is how their current positioning among the league's elite is counter-balanced with a treasure trove of future assets. The Hockey Writers' own Josh Bell had Vegas ranked 11th in his team farm system rankings and listed four Golden Knights prospects among his top 100 league-wide.
Thanks to George McPhee and his deft handling of the 2017 Expansion Draft, the Golden Knights wound up making 12 selections in the Entry Draft that same year. Through their picks and the grooming of other prospects, Vegas has been afforded the luxury of bolstering their depth with homegrown, NHL-ready talent. Cody Glass is, of course, the great organizational hope up front, while the group of young blueliners (Zach Whitecloud, Nic Hague, Jake Bischoff and Jimmy Schuldt) all got varying degrees of NHL opportunities and should be prepared for larger roles to come.
And still, there's more coming. As some of Vegas' veteran contingent, including the 30-and-over crowd of Max Pacioretty, Alec Martinez, Nick Holden and even Alex Pietrangelo, begin to age out of their prime years, the club is well-positioned to find a solid foundation of potential internal replacements. Let's take a look at some of the most 'untouchable' options.
Peyton Krebs
For this exercise, we're assuming that Cody Glass, who suited up in 39 games for the Golden Knights last season and is expected to start the 2020-21 season second or third on the center depth chart, has graduated past prospect status. That leaves fellow center Peyton Krebs as the top organizational prospect.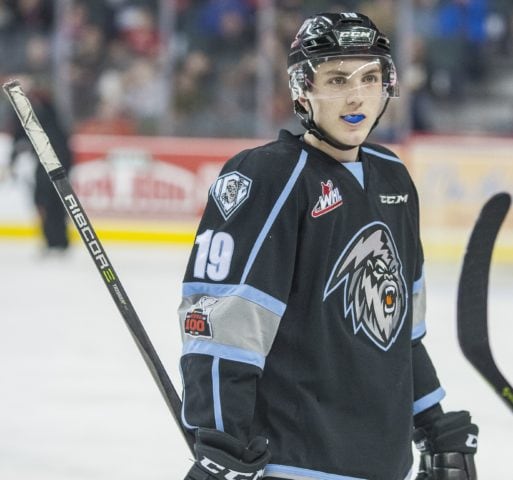 Widely expected to center one of the top lines for Team Canada at the World Junior Championships next month, the 19-year-old Krebs lit the Western Hockey League (WHL) ablaze in 2019-20. Despite an Achilles injury that limited him to just 38 games with the Winnipeg Ice, the 17th overall pick in the 2019 NHL Entry Draft still recorded 60 points, including 48 assists – good for 12th league-wide.
That production earned Krebs an invitation to join Vegas in the bubble as a taxi-squad fill-in in the event of injury. Though he was never called upon, he had the opportunity to get to know many current Golden Knights and measure himself against elite NHL talent. "I definitely didn't feel out of place," Krebs recently told TSN. "Each and every day at practice and playing with those guys you start to realize […] you're not far from being that too." For the teenager, "not far" might mean this coming season.
Pavel Dorofeyev
Don't let Pavel Dorofeyev's measly 2019-20 KHL numbers fool you. That he posted just four goals and seven points in 48 games with Magnitogorsk Metallurg hardly comes as much of a surprise for a low-scoring league that has traditionally favored fully grown veterans over young prospects. At just 9:30 per night, Dorofeyev clearly wasn't going to get the opportunity to post major stats.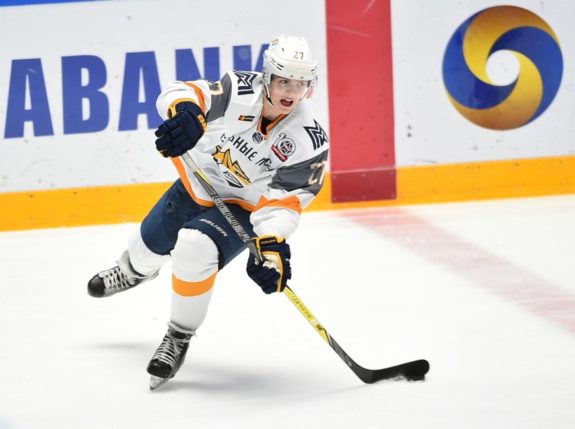 A better showcase for the 20-year-old Russian came at the 2019 World Junior Championships, where his three goals in seven games helped propel his home country to a silver medal. There, he offered a taste of some of his gifts, including good hands, an NHL-ready shot and tremendous offensive instincts, that prompted talent evaluators to label him a steal soon after being taken in the third round of the 2019 Draft.
Jack Dugan
Glass played in more than 25 games last season, meaning that he is no longer eligible for the Calder Trophy. But could the Golden Knights have a dark horse candidate for the league's top rookie award (assuming Alexis Lafreniere doesn't simply run away with it) anyway? Providence College standout Jack Dugan may be poised to step into the lineup and contribute immediately after signing a two-year entry-level contract in July.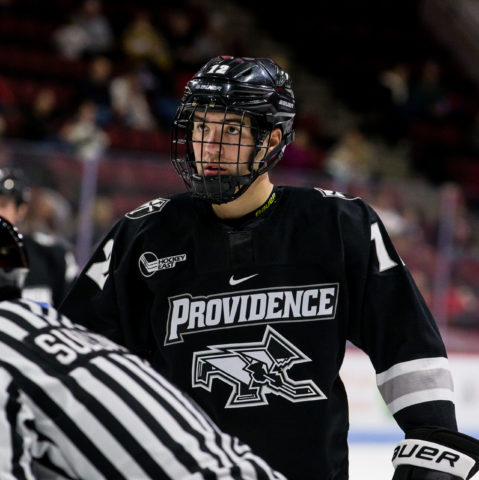 The Golden Knights drafted Dugan in 2017 (fifth round, 142nd overall), before he embarked on a two-year NCAA career. All he's done in the two years since is validate their belief in him, following up an impressive freshman season by leading the nation in scoring one year later en route to being named a Hobey Baker finalist. Now, the 22-year-old is primed to step in and challenge for a spot in the lineup right off the bat. While he may not have the ceiling of a Glass or a Krebs, but there's significant value in a young player on a reasonable contract ($925,000 cap hit) who can enhance a Stanley Cup contender.
Lucas Elvenes
When the 2019-20 AHL season was cut short due to the pandemic, few bothered paying attention to scoring statistics. Still, it was anything but insignificant that, on a Chicago Wolves team featuring veteran NHLers like Brandon Pirri, Curtis McKenzie and Tye McGinn, the team's leading scorer was a 21-year-old Swede who had just arrived stateside.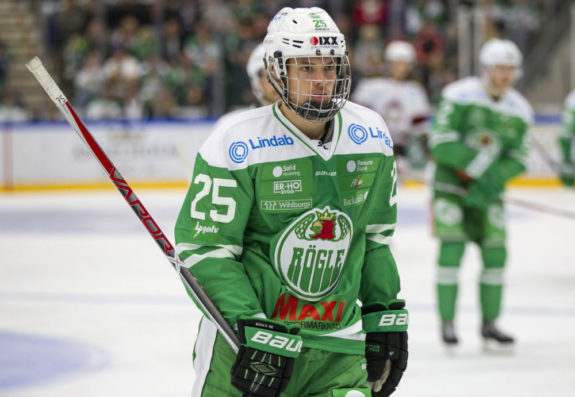 Lucas Elvenes' impressive season has garnered attention as a potential trade chip, but in the eyes of Vegas GM Kelly McCrimmon, it might have had the opposite effect. The offensive skill showcased by Elvenes isn't easy to find, and now there's clear, tangible proof that he can adapt to more of an NHL style of play on smaller, North American ice. He's now a fifth-rounder in draft slot only, likely taking on a far greater place in the club's long-term plans.
Yes, one of the league's best teams has more reinforcements on the way. On one hand, these prospects seem ready to represent a case of the rich getting richer. However, as one of the many clubs facing a cap crunch – Vegas could be dealing with for years to come – it's an essential part of a winning organization to build from within. With Krebs, Dorofeyev, Dugan and Elvenes making strides, the future in Vegas looks plenty bright.
---
---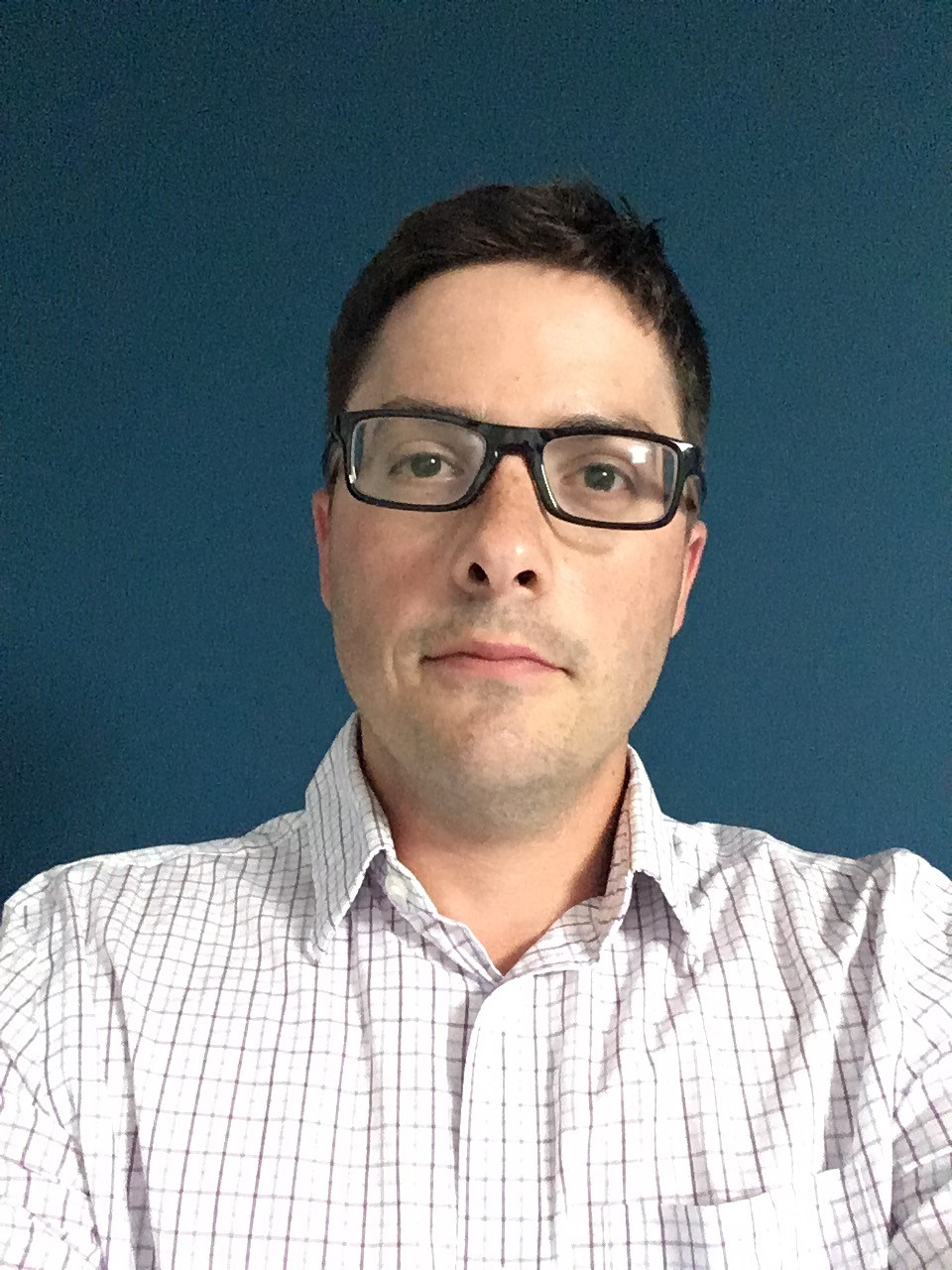 I may be a Leafs fan at heart (I've witnessed their highs and lows first-hand as a Scotiabank Arena employee), but I'm also a veteran freelance sportswriter who loves a good story. And there's been no better story in hockey over the past few years than the Vegas Golden Knights. I'm excited to be covering the NHL again on the Golden Knights' beat.