Editor's note: An earlier version of this post had an error in the lineup charts that has since been corrected. We apologize for the mistake.
It has been a quiet free agency period for the Boston Bruins and general manager Don Sweeney. The biggest free-agent signing to date has been forward Craig Smith, who spent all nine of his NHL seasons with the Nashville Predators and has been a 20-goal scorer in five of those seasons. 
Defensemen Torey Krug left in free agency for the St. Louis Blues and the status of captain Zdeno Chara is still up in the air as to whether he returns for a 15th season with the Bruins. Regardless of what Chara decides, there are still questions on how coach Bruce Cassidy will slot returning players and new players into his lineup.
With that said, two members of the Bruins writing team, Katherine Ripley and Scott Roche, give their takes on what the B's opening night lineups will look like. Of course, things can and will change as time goes on.
Katherine Ripley: Shaping up for a Rocky Start
My lineup prediction is based on the Bruins retaining Jake DeBrusk, but not Zdeno Chara. Also, David Pastrnak and Brad Marchand are missing from my opening night prediction due to the likelihood that they will still be recovering from offseason surgeries.
| | | |
| --- | --- | --- |
| Left Wing | Center | Right Wing |
| Jake DeBrusk | Patrice Bergeron | Ondrej Kase |
| Anders Bjork | David Krejci | Craig Smith |
| Nick Ritchie | Charlie Coyle | Chris Wagner |
| Par Lindholm | Sean Kuraly | Karson Kuhlman |
| Left Defense | Right Defense | Goalies |
| Matt Grzelcyk | Charlie McAvoy | Tuukka Rask |
| Jeremy Lauzon | Brandon Carlo | Jaroslav Halak |
| Urho Vaakanainen | Connor Clifton | |
With deals still up in the air for DeBrusk and Chara, several free agents still on the market, and rumors of trades floating around, it's hard to peg down what the offensive lineups will look like.
I'm still holding onto the hope that the Bruins can land Mike Hoffman because without him, or another player with similar scoring ability, Boston is going to have a really hard time being a serious contender for the Stanley Cup this season. Hoffman can play both the center and left-wing positions and shoots left, so he would likely bump DeBrusk from the first line pairing for opening night. When Marchand returns to play, Hoffman would easily make his home on the left side of the second or third line.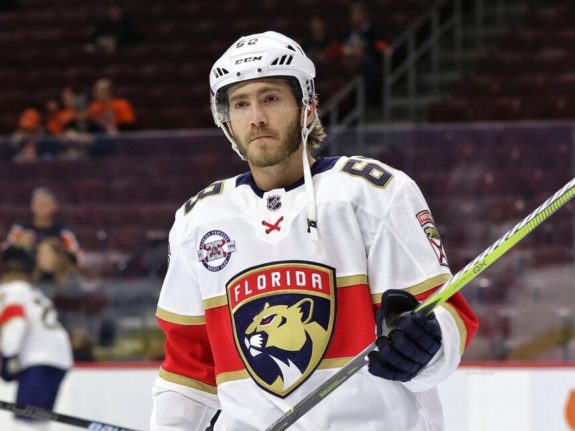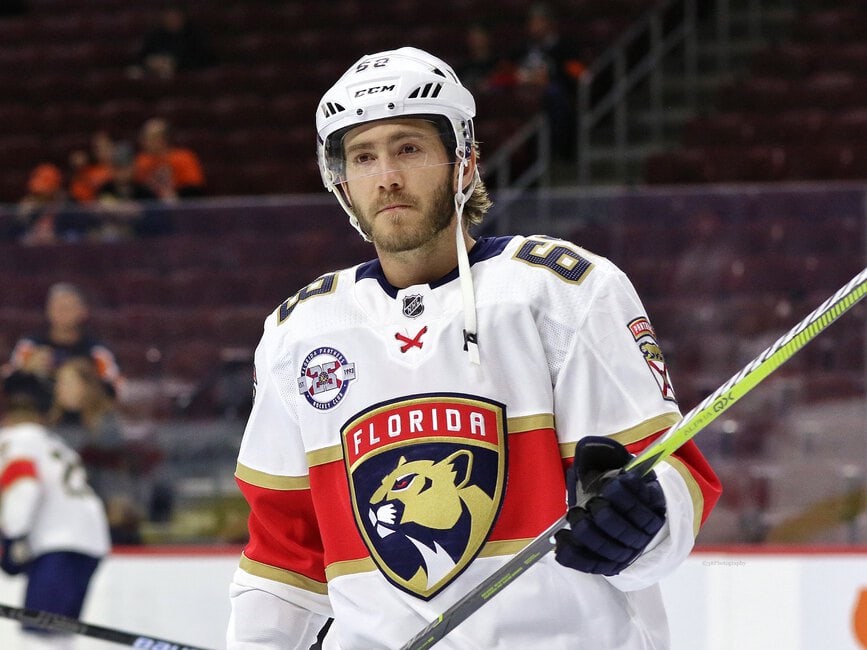 If Boston can't keep DeBrusk or land Hoffman, we will see Par Lindholm or Trent Frederic make an appearance in the third or fourth line's left side. Obviously, this will all shift around once Marchand and Pastrnak have recovered, and hopefully, that's sooner rather than later. The lack of scoring depth overall is concerning. Without Marchand and Pastrnak leading the charge, the beginning of the season will be a struggle.
Scott Roche: Still a lot of Questions
Things get interesting right off the bat with the status of the Bruins' first line wings. Marchand and Pastrnak underwent surgeries in September, which leaves Cassidy and the rest of the team unsure if either will be ready to begin the season. How much time that will be missed by each player will depend on what the NHL and the NHLPA agree to for a start date. Right now, the league is still targeting Jan. 1.
I'm thinking the Bruins begin the season without either player. Marchand has a mid-January return timeframe from sports hernia surgery and Pastrnak has a mid-February return timeframe to return from hip surgery.
Left Wing

C

enter

Right W

ing

Jake DeBrusk
Patrice Bergeron
Craig Smith
Anders Bjork
David Krejci
Ondrej Kase
Nick Ritchie
Charlie Coyle
Jack Studnicka
Trent Frederic
Sean Kuraly
Chris Wagner

Left Defense

Right Defense

Goalies

Matt Grzelcyk
Charlie McAvoy
Tuukka Rask
Jeremy Lauzon
Brandon Carlo
Jaroslav Halak
Urho Vaakanainen
Connor Clifton
Smith gets the nod to begin the season on the first line next to Patrice Bergeron. Ondrej Kase, who struggled in six regular-season games and then eight in the Toronto playoff bubble with a combined five assists, most likely ends up on the second line.
DeBrusk is still a restricted free agent, but look for him to return to the Bruins with a deal that gets him around $4-5 million a year. If Boston is going to be shorthanded up front, look for Jack Studnicka to have a solid training camp to find himself on the third line right wing next to Charlie Coyle.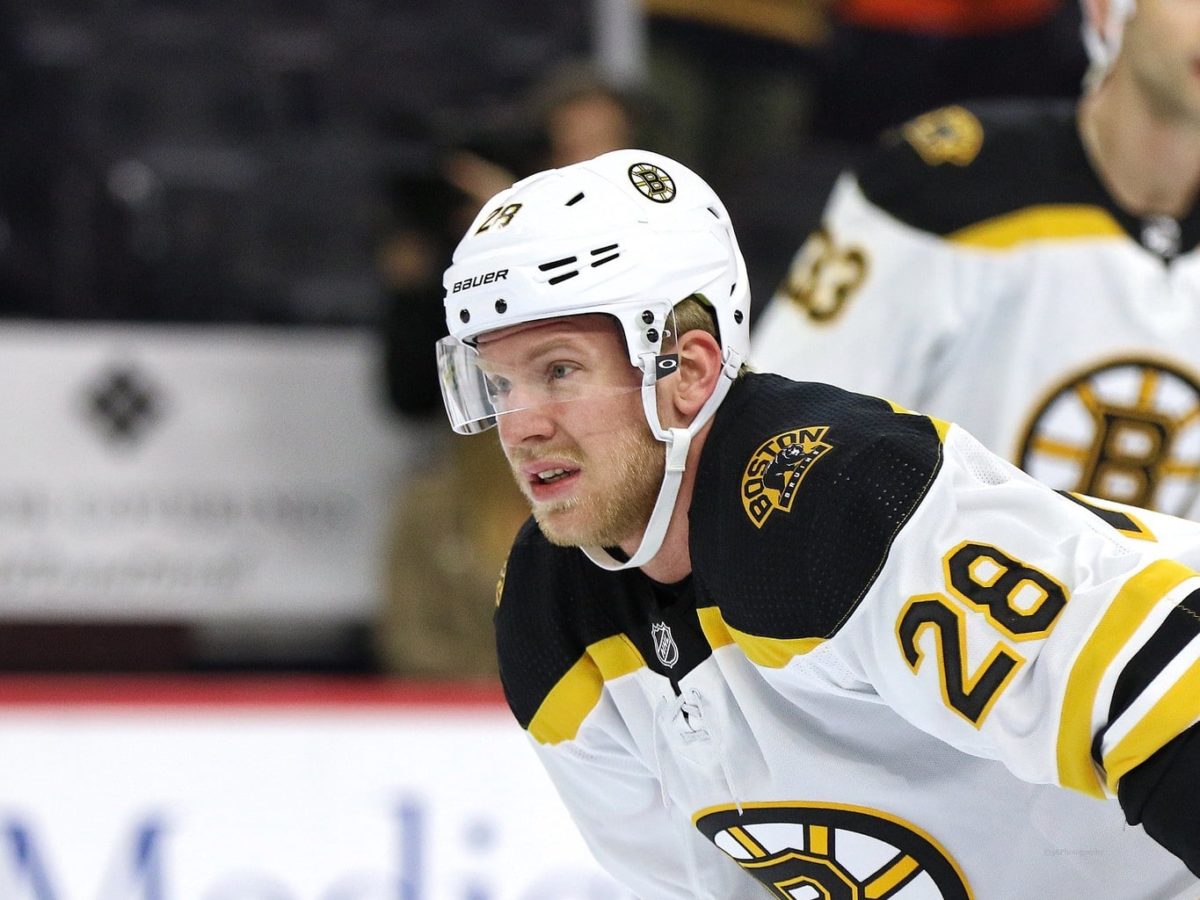 On defense, I don't believe that Chara returns for another season with the Bruins. Charlie McAvoy is ready for a breakout season and the front office committed to Matt Grzelcyk with a four-year, $14.75 million contract. I expect those two to team up as the first pairing. Urho Vaakanainen is NHL ready, while Jeremy Lauzon and Connor Clifton round out the blue line with Brandon Carlo.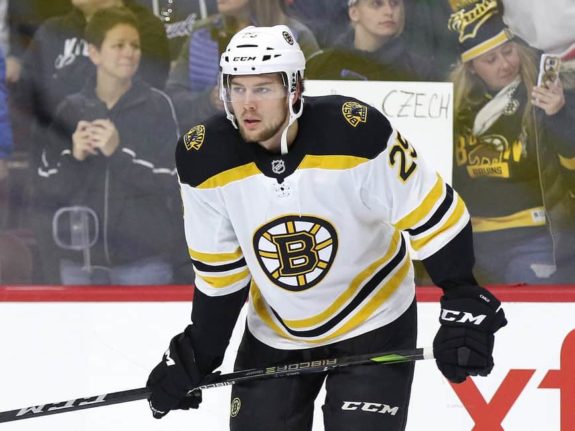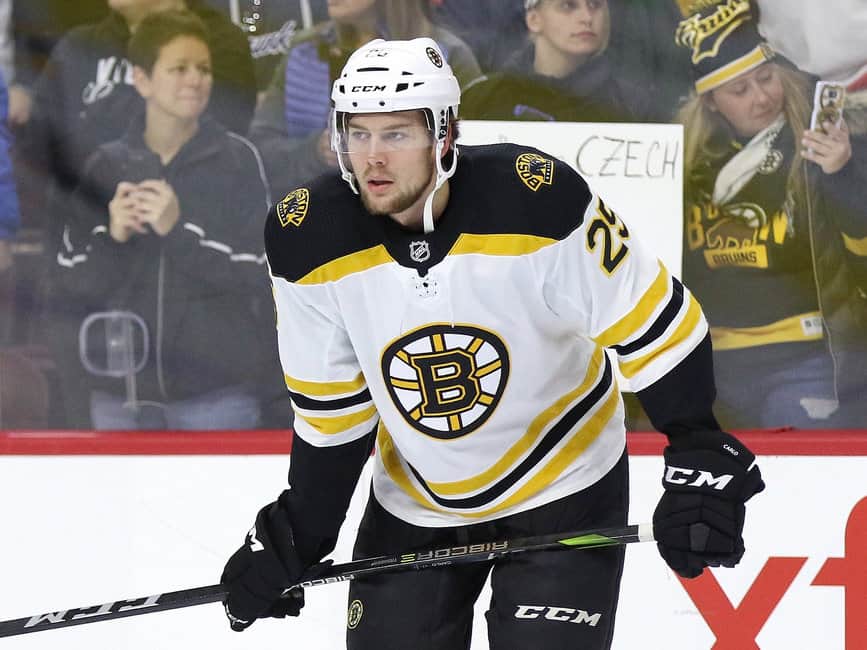 In net, Tuukka Rask returns for the final year of his eight-year, $56 million contract after leaving the Toronto playoff bubble over the summer for a family situation. A Vezina Trophy finalist last season, he has hinted at a possible retirement following the end of his contract, but the Bruins are hoping to get at least one more year from the 33-year old. Jaroslav Halak will back him up for a third straight season after re-signing in May.
Changes Will Happen
Sweeney still has just over $6.5 million cap space available this offseason. Expect a bulk of that to be used to re-sign DeBrusk. If not, then what Sweeney does with that money is the question. Additions to the forward grouping are still needed whether it's through free agency or trades.
---
---