As good as the Vegas Golden Knights have been these past few seasons, they also have a very strong prospect pool. Thanks to some excellent scouting and trading, the team has been able to be both a title contender and a team with a bright future at the same time. Here are a few highlights from the prospect pool who so far seem like they can have a great impact at the NHL level.
Peyton Krebs – 1st Round, 17th Overall (2019)
Krebs had a very impressive 2019-20 season, posting 1.57 points per game in his 18-year-old season. This season, he was selected to play on the Canadian World Junior Championship team, where he posted three goals and five assists for eight points and was rewarded with a silver medal at the tournament. He has officially signed his entry-level contract and will soon be starting his season with the Henderson Silver Knights.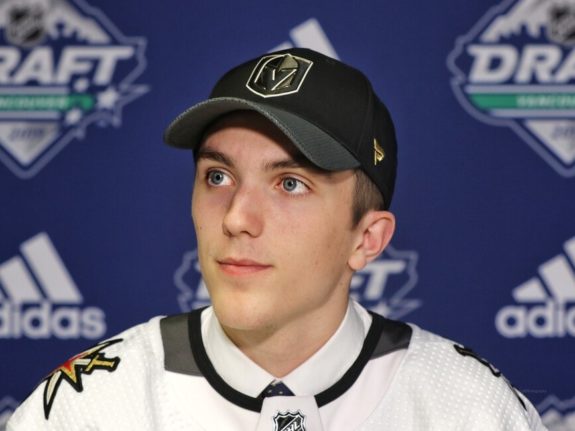 Krebs is an excellent playmaker with great on-ice vision, and he could probably already be a third-line center on a team that has less depth at the position than the Golden Knights do. This season, he will likely be the first or second-line center on a Silver Knights team looking to make a name for themselves in the American Hockey League.
For Krebs, the challenge now is to adapt to the rigor of the AHL. He is going from playing against players his own age to playing against much bigger and stronger adults. At 5-foot-11 and 180 pounds, his size is well suited to the NHL game, but there will definitely be an adjustment period for him going into his rookie season.
Kaedan Korczak – 2nd Round, 41st Overall (2019)
Korczak seems to be a player who can grow into an excellent two-way defenseman. Being 6-foot-4 and 200 pounds, he definitely has the size to be a strong physical defenseman. For someone of his size, he is a very fast skater and is far more mobile on the ice than most players of his height. Korczak could stand to gain a few pounds of muscle, but he is only 20 years old and that will come in due time.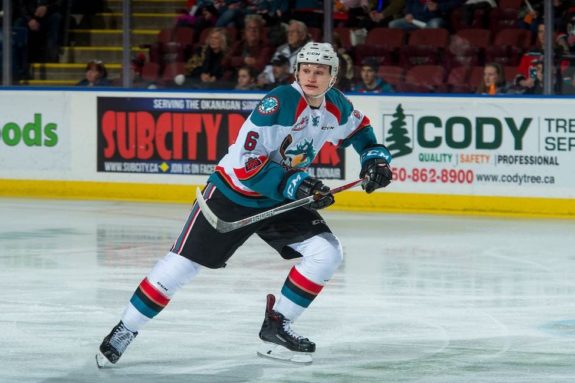 He did not have a great offensive showing for the Canadian team in the World Junior Championship, partially due to the fact that he was mainly given penalty kill responsibilities and defensive zone starts. Canada had a very impressive defense during this iteration of the World Junior Championship, and Korczak definitely showed off his skills on that end of the puck.
Korczak was recently moved to the taxi squad, so it is apparent the big club liked what they saw in him enough during the World Junior Championships. He would probably make an excellent partner for an offensively gifted defenseman such as Alec Martinez. This season will be very valuable for him to get NHL experience and adjust to playing against bigger and stronger players as opposed to the junior leagues and the World Junior Championship.
Brendan Brisson – 1st Round, 29th Overall (2020)
Brisson is an intriguing prospect who has opted to take the college hockey route. He has committed to the University of Michigan and has been an excellent contributor on the top line, contributing five goals and seven assists for a total of 12 points in only 14 games. Only a freshman, Brisson has proven himself against players who are much more experienced than he is, and he does not look out of place at all.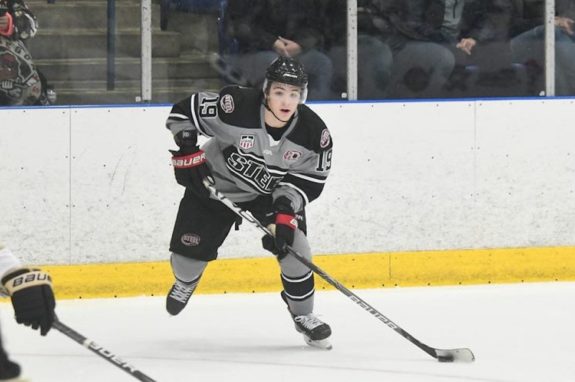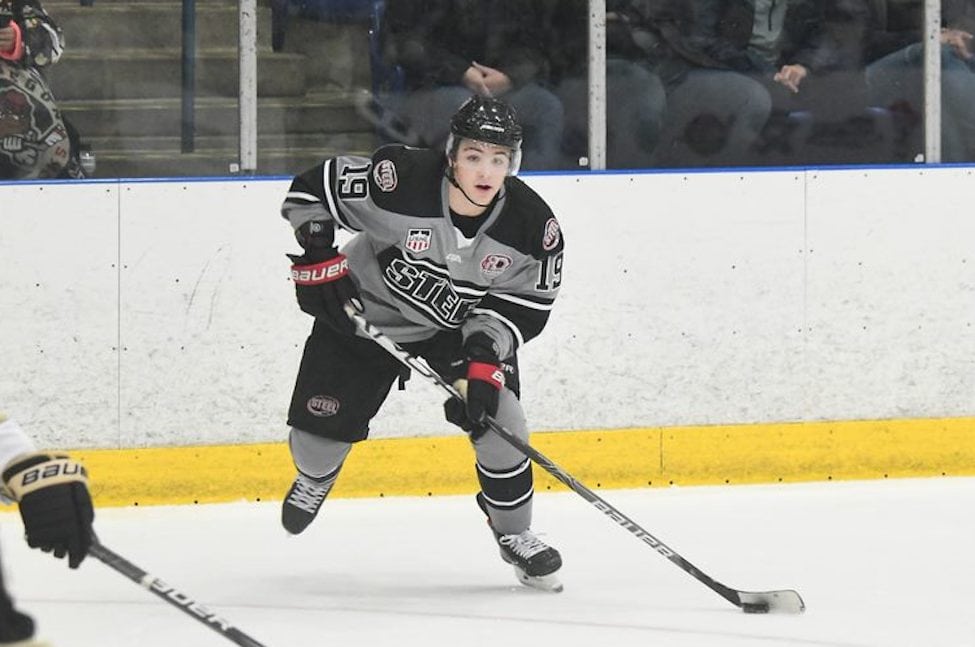 Brisson was selected to represent the United States in this year's edition of the World Junior Championship, where he recorded two goals while taking on primarily defensive responsibilities. Although he is not the biggest player in the league, he is an excellent skater which makes up for his lack of size, especially on the defensive end of the puck.
He has proven himself as a player who can see the game very well. He has excellent on-ice vision, and he is always putting himself in the best position on the ice to be valuable to his team. Brisson's vision has helped him adapt to the college hockey game, and will be an asset when he inevitably moves up into the professional ranks.
Isaiah Saville – 5th Round, 135th Overall (2019)
Saville has improved significantly since his draft year. He posted a decent 0.907 save percentage in his rookie season, but this season he has worked hard and improved his game, to the tune of registering a .920 save percentage. Unfortunately, Saville did not compete in this year's world junior championship, but he has shown some great improvement and progression that will hopefully one day prove to the world that he is a top goaltending prospect.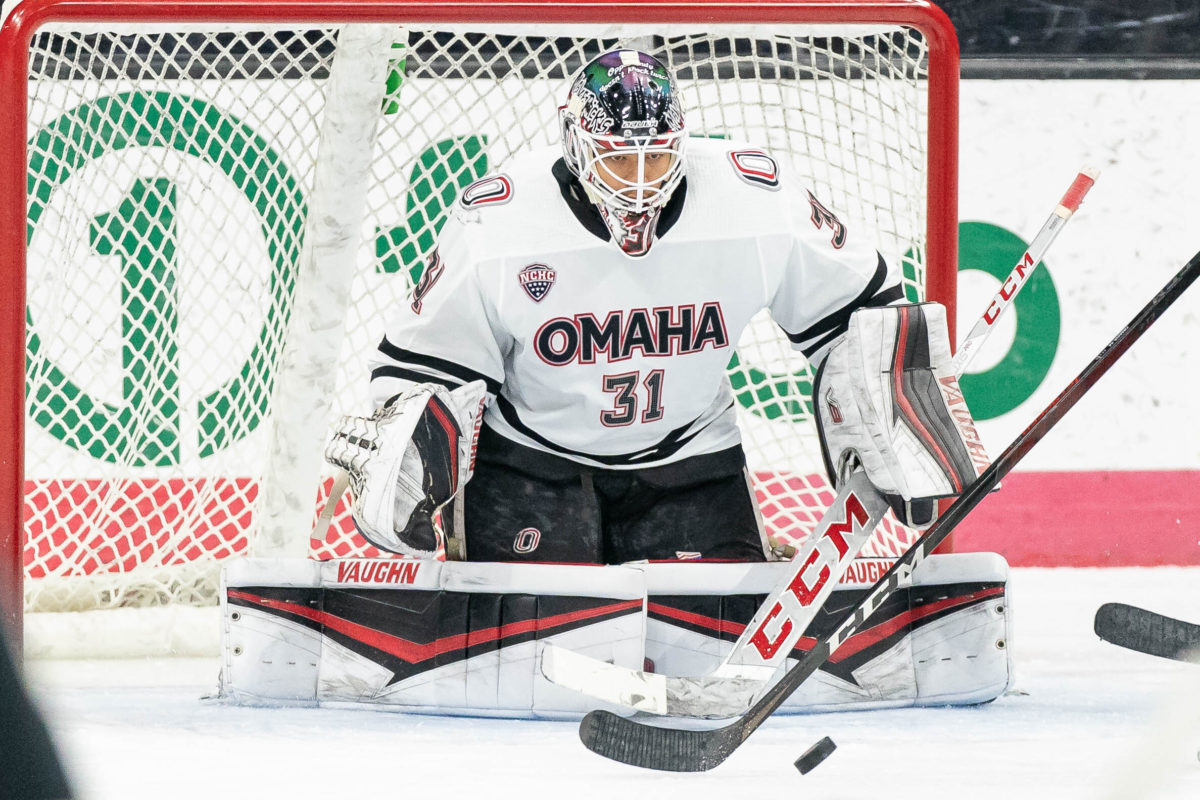 This young prospect is reminiscent of a Montreal Canadiens prospect Cayden Primeau. They both started off their careers in the United States Hockey League and then decided to pursue the college route after being late-round draft picks. They both improved significantly in the college circuit, and Primeau is beginning to develop nicely in the American Hockey League. Goaltenders take significantly longer to develop in most cases, and at just 20 years old Saville will have plenty of time to reach his full potential.
What Does the Future Hold?
In only three short years, the Golden Knights have already reached a Stanley Cup Final, and have a bright future ahead, with plenty of exciting prospects looking to make their mark on the NHL. This is going to be an exciting period of time for the team, as they have plenty of players currently in the NHL who are just now going to be reaching their primes. The Golden Knights have set themselves up for success for now and the future and management should be thrilled.
---
---
Hello, my name is Benjamin Zelniker and I am currently a student at Concordia University looking to make an impact in the sports blogging and writing world. I cover the Vegas Golden Knights at The Hockey Writers!