The 2014-2015 NHL season has been something different for the Winnipeg Jets compared to recent years. The team is in the middle of a tough playoff race in the Western Conference, and general manager Kevin Cheveldayoff has shown that, for this year at least, he is willing to make the moves necessary to improve his team on the ice right away.
From the deal that brought in Tyler Myers and Drew Stafford from the Buffalo Sabres to the recent acquisition of Lee Stempniak from the New York Rangers, Cheveldayoff gave head coach Paul Maurice more pieces that he feels will get his team over the hump and into the playoffs for the first time. And though we haven't too much time to get accustomed to how the new faces will fully fit in with the Jets, that doesn't mean we can't take a look at the moves and see how they check out.
*These grades include the deals from February 1-March 2*
Evander Kane/Zach Bogosian to Buffalo for Tyler Myers, Drew Stafford, Joel Armia, Brendan Lemiux and 2015 1st round pick.
Thoughts: This is a deal that's been talked about ad nauseam, but it deserves one last thought before putting it to rest until we see how Kane pans out with the Sabres.  This was a deal that proved to many doubters that Cheveldayoff isn't someone who is afraid to make a splash. He had a player who clearly needed to be sent packing in Kane, and found a partner in the Buffalo Sabres. Sure, getting rid of Bogosian wasn't an ideal move, but when you make trades like this, some players just have to be a part of it.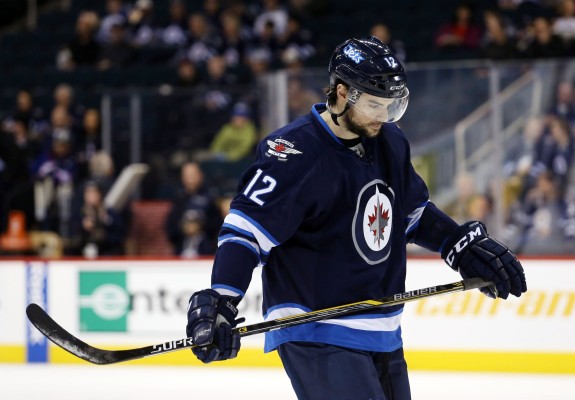 Myers has been playing at a level that many hoped he'd play at when he came aboard, scoring six points in eight games with a plus/minus of zero. If the Jets can get this type of production out of Myers from here on out, they may be well on their way to having a defensive unit that sits atop the league. With Stafford, he's played at the same pace he was with the Sabres prior to the deal. Should the Jets make the postseason, Stafford could become a key part of a run because, when he's feeling it, Stafford can be a very scary player to play against.
In regards to the prospects and the pick, we'll just touch those at a different time.
GRADE: A

2016 3rd round pick and conditional 2015 6th round pick to Carolina for Jiri Tlusty
Thoughts: Tlusty is a 26-year old former 20-goal scorer that is a pending unrestricted free agent. By bringing in Tlusty, the Jets brought a player to the fold who could put the puck in the net, and help improve a team in the offensive zone as the playoff push really heats up.
The Jets only had to give up a pair of picks for the young forward, one in 2016 and the other a conditional 2015 pick that could become a fifth round selection if Winnipeg makes the playoffs. If not, it remains a sixth round pick.
One of the biggest reasons that Cheveldayoff brought in Tlusty is the fact that he has familiarity with Maurice. Maurice coached the Czech winger for one year in Toronto and three in Carolina. In the one full season (2011-2012) that Tlusty had under Maurice, he scored 17 goals and 36 points in 79 games. If he can add any sort of offensive production to the top six of the Jets with Mathieu Perreault out of the lineup, this will be a great steal for Winnipeg.
GRADE: A
Carl Klingberg to New York Rangers for Lee Stempniak
Thoughts: This is one of those deals where a team trades for a player that has a track record and isn't going to be anything different than what they've seen beforehand. It's really tough to say what the Rangers are getting in Klingberg, but it's pretty easy to say what the Jets are getting in Stempniak. Stempniak is a player that will come in, bust his ass and likely help the Jets where they need it the most: penalty killing.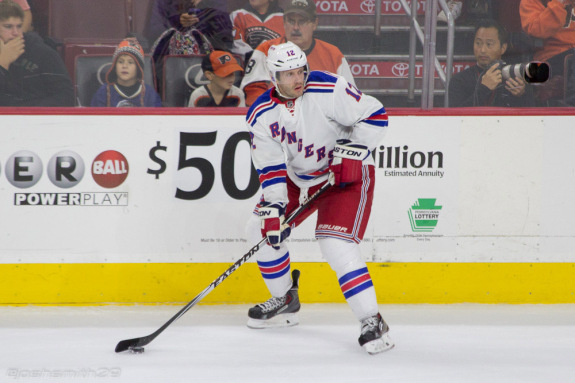 By sending Klingberg to the Rangers, the Jets give up a player that never could really stick in the NHL despite putting up good numbers in the AHL. In the last four seasons, the 24-year old forward has played just 11 games with the Jets, putting up just one goal and no assists. However, a change of organization could be just what the doctor ordered for Klingberg to succeed, we just have to wait and see.
We're not sure exactly what role Stempniak is given by Maurice, but we do know that Cheveldayoff has accomplished exactly what he's wanted to do all along by adding yet another top nine forward to improve the depth of his roster.
GRADE: B
Michael is a former Managing Editor for The Hockey Writers. He's covered the Buffalo Sabres, along with the NHL in general, for various outlets since 2009. His work has been featured on outlets such as Yahoo, Sports Illustrated and Fox Sports.