After the Detroit Red Wings picked up a 3-2 win against the Calgary Flames to end their western Canada road trip, they have officially reached the halfway point of the season.
Not much has changed as far as personnel, but the Red Wings are significantly better off this year than they were at this point last year.
| Season | W-L-OT | PTS | GF | GA |
| --- | --- | --- | --- | --- |
| 2013-14 | 18-14-9 | 45 | 107 | 117 |
| 2014-15 | 22-10-9 | 53 | 116 | 103 |
As you can see from the chart, the Red Wings have nearly 10 more points this year in 41 games than last year. They also have scored nearly 10 more goals and allowed 14 less goals.
Detroit still hasn't found a way to overcome shootouts on a consistent basis, but it is finding ways to win in regulation and overtime.
Here are the grades for the Red Wings' offense, defense, goaltending, power play and penalty kill.
Offense: B-
As stated earlier, the Red Wings are scoring more this year than they were last year, but there have been stretches in 2014-15 where they have struggled to score. They rank 12th in the league in scoring at 2.8 goals per game, up from the 2.65 number they posted last year.
The usual suspects of Henrik Zetterberg and Pavel Datsyuk are leading the team in scoring, but Gustav Nyquist and Tomas Tatar have picked up where they left off last year and contributed in a big way on offense.
Nyquist has 28 points in 41 games, and Tatar has 26 points in 41 games, including a team-leading 16 goals. The younger Euro twins slowly are starting to become the faces of the Red Wings franchise. Both of them dominated the AHL when they were in Grand Rapids, and they are starting to make a name for themselves in the NHL as well.
There still are some growing pains to endure. Tatar, especially, will try and do too much with the puck at times if the team is struggling to score. But he'll figure out what he can and cannot get away with at the NHL level.
Justin Abdelkader has seen a spike in his offensive production as well. In his sixth full season with the Red Wings, the Michigan native already has surpassed his season high for goals (11) and will no doubt pass his season high of 28 points — he currently has 23 in 34 games.
Stephen Weiss' ability to stay healthy has been a big boost as well. His production has slowed down since scoring seven points in 10 games in December, but he does have 12 points in 18 games.
If the Red Wings could find more offensive consistency, maybe get that goals per game average up to 3.0, they could see themselves atop the Atlantic Division come April.
Defense: B+
This was the big question mark coming into the season. General manager Ken Holland was unable to lure any free agent defenseman to Detroit, which forced him to re-sign Kyle Quincey to a two-year $8.5 million deal.
Despite the same blue line as last year, a blue line that allowed 2.70 goals per game, Detroit has been fairly good on the back end.
The Red Wings rank fifth in the league, allowing 2.3 goals per game. Of course, a bounce-back year from goalie Jimmy Howard helps the goals against numbers, but there has been significant growth from younger defensemen — most notably Brendan Smith and Danny DeKeyser.
Smith has struggled in his first few seasons with the Red Wings, and fans were starting to wonder if the first-round pick from 2007 would ever pan out. Smith has taken a step in the right direction this season. He has limited his turnovers, made excellent first passes out of the zone and put himself in prime position to make plays on defense.
He isn't perfect by any means, but it takes longer for defensemen to develop than it does for forwards. When Niklas Kronwall and Jonathan Ericsson retire, Smith could be on the top defensive pairing.
DeKeyser, despite being in his second full season, already has supplemented himself as one of the top-three defensemen on the Red Wings. He doesn't make very many mistakes and uses his big body and reach to keep opposing players at bay.
I'd still like to see the Red Wings snag another top-four defenseman at the trade deadline, but it has to be for the right price, otherwise the back end is fine the way it is.
Goaltending: A-
Jimmy Howard did not have his best year in 2013-14, and he will be the first one to tell you that. It wasn't all on him, as his defense hung him up to dry on a number of occasions, but he could have played better.
This season has been a different story for Howard, who sports a 16-7-7 record with a 2.08 GAA and .921 save percentage. He makes key saves when his team needs it and rarely gives up soft goals.
Howard also is seeing less shots than he was last year. The Red Wings gave up an average of 29.3 shots per game last year, compared to 27.2 this season.
Howard will need to continue his solid play if the Red Wings are going to make a deep run come playoff time.
Jonas Gustavsson and Petr Mrazek also have performed admirably in relief. Gustavsson still is recovering from a shoulder injury he sustained in November.
Mrazek has taken advantage of Gustavsson's injury with some quality starts. He was a bit too aggressive in the win against Calgary on Wednesday, but overall, he's coming along nicely and will be a nice replacement for Howard down the road.
Power Play: B+
Jim Hiller was brought in this season to replace Tom Renney and a not-so-great power play. Hiller's unit struggled to begin the season but has since performed remarkably, as the Red Wings boast the second-best power play in the league at 24.5 percent. Only the St. Louis Blues (25.7) convert on more power-play opportunities.
In the beginning, the Red Wings passed the puck too much. It killed their power-play opportunities and usually resulted in a clear by the opposing team or a break the other way.
They still struggle at times with too much passing, but it's been significantly better. The Red Wings are most dangerous when the passes are quick and don't allow the opposing penalty killers to set up. Once they start trying to get cute and slow things down, it tends to fail.
Abdelkader's net-front presence is a big reason for the improved power play as well. Not since the days of Tomas Holmstrom have the Red Wings had a dominate net-front presence. Abdelkader is willing to get whacked and hacked by opposing defenders, as he creates screens and deflections for shots from the point.
Penalty Kill: A
Tony Granato came in to replace Bill Peters and was tasked with running the penalty kill unit. Granato's unit has been the most consistent thing about the Red Wings this season.
The PK started off the season hot, killing off 25 straight penalties over the course of the first eight games. The team has the league's fourth-best PK percentage at 86.8, a big improvement from last year's 83.0.
Forwards Luke Glendening and Drew Miller both are in the top 12 of the NHL in average time of ice shorthanded. Glendening has improved his faceoff win percentage dramatically from last year, going from 48.5 to 56.2 percent.
And of course, Darren Helm's speed is a nightmare for opposing power plays. He can create shorthanded scoring opportunities or kill time in the offensive zone by avoiding defenders.
This year's version is great at giving Howard a lane to view shots, and those shots are coming from the outside rather than in high-scoring areas.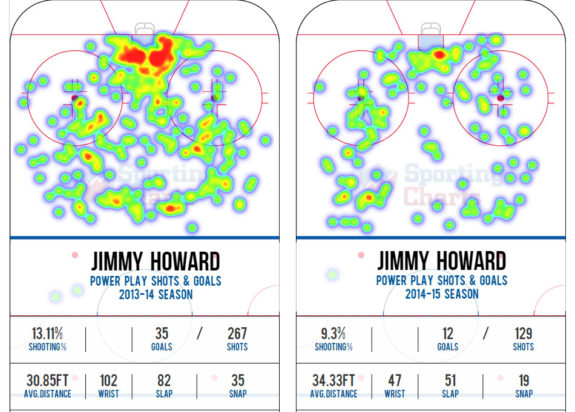 As you can see from the Sporting Charts graphic above, the average shot Howard faces this year on the PK are 34.33 feet away, compared to 30.85 feet away last year.
It doesn't take a rocket scientist to know goalies have an easier time stopping shots from a further distance.
Overall: A-
Overall, this team has performed admirably without acquiring any free agents during the offseason. The youngsters continue to show growth, and they still are getting production from veterans in all facets of the game.
The team will need to start scoring on a more consistent basis, but this year's team is better than last year's, so it's a step in the right direction.
Subscribe to our Red Wings stories to get email updates every time a new story is published.
Tom Mitsos is a Detroit Red Wings and Grand Rapids Griffins staff writer for The Hockey Writers. You can follow him on Twitter @tom_mitsos.