After missing 12 games with an arm injury, New Jersey Devils captain Andy Greene's return to the lineup has given a boost to the club as they attempt to claw their way back into a playoff spot. It's no coincidence that in the three games that he has played since being activated off IR, the Devs have snagged five of six points (2-0-1).
The first game back was a loss to the Calgary Flames in which New Jersey fell behind 0-2, took a 3-2 lead and then eventually lost in overtime. But the very next night (on the road) they responded with a 5-1 drubbing of the high-flying Columbus Blue Jackets. Two nights later, another victory in which they surrendered only one goal was a 2-1 home win over the Buffalo Sabres.
The #NJDevils have activated D Andy Greene off Injured Reserve. pic.twitter.com/5Yq0P9BgUC

— New Jersey Devils (@NJDevils) February 3, 2017
"Getting Greenie back has been huge, it was tough missing him for a while there. I don't think he gets enough recognition for how much he does for this team or how much he means to us," Adam Henrique told The Hockey Writers. "He's obviously not a flashy guy; you don't hear his name out there often – which can be a good thing. He just keeps it calm in all situations for us, and he's obviously huge for us on the PK."
His coach, John Hynes, was happy to get his top defender back in the lineup because he is so versatile, as Henrique hinted at. If he were on another team, Greene likely would be a second-pair d-man, but with the Devils, he is clearly the best they have and is always a perfect complement for whatever partner he is with, in a given situation.
http://gty.im/632503818
The Constant
"He's a very experienced defenseman back there," Hynes said of his 34-year-old captain. "He's smart, you can play him in multiple situations, play him with multiple partners. That's the value of having a veteran guy like Andy back there and the way that he plays. He's a player that can log big minutes (only five times in 42 games has Greene logged under 20:00) because he's so smart and in very good shape. He adds an element back there that you need to have to be successful; he's a rock back there that understands the game and I think that whoever he plays with he helps that player play well."
Greene had played in 350 consecutive games for New Jersey, the third-longest streak in franchise history, before missing a game on Jan. 6 against Toronto. The last game he didn't suit up for was on March 4, 2012, against the New York Islanders, or another way of saying that is that he had played in every game since the Devils acquired goaltender Cory Schneider.
"It's great to have him back, it was strange without him; obviously because he's such a mainstay," admitted Schneider. "It seems like he's always been there." (He has been). "You take it for granted, it was great to have him back and I know he was excited to get out there and play again."
Andy Greene sits down with @Seth_Everett in the latest edition of "Devil of a Conversation." Listen to Episode 2: https://t.co/v2C8ap4Xuh pic.twitter.com/YgGr18KrCM

— New Jersey Devils (@NJDevils) November 22, 2016
Luckily for Greene, his injury was upper body, so he was able to keep active and able to skate often, which helped him not lose his stamina that had been built up since training camp started in September.
"I felt good (stamina-wise). It was just more little things here and there that it took some time to get used to. I skated the whole time (I was injured)," Greene told THW. "I probably only had five days off the ice the whole time I was hurt, so it wasn't like I was off the ice for three weeks."
Often times injured players are isolated from their teammates when they are injured. Coming to the rink, before or after their teammates, and usually not traveling on road trips. But that wasn't the case for then Devils captain as he was on their only long trip of his absence through Western Canada.
"This time it wasn't too bad because I was able to do some things with the guys in practice, be around them and go on road trips. It felt good to be able to do that and not be as isolated as maybe other times."
Andy Greene, captain of the NJ Devils, chilling with us today at Chill Cryotherapy, and loving it! pic.twitter.com/9GtzNCdXns

— Chill Cryotherapy (@chillcryo) December 21, 2016
"It was a little weird not having him around," Henrique added, "but it's been great having him back and we're getting healthier here with a couple of guys (John Moore, Jon Merrill, Beau Bennett) on the verge of coming back, which will be big for us heading down the stretch."
Helping Each Other
Another big thing for the Devils has been the improved play of Schneider, who admitted that his first half of the season hasn't been up to par, or the standards he has set for himself.
"I always try to play at a certain level; it hasn't always gone that way so far this year but since the new year I think I've done a better job of playing like I can, and just trying to be more consistent," he admitted after his second consecutive game allowing just one goal.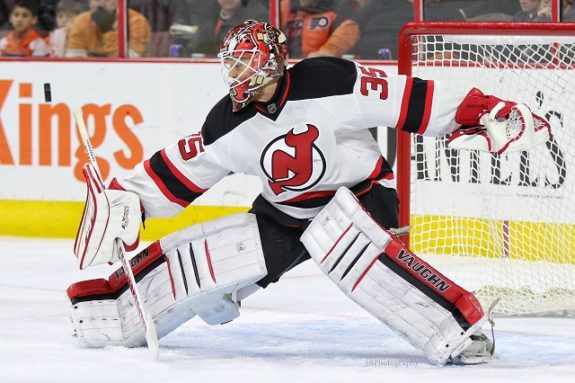 "The hallmark of my career so far has been consistency — night in, night out, year in, year out — you kind of know what you're going to get. I think that's kind of wavered a little bit this year, which for me it's something I take pride in. I want to be better and more consistent for my teammates on a nightly basis; that's just the mindset I have to get into, I feel like I'm in it a little bit here and hopefully I can continue that."
Is Schneider as good as the team in front of him? Or does he make them better? The age-old which came first question…but the two definitely go hand-in-hand — in some way. "We're playing with more confidence, executing better; we're not trying 'hope' plays as much, we're sticking to the game plan of playing in the team's end and wearing them down," the Devils goaltender said.
Tonight's starting goaltender matchup presented by @RWJBarnabas features Cory Schneider vs. Jared Coreau. #NJDvsDET pic.twitter.com/PXGwnZfyvo

— New Jersey Devils (@NJDevils) February 1, 2017
"I think right now we're doing a great job of making good plays and I think we've shown ourselves that if we play the right way – we don't try to cheat for anything – that we can be successful and still get offensive chances, be a really hard team to play against. It's up to us to continue to do that."
Consistency has been New Jersey's biggest issue all season as it seems every good three-five game streak is followed by a bad one that inevitably cancels all the positive work out. Over the next eight games (until the end of February) the Devils will be at home for seven of them, and the one road game is a bus trip to Brooklyn at the back end of a home-and-home with the Isles. This will be the stretch that makes or breaks their season and determines if they are buyers or sellers at the March 1 trade deadline.