Florida: famous for sunshine, oranges and refusing to support professional sports teams. Yes, the Florida Panthers are no strangers to sparsely populated arenas. Sure, it's an ice-based sport dominated by players from northern climates. But then why are their cross-state rivals, the Tampa Bay Lightning, generally at – or near – capacity, every single night?
And yes, the BB&T Center is not in Miami proper but in nearby Sunrise which, according to Google Maps, is at least one hour away by car – much more via public transit – leading up to game time. But you're telling me that you can't find 19,250 people in a city of six million to sit in a seat and watch the coolest game on earth?
The best commercial for a given team is surely winning. The Lightning won a Stanley Cup in 2003-04, played for another in 2014-15, and made the Eastern Conference Final in both 2010-11 and 2015-16.
The Panthers? After making the Stanley Cup Final in 1995-96 – just their third season in the league — the Cats have not made it out of the first round. In fact, in the 19 years since their magical run, they've made the playoffs only four times, winning a combined six games.
Keeper Countdown
Yes, you counted right: this is the 23rd season in Florida Panthers franchise history. Most of it has been a rough ride. A total of 31 goaltenders have suited up for the Panthers over these 23 years. Here are the best of the best:
1. Roberto Luongo (2000-01 to 2005-06; 2013-14 to Present)
Luongo was the fourth-overall selection in the 1997 draft. Fortunately for the Panthers, he was drafted by the New York Islanders. In keeping with Islanders tradition at the time, the Panthers were able to acquire both Luongo (450 NHL wins and counting) and young forward Olli Jokinen (750 points over his NHL career), and only had to send career journeymen Mark Parrish and Oleg Kvasha the other way.
450 career wins places Luongo fifth all-time, and he will likely end his career in third. In terms of the Panthers, Luongo is first in almost every stat that counts: games played (487), wins (191), saves (13,784) and shutouts (34). Only Tomas Vokoun has a better save percentage (.923) over his Panthers career (100-plus games played) than Luongo's .920.
For his entire body of work, Roberto Luongo will probably end up in the Hockey Hall of Fame. Over his two tours of duty with the Cats, he has unquestionably been their best option in net. The first time around, he was the unyielding last line of defense for a franchise that perennially bordered on the embarrassing. Now, in his waning years, he is still posting rock-solid numbers behind a young, inexperienced team; a team that should soon be fighting for a championship. It's the least they can do to pay back their beloved Bobby Lou.
2. John Vanbiesbrouck (1993-94 to 1997-98)
Vanbiesbrouck, the winner of the 1986 Vezina Trophy, was claimed in the 1993 expansion draft by the Panthers. Squeezed out of the New York Rangers organization by the arrival of youngster Mike Richter, Vanbiesbrouck was originally traded to the Vancouver Canucks. He never ended up playing a game for them, as the Panthers snapped him up to be their starting goaltender.
Vanbiesbrouck ranks second in franchise history for games played (268) and wins (106), and third in save percentage (.912) and shutouts (13). That's not too shabby. But he is best remembered for his work during the Panthers' 1996 run to the Stanley Cup Final. In 22 games, Vanbiesbrouck posted a phenomenal .932 save percentage, leading his rag-tag band of youngsters and cast-offs to victory over the heavyweight Boston Bruins (Oates, Bourque), Philadelphia Flyers (Lindros, LeClair, Brind'Amour) and Pittsburgh Penguins (Lemieux, Jagr, Nedved).
Though the Panthers would eventually succumb to the Colorado Avalanche, Vanbiesbrouck's 55-save performance in Game 4's triple-overtime defeat endures to this day as one of the greatest goaltending performances in the history of the NHL.
Likewise, though, Vanbiesbrouck would eventually fall – and fall quite badly – from grace in the modern hockey world, the legacy of his playing career endures as one of the greatest in Florida Panthers history.
3. Tomas Vokoun (2007-08 to 2010-11)
NEWSFLASH: Tomas Vokoun was a pretty good goaltender. Ten seasons after leaving the Nashville Predators, Vokoun still sits second in Preds history in games played, wins, saves, save percentage and shutouts. He left Nashville for Florida after the 2006-07 season, and promptly began etching his name in the upper echelons of the Panthers record books, as well. All this despite playing exactly zero playoff games for the Cats. That said, as impressive as all these things are, you probably still remember him best for being clubbed in the head by his teammate.
Vokoun is third in Panthers franchise history in games played (248), wins (101) and shutouts (13). He ranks second in saves (7,290) and first in save percentage (.923). He's even tied with Luongo for the franchise lead in points by a goalie, with 10 (all assists). A really good, solid pick; what's not to like?
Well, if you put "Tomas Vokoun Florida Panthers" into Google, the first four videos are of the Keith Ballard incident, while the next two are of Vokoun letting in a half-ice goal with a minute to go in the game and his team up by one. Three hundred career wins and your search results are all blood and boondoggles. What a life.
Honourable Mentions Wait, WHO Played There?!
Turns out the Panthers only have three other goalies that meet the 100-game threshold for this ranking, with none of them being a bona fide starter. Mark Fitzpatrick, an expansion draft pickup by the Panthers, spent all five of his seasons in Florida backing up John Vanbiesbrouck. Scott Clemmensen and Trevor Kidd spent their time in Florida in platoon situations; serviceable NHLers, but unspectacular careers.
So, instead, let's have some fun and take a look at a few goaltenders who you never knew played for the Panthers.
Craig Anderson (2006-07 to 2008-09)
Ahh, what might have been. After toiling away for the then-dreadful Chicago Blackhawks, Anderson arrived in South Florida in 2006-07, playing behind Ed Belfour and Alex Auld. Anderson was then the understudy to Tomas Vokoun for two seasons. The Colorado Avalanche noticed his 24-14-7 record and spectacular .928 save percentage in 53 games for the woeful Panthers – not to mention his five shutouts in only 43 starts, and snapped him up in free agency.
Ed Belfour (2006-07)
Belfour's final NHL season was a dandy: 27-17-10 despite a mediocre Panthers squad that finished well out of the playoffs. Ending in style, Eddie. Ending in style.
José Théodore (2011-12 to 2012-13)
Théodore replaced Vokoun as Florida's starter, platooning with Scott Clemmensen to help the Panthers to the playoffs. Losing in seven games to the New Jersey Devils, neither goaltender established themselves as a reliable option. Théodore was plagued by injury in the 2012-13 season, his last in the NHL. His Panthers stat line is 26-22-14, with a .912 save percentage.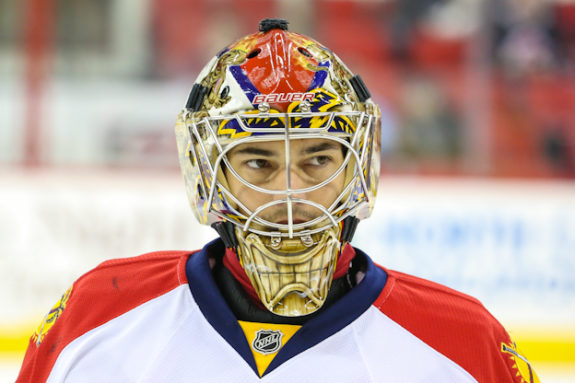 Kirk McLean (1997-98 to 1998-99)
The Canucks legend later spent parts of two seasons with the Panthers, going 13-12-4-1 (with an .898 save percentage) in South Florida.
Mike Vernon (1999-2000)
Vernon showed he still had some gas left in the tank, winning 18 times in 33 starts (.919 save percentage) and helping the Panthers to the postseason…where they were promptly swept by the eventual Stanley Cup champion New Jersey Devils, with Vernon taking all four of the losses.
Sean Burke (1998-99 to 1999-00)
The capable journeyman was the Panthers' starter for 1998-99 and began 1999-00 with the team, compiling a middling 23-29-14-1 record (.908 save percentage) during his time with the club. Burke was traded early in the 1999-2000 season to the Phoenix Coyotes…and promptly became unbeatable for several seasons thereafter.
Tim Thomas (2013-14)
Thomas went 16-20-3 during his one season playing for the Panthers. He posted a mediocre .909 save percentage, well off his career average to that point of .921. Thomas never really seemed to regain his form after taking the 2012-13 season off.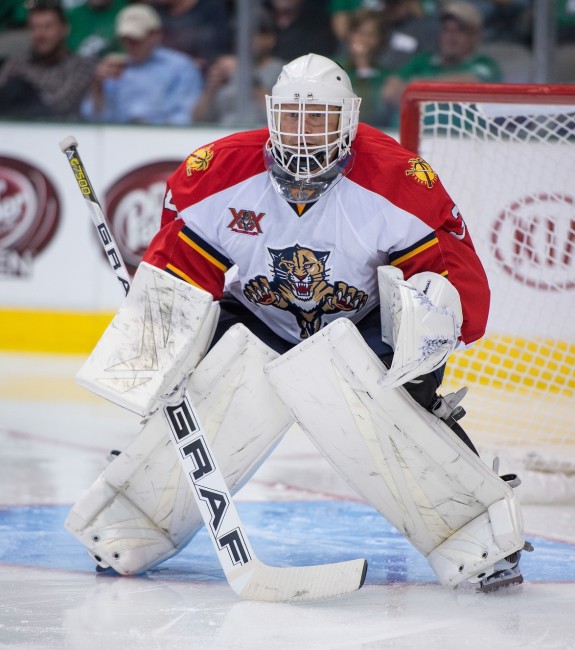 Future Considerations
All kidding aside, the Sun is rising in South Florida. Their goaltending has never been better; Luongo is still going strong and it looks as though the flashes of brilliance offseason-arrival James Reimer showed for the Toronto Maple Leafs were for real. In addition, a committed ownership group, a good young team and decent positioning for NHL expansion are building blocks to be proud of.  As hard as it might be to believe, the Panthers might finally be on the prowl.