Book Review: Gretzky's Tears – Hockey, America, and the Day Everything Changed
This 2009 release told the story of the most monumental trade in hockey history and perhaps all of sports history. Stephen Brunt captures the essence of the background of the trade, the trade itself and the aftermath in a way that only one of Canada's finest sports journalists could accomplish.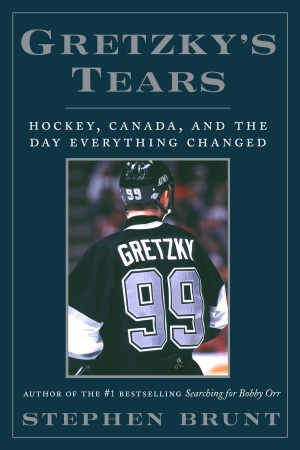 Brunt intends the book to be a sequel to Searching For Bobby Orr, which remains my favourite sports book to date. Although the author's unique take on events is somewhat seamless in the two books, the only other similarity is the fact that the main characters of both books failed to directly contribute to the end product. Those, of course, being Bobby Orr and Wayne Gretzky.
The trading of The Great One was not just about the Oilers and the Kings. It was not just about Edmonton and Los Angeles. It was not just about the shady, but larger-than-life owners, Bruce McNall and Peter Pocklington.
Brunt eloquently highlights the life and times of McNall and Pocklington. He explains the ramifications this trade eventually had on cities like Winnipeg (fitting that Brunt was the very first to break the story of the Jets return), Quebec City, Anaheim, San Jose, Nashville, Phoenix, Tampa Bay, and Sunrise, Florida (Miami/Fort Lauderdale).
Even a city like Calgary reaped the benefit. Not to take anything away from the dominant team they were in 1989, having a Gretzky-less and shell-shocked Oiler squad didn't hurt their chance on their road to hoisting Lord Stanley's Cup.
And though it was not a trade deadline deal, anytime one speculates about potential blockbuster deals (as Rick Nash's name gets feverishly tossed around), how can you not reflect back on the most colossal of all hockey deals.
The summer of 1988. The year of the trade. The trade that changed everything. The trade that forever on end will make fans and journalists realize that no trade is impossible and no player is untouchable – unless, of course, that player has a no trade/movement clause. Even then, clauses are made to be waived – when the right situation presents itself.
From Random House (the publisher):
Renowned sportswriter Stephen Brunt reveals how "the Great One," who was bought and sold more than once, decided that the comfortable Canadian city where hockey ruled couldn't compete with the slushy ice of a California franchise.

Bobby Orr's career ended prematurely, with tears. Wayne Gretzky's tears, unlike Orr's, announced not an ending but another beginning. Gretzky's Edmonton Oilers had four Stanley Cup victories, but Gretzky may then have had other goals in mind.

Beginning with his dad, Walter, and continuing with Nelson Skalbania, Peter Pocklington, Bruce McNall, Jerry Buss — and with the CBC's Peter Gzowski as chronicler for the eager masses — the enormity of Gretzky's talent attracted all sorts of people who were after a variety of vicarious thrills.

 
The Gretzky Trade
We all know the components of the deal now, but to jog one's memory, on August 9th, 1988, the Oilers traded Gretzky, Marty McSorley and Mike Krushelnyski to the Kings in exchange for Jimmy Carson, Martin Gélinas, three first round draft picks in 1989, 1991 and 1993 and $15 million. Ultimately, Edmonton would use those selections to pick Nick Stajduhar, Jason Miller and Martin Rucinsky, respectively.
Inevitably, several of these pieces of the trade on would, in turn, be involved in transactions. A few years ago, Daniel Tolensky followed the timeline of all elements of the Gretzky trade, reviewing all the pieces that came in from the subsequent transactions involving the original players and picks. This article is well worth the read. An excerpt:
WAYNE GRETZKY

-Gretzky spent 8 years with the Kings (539 GP, 246 G, 918 PTS)
-Traded to St. Louis by LA Kings for Craig Johnson, Patrice Tardif, Roman Vopat, St. Louis 5th round choice (Peter Hogan) in 1996 Entry Draft and 1st round choice (Matt Zultek) in 1997 Entry Draft, February 27, 1996.
-Tardif was signed as a free agent by Buffalo, September 9, 1997
-Vopat was traded to Colorado by Los Angeles with Los Angeles' 6th round choice (later traded to Chicago, later traded to Ottawa – Ottawa selected Martin Prusek) in 1999 Entry Draft for Eric Lacroix, October 29, 1998.
-Lacroix was traded to NY Rangers by LA Kings for Sean Pronger, February 12, 1999.
-Pronger was signed as a free agent by Boston, August 25, 1999.
-Matt Zultek re-entered the draft (unsigned by LA) and was selected in the 2nd round of the 1999 draft by Boston
-Peter Hogan split the season between Cleveland and Utah in the AHL and Florida and Richmond in the ECHL
-Craig Johnson was signed as a free agent by Anaheim, September 9, 2003
In an interesting take on which team won the deal, Arctic Ice Hockey claims the trade was, in hindsight, a fairly even deal:
Both teams walked away winners that day.  The Los Angeles Kings, and California hockey in general, enjoyed a boom under Wayne Gretzky, the likes of which they surely wouldn't have enjoyed with Jimmy Carson, Martin Gelinas and Martin Rucinsky.  And imagine how great a deal it would have been for the Oilers if they had gotten Luc Robitaille instead of Jimmy Carson, or if they had drafted Saku Koivu or Todd Bertuzzi instead of Nick Stajduhar, or had perhaps gotten a better prospect than Corey Foster from New Jersey for L.A's first choice in 1989.  Even with their relatively average luck, the Oilers still walked away with assets that would ultimately prove to be equivalent in value.
Brunt did provide updates on McNall, Pocklington and somewhat spoke of Jimmy Carson, but what ever happened to other elements of the infamous trade? Here's a glimpse at some of the key personnel involved:
Wayne Gretzky: You might have heard of him; Wayne Gretzky and his ridiculous stats & records remain timeless & untouchable even as 99 turned 50.
Marty McSorley: He's currently an analyst on Sportsnet (with mixed reviews). As Andrew Rodger in a NHL Alumini segment reported: "Living in California, Marty had the opportunity to do some acting after he retired. Appearing in Con Air, Bad Boys and Forget Paris, as well as the popular television show CSI: Miami."
Mike Krushelnyski laced them up yesterday in celebration of 40 years of the Summit Series. The Montrealer who played for five NHL teams before coaching a Russian team, was involved in a brief altercation with Ilya Byakin, who played briefly in the NHL in the 1980s. (Ottawa Citizen)
Jimmy Carson: What ever happened to him? (THW) Did you know: "His real name is Demetrios Kyriazopoulos, he is of Greek decent and his grandfather Americanized the name."
Martin Gelinas: is now Director of Player Development for the Nashville Predators.
Bruce McNall: In 1995, "was convicted of defrauding multiple banks of more than $200 million. The Kings, meantime, changed ownership twice. McNall sold the team to Joseph Cohen and Jeffrey Sudikoff in May 1994, before current owners Philip Anschutz and Ed Roski purchased the team from the executives for $113 million a year and a half later. The day of the second sale, Cohen and Sudikoff allowed the team to file for bankruptcy so that the sale could proceed. McNall served nearly five years in prison." (L.A. Times) He's apparently back in the movie business on a much smaller scale. "Even before the government takes half his salary to square bank debts, McNall gets much less than he once paid Begelman. But it's better than the 12 cents per hour prison salary he got washing dishes and mopping floors." (Variety.com)
Peter Pocklington: In October, 2010 the former Edmonton Oilers owner was sentenced to serve six months under house arrest and two years probation after he pleaded guilty to a perjury charge. The province of Alberta still claims he still owes $12 million (CTV.ca) "Bob Kravitz, sports columnist for the Indianapolis Star, has written an interesting piece in which he  chats with former San Francisco 49ers executive Carmen Policy about trading quarterback Joe Montana and with ex-Oilers owner Peter Pocklington about trading Wayne Gretzky back in 1988." (Edmonton Journal)
Spoiler Alert
The following teasers are a sampling highlighting some of the hockey facts and items that the author presented that resonated with me.  If you'd prefer to discover them for yourself, skip over this section for now, bookmark this article, and come back and share your thoughts after reading.
Before Gretzky was bought by the WHA Edmonton Oilers from the Indianapolis Racers, he was extremely close to becoming a Winnipeg Jet. John Ferguson thought the money amount asked for was ludicrous for a 17-year-old.
When Jerry Buss was owner of the Kings, he had approached Pocklington to trade him #99.
Oilers GM Glen Sather really pushed to get Luc Robitaille instead of Jimmy Carson as the key element coming back. The Kings refused.
Before McNall made his play to bring Gretzky to the Kings, Nelson Skalbania had approached Pocklington and had a scheme to bring The Great One to Vancouver.
The ultimate teaser: you have to read the second paragraph on page 81 as Brunt eloquently captures the hockey genius that is Wayne Gretzky.
From page 101, McNall realizes: "A chance to see him is like a chance to hear Artur Rubinstein or the Beatles in concert, to gaze upon the Mona Lisa or Guernica, to see Nureyev in full flight."
Gretzky insisted that McSorley and Krushelnyski be part of the package that went to Los Angeles. He also asked the Kings spread the three 1st round draft picks over six years as to lessen the blow to the team's future prospects. At that point Sather knew Gretzky was involved.
Gretzky was sitting in McNall's office on one occasion and listened in (unbeknownst to Pocklington) on a teleconference with the Oilers owner in which Pocklington was derogatory towards Gretzky, his father and Janet Jones.
Alan Thicke's pop diva son Robin caught some enticing views of Janet Jones when Gretzky would stay at Thicke's house while visiting Hollywood.
Video: Gretzky's Press Conference
Chris is THW's senior draft/prospect analyst and a Managing Editor. Watch for "The Next Ones" Prospect Profile series, exclusive rankings, mock drafts, as well as the annual THW NHL Entry Draft Guide. Follow @ChrisRalphYQ on Twitter as he infiltrates, dissects and analyzes all happenings of hockey prospects and the NHL entry draft. Email: cralph[at]thehockeywriters[dot]com