Christopher Ralph is THW's prospect and draft analyst.
Okay – I admit it. For the vast majority of my life I would argue until I'm blue in the face why Bobby Orr and Magnificent Mario Lemieux are superior to Wayne Gretzky. I grew up a Calgary Flames fan and it came easy to despise his greatness.
It might have come after his retirement, before reality really hit me like Drew Doughty lowering the boom on Taylor Hall. While one can still raise the argument that if Lemieux and Orr had not had their careers shortened and limited by backs, knees, Hodgkin's lymphoma and other ailments, they could have challenged him for the best of all time. However, there is and always will be only one true Great One.
I use one of Gretzky's great quotes as my mantra for sportswriting as I cover the NHL draft and prospects:
"A good hockey player plays where the puck is. A great hockey player plays where the puck is going to be."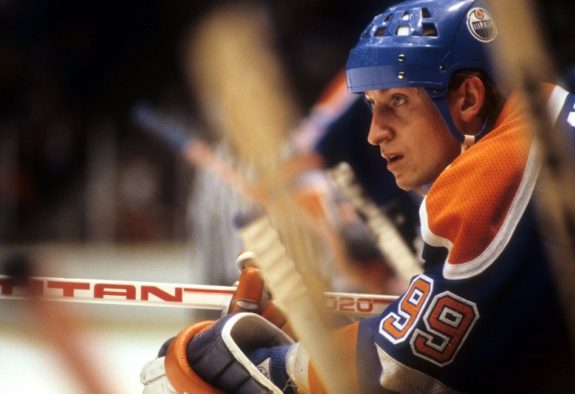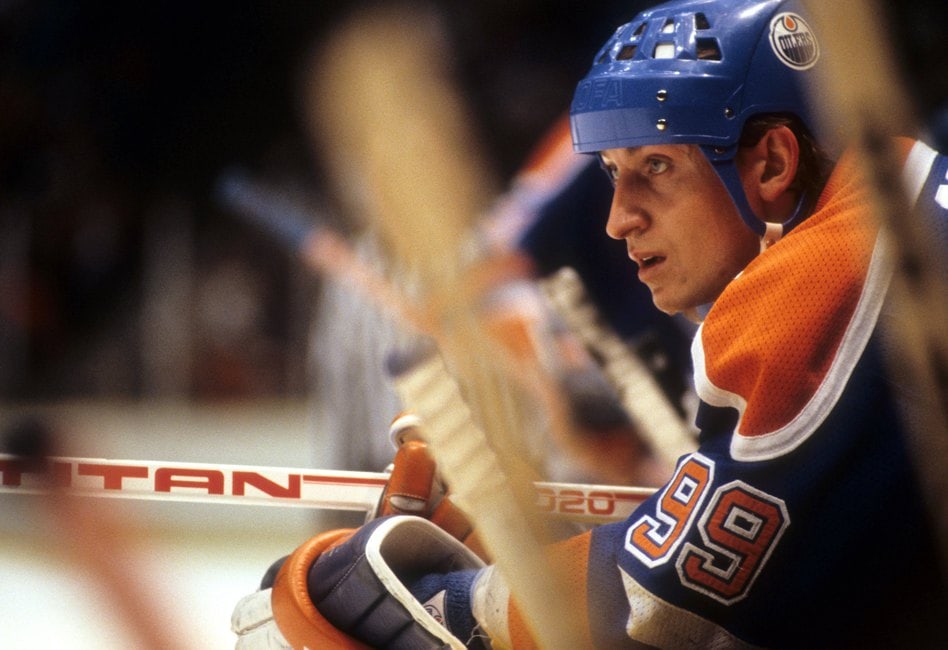 Like fine wine, Gretzky gets better with age and his infallible legend continues to grow. CBC Sports reported on Wayne Gretzky stats:
There have been more than 13,000 NHL games played since Gretzky retired in 1999 and he has only surrendered one of his 61 records — Nicklas Lidstrom and a handful of others now have more career assists in overtime during the regular season, no doubt aided by the change to 4-on-4 for the tiebreaker and the fact a point is now awarded to the losing team.

"If you're going to be passed, you might as well be passed by a guy that's a great player and a Hall of Famer," Gretzky, gracious as ever, said of Lidstrom.

In reality, he has been passed by no one.
We can all be quite thankful that TSN's James Duthie did not halt Wayne (and Walter for that matter) from seeing this milestone birthday. See my book review on Duthie's "The Day I (Almost) Killed Two Gretzkys".
Possibly the most appropriate record to remember on this day and one of his most incredible records is his 50 goals in not just 50 but 39 games. And in typical Gretzky fashion he burned a shell-shocked Pete Peeters for 5 goals in that 39th game.
The tantalizing and formidable records, numbers and stats pertaining to 99, have been brilliantly discussed in the following links: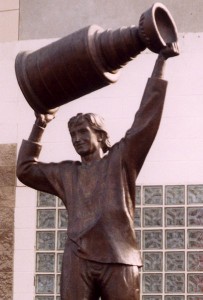 Some other great links on this great day (overuse of "great" is permitted on this day only!):
Puck Daddy's dynamic duo Wyshynski & Leahy presented 50 reasons to love 99; My favourite is #1: "Gretzky's Office" – There  hasn't been a spot on NHL ice that's been more synonymous with one player. Gretzky, behind the net, did most of his business from the "office"; exporting passes to teammates that ended up turning into goals. I'm just glad they didn't do 99 reasons!
In the extremely rare category, here are the best non-Gretzky NHL records (Pro Hockey Fans)
There's a 12 year old sniper in Medicine Hat, AB how's putting up some impressive numbers – 109 goals in 25 league games eclipsing current Portland Winterhawks forward and 2011 NHL draft eligible – Ty Rattie (97 goals was previous record). He has had 10 goals disallowed because as his coach puts it, "The referees are usually so far behind him they don't see it go in."(Medicine Hat News)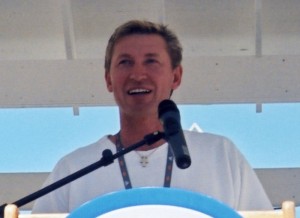 In TSN's (Dave Naylor) interview with Gretzy:
Naylor: What's a day in the life of Wayne Gretzky like these days?

Gretzky: Oh it varies. It's usually a little bit of travel that has to do with whether it be charity stuff or foundation stuff or working environment, but when I'm home it's like every other parent: you get up in the morning, breakfast, take the kids to school, try to go workout, and then it's either play a little bit of golf or just sort of be at home with the kids. So, kind of busy but kind of not on a regular routine schedule but I do enough to keep myself pretty busy.
Happy Birthday 99! A true hockey legend and classy individual on and off the ice.