Sportscasters, especially the play-by-play guys, are prone to embellishment. As a sports fan who is convinced that my screaming at the television will single-handedly help win a game, I find it hard to believe when announcers claim that an arena has been "silenced" following a demoralizing goal. In these days of exorbitant ticket prices, who sits and sulks after forking over $100+ just for their seat? But I was at the Verizon Center for game 5 between Washington and Montreal and I can attest that after Mike Cammallari's goal at 1:30 in the first, followed by Travis Moen's goal 6 minutes later, the spirit of the Caps faithful was indeed broken. You can tell the frustration in a crowd when cheers transition to pleas. When "LET'S GO CAPS!" is less a rallying cry and more of a plaintive wail. The cast of supporting characters which makes the organization so deep is momentarily forgotten as we pin our hopes on Alex Ovechkin and, when even he can't produce, we panic. And with good reason: three days after that game, the Caps dropped game 6 as well, making this the third year in a row the Capitals have needed to win a game 7 in the opening round of the playoffs and the third year in a row where they struggled to beat a lower-ranked team.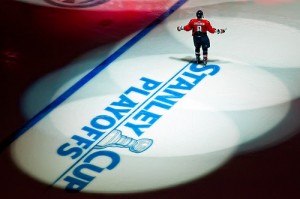 It was unbelievable to watch the Capitals take 54 shots, 32 more than the Habs, and still lose by a substantial margin. In fact, Washington made just as many shots in the 3rd period as Montreal made in the entire game. The Caps, whose power play was devastating during the regular season, went 0 for 7 Tuesday night, including a nearly 60 second long 5-on-3 opportunity. But Jaroslov Halak was nothing less than magical: the puck seemed laser guided toward his glove, he flew post to post and went to the splits as if he was channeling Patrick Roy's crease prowess from the old Montreal Forum. So with one game left and the proven ability to dominate high stake match-ups, what will the Caps need to keep in mind while fighting for their post-season lives?
1) Halak is far from invincible. Recall that it took 7 games to beat the New York Rangers last year and despite the fact that Henrik Lundqvist was "standing on his head" for the majority of the series, the Capitals did eventually solve the mystery of his success. To be sure, Halak is a very talented goaltender and clearly playing the best hockey he possibly can, but he's no Marty Brodeur–and we all know that Marty is off licking his wounds and polishing up his golf clubs.
2) Crash the net. If Gretzky's office was behind the net, then Mike Knuble and Brooks Laich conduct business from across the hall. Therefore, I simply implore both Knuble and Laich to take heed of Laich's own advice: "If you want money, go to the bank. If you want bread, go to the bakery. If you want goals, go to the net." If Halak is going to continue to pull out miracles with his catching glove, the Caps best bet will be to create traffic, create screens, and generally battle down low for those dirty goals.
3) Secondary, tertiary, quaternary shooting. The first two lines may get all the attention but the energy line is truly the backbone of a team and it's during the playoffs when it's time for that backbone to straighten up, so to speak. Part of what sets Washington apart from the rest of the teams in the league is their depth. Secondary scoring is important all season long but more so in the playoffs, when the caliber of play is just that much more intense. But before you can score, you have to shoot. The shots on goal are heavily tipped in favor of the top two lines. And yes, one must take into consideration that they spend nearly twice the time on ice but the other lines must begin to throw pucks at the net. Whether they are easily handled by Halak or sent entirely wide of the net, there's no scoring without shooting. You never know when a bad bounce, awkward deflection, or bizarre goalie error will go your way. "You miss 100% of the shots you don't take," may be the famous quote, but I prefer a less philosophical approach: just shoot the damn puck.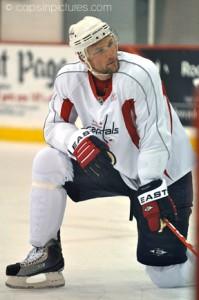 4) The power play. Did you notice that you have an extra man on the ice? The Capitals have scored more short-handed goals in this series than they have power play goals.  I was disappointed when Bruce Boudreau benched David Steckel for two games. Sitting out your best face off guy seems counter-productive to me…in both the PP and the PK, two scenarios where gaining control of the puck can make or break a shift, why wouldn't you want someone who consistently gains control of the puck? But Steckel aside, the power play unit itself has looked alternately flustered and over-restrained. The Caps have employed an umbrella strategy for most of the season with spectacular results. In this series, however, the Canadiens have been excellent at shutting down lanes and breaking Washington's cycles. This results in too much passing and not enough shooting, which allows for easy intercepts. A power play is, by nature, calculated and deliberate however, Washington has also been able to keep theirs organic and flexible–a huge key to their success. As cliched as it sounds, the Caps must go back to playing Caps hockey. Montreal has proven themselves to be an undisciplined team, prone to taking bad penalties. In a series tied 3-3, the Caps have no choice but to fire their power play back up. And quickly.
Can the Washington Capitals get back to form in time to squeeze out of game 7 with their playoff hopes intact? Let me get back to you on Thursday morning.