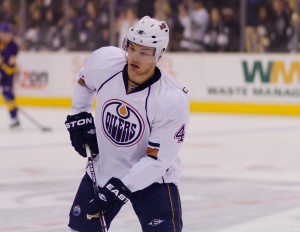 In his first season in the NHL, rookie Taylor Hall has 22 goals and counting, and has shown some flashes of brilliant skill that has Oiler fans watching in excitement for the future. On March 2 versus the Columbus Blue Jackets, Hall got his first Gordie Howe hat trick, scoring a goal, adding an assist and getting into a fight. But his first NHL scrap might be one to forget, as Hall was forced to leave the game after falling awkwardly while fighting Colmbus' Derek Dorsett. Edmonton ended up winning the game 4-2, but the victory may have come at a cost.
With the trade of Dustin Penner to the Kings at the trade deadline, Hall became the Oilers leading goal getter. Early reports say that Hall suffered an ankle injury, but the severity is not yet known. Fights are often a cause of injury to players, whether it be broken hands, shoulder injures or broken face bones. In the case of Hall, his leg bent underneath him as he and Dorsett started to fall to the ice. Hall has yet to miss a game this season, and the Oilers are hopeful that the injury isn't too serious.
Despite the unfortunate incident with Hall, it was a good game for the Oilers. Edmonton opened the scoring on a power play goal by Sam Gagner midway through the first period from Magnus Pajaarvi and Tom Gilbert. Hall then notched his 22nd of the season a few minutes later from Shawn Horcoff and Jason Strudwick. Jordan Eberle gave the Oilers a 3-0 lead 14 seconds into the second period, but Columbus got on the board a minute later on a goal from Matt Calvert. Scottie Upshall brought the Blue Jackets within one in the third period, but that would be as close as they got as the Oilers added an empty netter from Andrew Cogliano to seal the win.
Devan Dubnyk made 26 saves in the victory, and the Oilers held the edge in shots, 37-28. They were perfect on the penalty kill, something that hasn't come easy this season. The Oilers have won six of their past 10 games, but remain at the bottom of the Western Conference. Ales Hemsky missed the game with a shoulder injury that may keep him out of the line-up for several weeks. The Oilers embark on a five-game road trip where they will face the Avalanche, Flyers, Capitals, Red Wings and Penguins before returning home to face the Coyotes on March 17.
Marcy, a former hockey player, is a hockey correspondent on CTV News and TSN radio. She began her career as a Sports Journalist in 2009 and has been part of The Hockey Writers since 2010, where she is currently a senior writer and editor.