After enjoying a resurgence in 2014-15, the Calgary Flames backslid a bit in 2015-16. While their on-ice results were no doubt a disappointment, the silver lining is that the club owns the sixth overall selection in the upcoming 2016 NHL Draft. Since moving to Calgary in 1980 the Flames have only selected this high in the first round a handful of times, and tongues league-wide are waggling regarding what the club will do.
Many of the factors surrounding the decision-making process of general manager Brad Treliving and his hockey operations staff are, frustratingly, out of the Flames control. Five clubs (Toronto, Winnipeg, Columbus, Edmonton and Vancouver) select before the Flames.
While the consensus is that the draft's top three (Auston Matthews, Patrik Laine and Jesse Puljujarvi) will go 1-2-3 in some order, nobody's quite certain what Edmonton and Vancouver will do at fourth and fifth overall, respectively. Both the Oilers and Canucks have languished near the bottom of the NHL standings recently, the Oilers for far longer, and both clubs could use puck-moving defensemen or some skilled forwards.
Recent comments by Oilers general manager Peter Chiarelli haven't really tipped his hand much:
What's exciting with the second tier is that there's a lot of defencemen and there's a lot of good-sized forwards. Those are two needs we're looking at so we're going to look a little more closely. If we keep the pick or we move it and get another pick, there's still a lot of those good players that are big or are defenders.
On the other hand, Vancouver's recent trade of Jared McCann to the Florida Panthers may have telegraphed their preference at fifth overall:
Canucks' Benning believes he can replace Jared McCann with fifth-overall pick in the draft: https://t.co/hqit8pfKyI

— luke fox (@lukefoxjukebox) May 27, 2016
Here is a brief glance at the top players likely available when the Flames draft in the first round.
PIERRE-LUC DUBOIS

The Fit: A big-bodied forward that can play center or on the wing, the left-shooting power forward gets a ton of shots from the slot. How? He's not afraid to use his frame to drive the net. Adding Dubois would give the Flames some flexibility and allow them to choose whether to use Sam Bennett on the left wing or at center. He's also physically ready for the NHL, and could give the Flames another weapon to diversify their offensive attack. For a team whose biggest problem is that their skilled players aren't all that big and their big players aren't all that skilled, Dubois fits like a glove.
Ranking: The top-ranked North American skater by the NHL's Central Scouting Service, he's ranked sixth overall by Future Considerations, fifth overall by ISS, fifth overall by Sportsnet's Damien Cox and fourth overall by TSN's Craig Button.
Availability: It all depends on what Vancouver or Edmonton do. Based on their comments, it seems like Vancouver will definitely take a forward at fifth overall and it's unclear if Edmonton goes for a "good sized forward" like Dubois at fourth overall, or grabs a blueliner like Jacob Chychrun or Olli Juolevi that can run an offense. If the Oilers go for a defender and Vancouver goes for Logan Brown or Matthew Tkachuk, Dubois could fall to Calgary. That said, Dubois seems like a good fit for Vancouver if they're seeking a more physically mature forward to replace Jared McCann, so his availability is in question for the Flames.
MATTHEW TKACHUK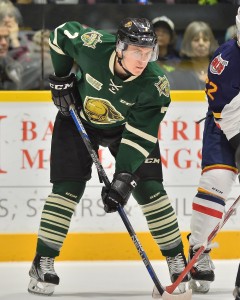 The Fit: The son of former NHLer Keith Tkachuk, the London Knights player has scored at a torrid pace over the past year. Not a small player by any stretch, he's versatile and can play the wing or at center. He's arguably a bit less physically developed than Dubois – less of a complete, NHL-ready body than the QMJHL product – but he may have a higher ceiling. Like Dubois, adding him would give the Flames the option to keep Bennett on the left wing going forward, and give the Flames some skill and toughness.
Ranking: The second-ranked North American skater by Central Scouting, ranked fifth overall by Future Considerations, sixth overall by ISS, fourth overall by Sportsnet's Damien Cox and fifth overall by TSN's Craig Button.
Availability: As with Dubois, Tkachuk's availability is contingent on both the Canucks and Oilers passing on him with their first round selections. If Edmonton opts for a defenseman and Vancouver opts for Dubois (the more NHL-ready forward), Tkachuk could fall to the Flames.
ALEXANDER NYLANDER
The Fit: The son of former Flame forward Michael Nylander was actually born in Calgary during the 1997-98 season. A bit less physically developed than Dubois or Tkachuk, he's been a revelation for the Mississauga Steelheads in his first season in the Ontario Hockey League. The younger brother of Toronto Maple Leafs farmhand William Nylander, Michael may be even more skilled than his big brother. He can play both wings, and adding him to the fold would cement Bennett at center and give the Flames highly-skilled depth on the wings.
Ranking: The third-ranked North American skater by Central Scouting, he's ranked seventh overall by Future Considerations, fourth overall by ISS, ninth overall by Sportsnet's Damien Cox and sixth overall by TSN's Craig Button.
Availability: If both Edmonton and Vancouver opt for forwards, it's likely that Dubois and Tkachuk will be off the board by the time the Flames come to the podium. That would make the highly-skilled Nylander a really nice consolation prize.
OLLI JUOLEVI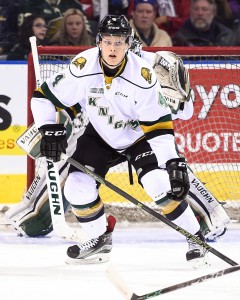 The Fit: Up to this point, the presumption has been that Calgary's blueline depth (in the form of veterans Mark Giordano, T.J. Brodie and Dougie Hamilton and youngsters like Oliver Kylington, Brandon Hickey and Rasmus Andersson) would lead them to draft a forward in the first round. Juolevi is effectively a Finnish Brodie, in the sense that he's a great skater and excellent puck distributor. In a game that really emphasizes speed and puck possession above all else, Juolevi could be seen as a better fit than one of the above forwards – particularly if Calgary's first choice is gone by the time they draft.
Ranking: The fifth-ranked North American skater by Central Scouting, he's also ranked 12th overall by Future Considerations, 11th overall by ISS, 6th overall by Sportsnet's Damien Cox and 7th overall by TSN's Craig Button.
Availability: Unless Edmonton grabs Juolevi at fourth overall, it's quite likely that he'll be on the board when the Flames draft at sixth overall.
DARK HORSES
Despite the skilled and highly-touted players available at sixth overall, it's also possible that the Flames may go off the board as they have in the past. Players that could be fits for the club include big-bodied blueliner Jacob Chychrun, massive forward Logan Brown or smaller, speedy choices like Clayton Keller or Tyson Jost.
THE GUT FEELING
Call it a gut feeling or educated guess after several years of covering the Flames, but I'd expect their order of preference is Dubois, Tkachuk and Nylander, due to varying levels of size and NHL-readiness. I fully expect them to select one of those three forwards at sixth overall.
Ryan Pike has covered the Calgary Flames and the NHL Draft extensively since 2010 as a Senior Writer for The Hockey Writers and Senior Contributing Editor of FlamesNation.ca. A member of the Professional Hockey Writers Association, he lives in Calgary.