LANDQUART, Switzerland — That, dear reader, is a town of about ten thousand people which I was fortunate enough to grow up in. Located just 45 minutes from the alpine city of Davos, I was bound to fall in love with the sport of hockey. You know, there was no getting around it. The province of Graubünden doesn't host any professional sports teams other than Davos' hockey club. There's not even a professional football team – or soccer, as you'd call it – the sport which almost every child and grown-up man in Europe is so immaturely crazy about.
But there used to be three professional hockey teams before I was born. Two of them, EHC Chur and EHC Arosa, dropped to inferior Swiss leagues before I even took my first breath on this planet – only HC Davos remained. Suffice to say, that they also hold the Swiss national record with 31 championships to date because they play lightning fast. They always have and their coach likes to play with a lot of skill as well.
Do you see a pattern there, Yinzers?
A Magic Touch
I used to watch every game I could catch. Being a kid, we didn't have Pay-TV, so you either watched highlights on the federal emission's sports show or got on that road to take in the game. These are some of my fondest memories growing up, stepping into that beautifully wooden arena, watching the fastest team game there is. It just stuck with me. I mean, look at it: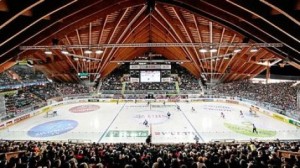 Isn't it a beautiful place to watch your favorite game?
Then, suddenly things got magical. I had first taken notice of the NHL with the EA Sports' 2001 NHL video game and I became a frantic virtual hockey player. In 2004, however, while all Canadian and American hockey fans were dolefully suffering from withdrawal symptoms because of the lockout, the fans over here had the time of their lives.
Davos managed to acquire Joe Thornton, Rick Nash, and Niklas Hagman at the time and these three unbelievable stars carried my team to a championship of unseen dominance. Thornton and Nash were unreal together and our league's defense pairings were no match. It wasn't even fair, you know.
To this day, I still wonder, how Rick Nash hadn't even considered San Jose as a potential trade destination by the time he wanted to get out of Columbus. My guess is, he just desperately wanted to play for an Original Six team, but who knows.
Keeping Track of the Heroes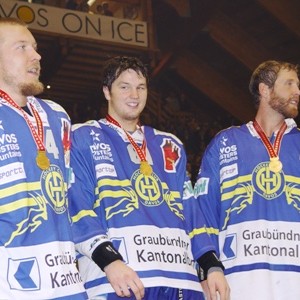 The championship celebration was over, a new Collective Bargaining Agreement was in place for the next season and everything went back to normal. The stars were gone, back to where they came from and belonged. I tried my best to keep up with their respective career overseas, but the NHL was something like a hidden Garden of Eden. Until more and more Swiss players got their feet wet in the NHL, there was barely any coverage of the Northern American hockey paradise in Switzerland.
It was about time to get internet access, which by then was anything but an implicitness in my village. I convinced my parents to contact the provider (yeah, THE provider, there wasn't an alternative to that one provider) for an offer and a few days later I – for the first time in my life – was online. It had to be sometime around my birthday in March so that certainly helped with the parents' susceptibility to my wish.
I mean, I really wanted to keep track of my new heroes and of Thornton, especially because I really fell for his style of play. How could I have possibly known that only 7 years later, both Thornton and Nash would be back already, for yet another lockout stint in Davos?
That's textbook Swissness there, friends. Talk hockey, but don't forget to put some beautiful landscapes and grazing cattle at the end of a video!
Well then, back to the computer. The first thing I found were NHL standings, which I didn't understand at all. What's a freaking division? How come teams are in separate standings but still match up against each other? What is a conference if not people talking topics in large conference rooms? It took a while to adjust to the different standards, obviously.
However, player stats were entirely clear, because what's not to understand in goals and assists, right? Eventually, I grooved in and kept following the successful scorer Thornton and kind of became interested in the Sharks' whole team, went on to play with them in video games et cetera.
Then, for the second straight season, some guy named Sidney Crosby gave my then favorite hockey player headaches in the regular season scoring race. I looked for intel on the guy because even in the video games, Crosby used to terrorize me and the Sharks with many unreal goals.
A First Glimpse at Hockey's Paradise
I hadn't heard of YouTube yet by that time. So, embarrassingly, it took me another year and eventual broadband network to take in my first few NHL games from some copyright infringing online live streams in absolutely terrible resolution – 90% of the time you couldn't even see the darn puck!
But it was the NHL. It was magic.
The Sedin twins, Roberto Luongo, a young Patrick Kane, Henrik Zetterberg and Pavel Datsyuk, Thornton, Nash, Alexander Ovechkin, Nicklas Bäckström, Martin Brodeur… All in a blur, but it could have gone on forever.
I actually started watching in the spring of 2008. With the history known, I was able to take in a few of the Pittsburgh Penguins' games until their run ended in disappointing fashion with Game 6 of the Stanley Cup Final against the powerhouse Detroit Red Wings.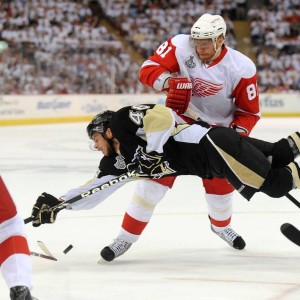 Nevermind, I got hooked for good.
Mellon Arena was electric and there was this team that played fantastically creative offensive hockey. There was number 87 in the middle of it all. There was also number 71, as I got to know along the ride, but watching Crosby was like seeing a god on skates for me. It was unlike anything I had ever witnessed before, not even with Thornton and Nash.
"Boy is that guy good. (Expletive) unbelievable!"
In my first full season as a Penguins fan, they won the Stanley Cup after a rambunctious ride through the season. Some young coach named Dan Bylsma took over the team in February and miraculously lead it back to the Stanley Cup Final for a second straight season.
Only this time, the Penguins would hoist Lord Stanley's chalice.
A Journey to the Promised Land
I haven't missed a single game since, actually. I couldn't watch all the games live, but I subscribed to Gamecenter Live the next year to watch games on-demand if need be.
Thanks to social media, over time, I got in touch with fellow Pens fans from overseas and around the world. One of them is Marty from Pittsburgh. In January of 2015, I had finally saved enough money to hop on a plane.
Almost every European's first trip to America has three likely destinations: New York City, Los Angeles or Miami. I don't know anybody who's ever been to Pittsburgh in the state of Pennsylvania, except for the guy in the mirror.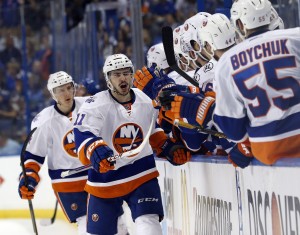 The night I arrived, Marty and I went to a bar to watch the Pens play the Islanders on the road. Mike Johnston's Pens took an early lead but eventually lost after suffering a really terrible third period, 6-3.
The next day I went shopping in and out-of-town. Darn, your malls are huge, America. I nearly lost myself as well as my rental car in the parking lots. Thankfully, Marty guided me through town later on and I met so many warm people in the cold of winter along the Strip District. It made me spend a lot of dollars, but it was well worth it. I've never walked a shopping mile with a hundred sports gear shops.
How on earth do all of them make their money's worth along one another?
The Games
It dawned on me, that this has to be the sports-craziest city on planet earth. Boy, was I right.
The following day, the Penguins hosted the New York Rangers. I got to take in my first NHL game at Consol Energy Center, what a building. What a crowd. What maniacal fans!
I saw Crosby and David Perron score the only goals for Pittsburgh, while you know, physically being in that same place. The Pens lost, 5-2, however, and the game started off awfully with Nash scoring for the Rangers 30 seconds in. Kris Letang fanned on a bouncer at the point and off to the races he was. Marc-André Fleury cheated a bit on the angle, Nash found the hole. Silent house.
I thought to myself: Wow, history calls early, today.
Still, the first NHL game in an actual NHL venue is something I'll never forget. A couple of days later, the Pens would fall to the Flyers in Philly, in overtime. Marty and I watched different portions of that game in different sports bars. I guess we were subconsciously trying to change momentum, to no avail. We drove all around Pittsburgh but we couldn't find a winning bar, just a third straight loss while I was in town. Today, I'd blame it on the head coach, but at the time, I felt responsible.
Don't even ask. I'm superstitious when it comes to hockey. I've worn the same Crosby jersey all playoffs and my sister suggested I should consider joining the Amish, my current playoff beard would definitely make the cut – just not at any barber shops in the very near future, obviously.
The fourth game during my trip awarded the Pens with another point. Ha! But Kane's shootout magic proved too much for the Flower and his Pens.

That Chicago game, though, was the best hockey game I've ever seen. All the world-class talent on the ice and the unlikeliest of heroes for the Penguins.
The organization called for him to step up, though, as they'd put his frame on the front page of that game's Ice time booklet, the Penguins' official game program which fans receive at the venue's entries.
None other than Zach Sill scored his first career NHL goal in my presence to tie the game up and give the Penguins at least another point while I was in Pittsburgh. Sill happened to be one of Marty's favorite players because of his relentlessness and physicality. I was just amused, that of all players, he was the one who got it.
The Feels and Doc
My journey came to an end the next day, after checking out at the motel, returning the rental car and resolving luggage overweight issues at the check-in desk, Pittsburgh had one last surprise for me up its sleeve.
He was in a hurry, when I met him but, doing his best Yinzer impersonation, Mike Emrick had a little chat with me at the airport. What a moment that was with such an approachable personality.
Thank you, Doc.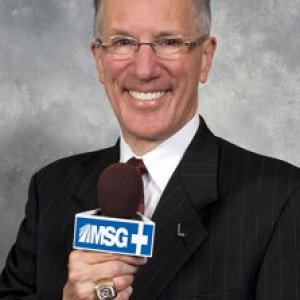 Marty and the ever-friendly people of Pittsburgh jokingly chased me out-of-town on a witch-hunt. I hadn't brought along a lot of luck for the Penguins. My bad, I'm sorry.
Besides that crucible at the end, Pittsburgh had given me so much during my six days in town. I've met some of the most heart-warming people I know. Everybody was gentle, everybody was so approachable, everybody offered a helping hand.
Thanks for giving me the casual heads-up with parking goons around, Pittsburgh. Thanks for feeding me one of the most interesting sandwiches ever at Primanti's. Thank you for stuffing me with the best tacos I've ever had. Many thanks for overloading my luggage with presents and memorabilia. Above all that, thank you so much for being the kind people everybody would love to hang out with.
Thank you, Marty, for being my guide!
Thank you, Pittsburgh, a thousand times for providing some of my best memories in life. Thank you, for being you.
I wouldn't trade any of the above-mentioned destinations for the first trip to Pittsburgh because I got to know America's heart and soul where I went.
You know, it actually still gives me shivers to think about it but I cried a few tears as I boarded that plane bound for New York.
Leaving Pittsburgh after only six days really felt like leaving home.
What's to come during the next two weeks actually made me write this piece from start to finish – a Stanley Cup Final matchup between the two teams I've most admired. It's like we've come full circle.
Thank you, Pittsburgh…
… and lots of love from Switzerland. I'll be back as soon as possible.
Now go get that Stanley Cup, Penguins. For Pittsburgh, because it deserves nothing short of the best.
Believe me.
Hi, I'm a 27-year-old hockey maniac from Switzerland who's studying Communication with a major in journalism at Zurich's college of applied sciences. When I'm not busy learning about the game or from books, I like cooking, watching films and going out or jamming with friends in my little home-studio.