Brandon Pirri came to the New York Rangers this offseason after most other available players had found a home. At only 25-years old, he's already on his fourth team, which seems strange since he's been a steady point producer. When the Rangers went out and grabbed him, the move seemed unusual, the team had seemingly stocked up on forwards already but decided to take a chance on another one. Coming in, everyone knew that he would have a very difficult task ahead of him; he would have to outplay veterans and organizational prospects for a fourth-line role that at the time seemed not to fit into the player's strengths.
Sure enough, here we are about a month into the season and not only has Pirri earned his keep, but he's started forcing people who follow the team to ponder the possibility of seeing him in a bigger role. I wouldn't call him a mainstay just yet, but there's no doubt that the young forward from Toronto is making a name for himself in New York.
Getting the Job Done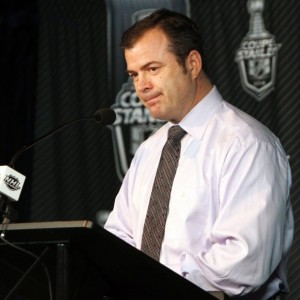 Pirri ended up winning a role on a fourth line, a spot head coach Alain Vigneault that historically had been reserved for defensive specialists and fighters. The coach spoke earlier in the month after a preseason game against the Philadelphia Flyers about Pirri making his case.
"There's other areas where I need to be sure that he's going to be able to make the play, get the puck out, be strong on the wall and in certain areas tonight he needed to make a better play," he said. "But there's no doubt offensively that he's got good hands and can find the back of the net."
It's worth noting that the Rangers avoid putting Pirri in strictly defensive roles. He hasn't played a second while the team is short-handed and despite being on the fourth line, has only taken two defensive-zone faceoffs — both of which were lost.
The Rangers seem content to keep Pirri on the bottom line as long as he can be effective on the power play and be at least serviceable on the fourth line itself and to this point, he's been all the team could ask for. Fans tend to think that Pirri is poor in his end, but I disagree.
Now, I'll admit the better part of his game is offense. However, it isn't as if he just gives up on defense. In fact, watching him closely, I've seen him do a good job of helping out his defenders in the corners and covering for his teammates on plays where the Rangers seem over committed. The effort is there and that's the first step that comes with doing anything well.
Shoot to Thrill
Only nine games into the season and Pirri has scored at least three important goals for the Rangers. He had the big power-play tally against the New York Islanders in the Rangers' first game; he opened the scoring for the team in a game they would battle back to take against the Washington Capitals and, more recently, he put the Rangers ahead for good in another come-from-behind victory against the Boston Bruins. The common denominator in all of the goals comes down to the fact that Pirri has a rifle of a shot.

Right now, he's shooting the lights out of the puck, but it seems inevitable that he will see his shooting percentage that currently sits at 40 percent (not a misprint), come back to earth. That said, even if it were to drop dramatically, the Rangers would still be getting great bang for their buck. Part of the reason that their power play is clicking at 21.9 percent right now has to do with the fact that they have players like Pirri and Mika Zibanejad are tearing off shots every chance they get. In past years, the Rangers would almost always pass up good opportunities to try and make an eye-popping pass. Scoring at this level is very challenging and Pirri is proof that if you can bury the puck, a team will find somewhere to put you.
My Take
The Rangers have done a great job of finding these very talented players at reasonable prices, the most notable ones in recent memory being Benoit Pouliot and Anton Stralman. It's impressive that the team's management can find such skill, but the decision here will be whether or not the Rangers try to keep Pirri. He's young and very talented, but the team is so hesitant to put him in any role other than forth liner/power-play specialist, that he may be a one-season guy on this team.
This year, he's only making $1.1 million and is an RFA at season's end. The predicament will be, if Pirri keeps playing this well, do they try to move him at the trade deadline for a younger asset? Or do they accept him as part of the future and try to get him signed and into a bigger role. Right now it's too soon to tell, but this will be a narrative down the line.