The Edmonton Oilers finally look to be stepping in the right direction, but this is said every season, only for all hope to be lost midway through the year. Sure, Oilers general manager Peter Chiarelli has put in quite a significant body of work in his two years at the helm, but is it enough to finally change the league perception about the Oilers?
Let's start by giving credit to The Hockey Writers Chad DeDominicis who inspired this piece during an internal discussion. Just one month into the season and the Oilers sit second overall in the NHL with a 7-2-0 record, trailing just the Montreal Canadiens. Connor McDavid is tied for the league scoring lead with 12 points, Cam Talbot leads all goaltenders with seven wins and the additions of Milan Lucic, Kris Russell and Adam Larsson are paying early dividends.
So have the Oilers finally chipped away at the perception of being the laughingstock of the league?
https://youtu.be/VBgTIiG32Ls
What Are They Saying?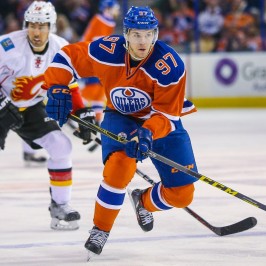 Last month I asked several co-contributors at THW and the Edmonton Journal's David Staples about their thoughts on the subject. If there is one clear fact we can extract from their individual opinions, it's that the McDavid factor changes things for the Oilers.
Sure the Oilers added another trio of consecutive first overall picks from 2010-12 in Taylor Hall, Ryan Nugent-Hopkins and Nail Yakupov, but none of them were on the same generational level as McDavid.
I think McDavid definitely changes the rhetoric of the Oilers and makes it seem like they're finally turning it around. However, with the poor offseason trades in my opinion (Hall, Yakupov) and the lack of a big upgrade to their defense, it's hard to buy all in on a Oilers big improvement.

– Chad DeDominicis (THW – Buffalo Sabres Contributor)
McDavid is the face of the franchise, but it's the pieces behind him that still have concerns to those around the league; defense, goaltending and if those big trades and signings were the right moves.
In my mind, the perception of the Oilers has changed, although many want to see more before they believe it. Most are aware of how good Connor McDavid is, however most aren't aware of how good a leader he already is. Many fans now want to watch the Oilers to see McDavid. That's as big a change as one can get quickly.

– Mark Scheig (THW – Columbus Blue Jackets Contributor)
Front Office Changes Give the Oilers Credibility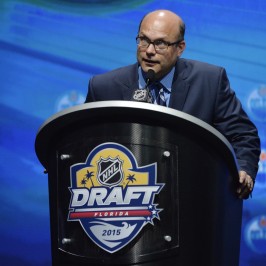 Since the Oilers officially started their rebuild when they picked Taylor Hall first overall in 2010, the team has gone through three general managers and six coaches, not including Pat Quinn who was relieved of his duties just three days before the Oilers picked Hall. Fast forward and the Oilers have moved two of three first overall picks in Hall and Yakupov, both in the same off-season. Let that sink in. The last time any NHL franchise has had three consecutive first overall picks was when the Quebec Nordiques held that honor from 1989 to 1991.
The Nordiques used those picks on Mats Sundin (1989), Owen Nolan (1990) and Eric Lindros (1991). Six seasons later all three were traded. Was it mismanagement or using assets to balance out a roster? Chiarelli is now known as the guy who's traded Hall, Tyler Seguin and Phil Kessel.
Chiarelli is not afraid to make bold moves, and one of the three led to the Boston Bruins winning a Stanley Cup in 2011. For what it's worth the Quebec Nordiques also won the Stanley Cup in 1996 (as the Colorado Avalanche) after making some bold moves.
The Oilers now have more credibility in their front office, but it remains to be seen if that's in (GM Peter Chiarelli's) name only.  They used to fail in spite of making at-the-time easy, popular decisions, like drafting Nail Yakupov, for example. The nicest thing that can be said about them now though is they've yet to fail after making their recent string of controversial moves, like trading Taylor Hall and signing Kris Russell all to retool their defense. In a way, it can't get any worse. So, they have that going for them, but that's about all.

– Ryan Szporer (THW – Montreal Canadiens Contributor)
The Oilers and Chiarelli went out and addressed a glaring weakness on defense by acquiring Adam Larsson and Kris Russell. Larsson came at an enormous price in Hall, but Russell was a late training camp addition with a $3.1 million price tag. For what it's worth the Oilers added two NHL-calibre defensemen which are something of an accomplishment considering this team has been icing a plethora of third-pairing defenders forced to play top four minutes.
Suddenly Darnell Nurse and Brandon Davidson (when healthy) have time to develop in the bottom-pairing instead of being rushed into the top-four, earning more minutes when it's warranted.
To me the Oilers won't be taken seriously until their goalie, whomever that is — Talbot for now — proves over an extended period of time that he can win consistently. In that division, I'd be shocked if they weren't last or second to last again. The defense is better with Larsson added, but still among the weakest corps in the West.

– Dan Rice (THW – New Jersey Devils Contributor)
When it comes to the Oilers goaltending situation they entered the year with plenty of critics. Sure Talbot ends the first month of the season with a 2.04 GAA and 0.936 SV%, but he's notoriously known as a streaky goaltender. Behind him, there's Jonas Gustavsson who has a reputation for being injury-plagued and has already missed time due to injury this year. Until the Oilers goaltending can put some much-needed consistency together for long stretches, they'll always be questions here.
What Does It All Mean?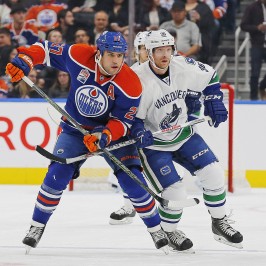 At the end of the day, Edmonton is taking steps in the right direction. There is more than just the McDavid factor, but it's one of the key reasons Edmonton is slowly becoming a free agent destination. This summer the Oilers signed Milan Lucic to a multi-million, seven-year deal, something that wouldn't have happened several years ago. They even added Kris Russell on other circumstances, but it goes without saying Edmonton is finally able to attract high-end NHL free agents.
When Chiarelli took over the job two summers ago, he had his work cut out for him. There was no number one goaltender, no top-pairing defenders, horrendous roster depth and question marks in the coaching and management staff. The Oilers have addressed those areas and if you look at the Oilers opening night roster in 2016-17 just seven of those players are here from when Chiarelli took over managing the team.
Sure, Edmonton has a fancy new building and that's nice and all, but the rest of the league is taking notice of McDavid and his ability to be the world's best player sooner than later. With McDavid in their lineup, the Oilers are commanding respect as a potential force of the future – if not the present. The rest of the roster remains a work in progress, but the pieces are starting to come together to turn Edmonton into a contender after a decade-long playoff drought.

– Larry Fisher (THW – League Contributor)
Optimism is a word Oiler fans have grown to hate. They've been promised optimism for several years now but in the end, those same people promising that optimism have overvalued, underappreciated or have had skewed perceptions regarding the roster. Hindsight is always 20/20, and after years of losing and making mistake after mistake in managing the team, Chiarelli seems to finally have a picture of what it'll take to make the Oilers competitive again.
McLellan has done a masterful job early in the season in coaching this team; players are responding, and the team is off to one of the best starts in franchise history. David Staples (Edmonton Journal) might've said it best:
What I mostly see from mainstream media outside of Edmonton is harsh criticism and expectation that things are never going to turn around. There are a few notable exceptions to this, but a decade of losing had made everyone leery of being optimistic, and there's also a faction that simply hates the Oilers for lucking out and getting McDavid.

– David Staples (Edmonton Journal)
In the end, the thing that matters most is winning. Regardless of the sentiment across the league, the Oilers need to continue winning hockey games. No amount of fancy new state of the art arenas or free agent signings will suffice. The fan base in Edmonton has suffered through more than their share after holding the longest playoff drought in league history. It's been ten years since the Oilers played a playoff game and in the end, that's the next bar for Edmonton.
The time for results is long overdue and to change the perception around the league Edmonton has to do one thing; just win baby.