Just this past week, TSN's Gary Lawless let it be known that the Winnipeg Jets are fielding calls regarding other teams' interests in one of their three goaltenders. The Jets currently have three netminders under contract for the 2016-17 season: Ondrej Pavelec (29), Connor Hellebuyck (23), and Michael Hutchinson (26), each of whom were regarded as being available for trade negotiations.
Taking a closer look at all three, we'll examine which netminder could be finding himself packing up and leaving snowy Manitoba should the Jets opt to make a trade, and which two will remain with the team to finish the season.
Ondrej Pavelec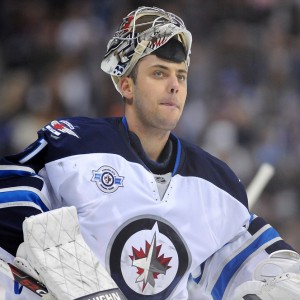 Pavelec was sent down to the Manitoba Moose (AHL) prior to the start of the 2016-17 season, finding himself as the odd man out in Winnipeg's three-way goaltending situation. While Pavelec may have been hoping to prove that he is still capable of playing competitive hockey at a high level, things haven't been so pretty for the Czech netminder so far. Pavelec is 2-1-2 with the Moose and owns a 3.44 goals-against average, along with a .905 save percentage — rather poor numbers for a former starting goalie at the NHL level. His faulty below-par play in the minors can't be catching the eyes of many teams looking to upgrade their tandem in the big leagues, not to mention the $3.9 million cap hit he carries as well.
While the Jets would love to effectively dump Pavelec and his cap onto another team for the remainder of the season while his contract expires, it's looking like this would be a long-shot scenario for the Jets' front office. Teams just aren't willing to put themselves up against the cap in today's NHL, especially for an underperforming individual.
Connor Hellebuyck
Though the start of the year started a little shaky for Hellebuyck, the Michigan native has started to settle in a bit between the pipes. He is 2-2-0 with a GAA of 2.54 and a save percentage of .919; numbers that are only getting better with time.
Hellebuyck would be considered to be the least favourable netminder to move by many, as he is just 23-years old with a lot of potential and has shown flashes of brilliance over his last few seasons with the Jets' organization. The inconsistencies in his game can be linked to his age, and the fact that he has yet to play a full NHL season with just 31 games to date under his belt. He's shown his dominance at the college and AHL level, now it's just a matter of time until he shows the Jets what he's fully capable of. It's far too early to give up on him now.
Michael Hutchinson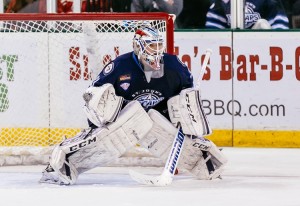 Splitting time with Hellebuyck to start the season, Hutchinson has also seen his fair share of struggles and rough patches so far. Hutchinson is 2-3-0 with the Jets this year and owns a GAA of 3.08, with a .906 save percentage, numbers that currently have him behind Hellebuyck on the Jets' depth chart. While things were finally starting to look up for Hutchinson after he shut out the Colorado Avalanche last week in what was a brilliant performance, he was eventually chased out of the crease Sunday in a game against the Buffalo Sabres, which the Jets would go on to lose, 3-1. Hellebuyck replaced Hutchinson after he allowed three goals on just 15 shots, leaving Hellebuyck to make 10 saves on 10 shots in the Jets' loss. With Hutchinson's inconsistencies are proving to be a little more than Hellebuyck's so far, I have to give the edge to Hellebuyck in eventually taking over as the No. 1 netminder position in Winnipeg.
Given all the factors at play and the goaltending situation the Jets find themselves in now, I think it's safe to say that Hutchinson would be the best candidate to be shopped. At 23-years old, Hellebuyck has proved that he has great potential and could possibly be the Jets' goalie of the future, while 29-year-old Pavelec looks like his NHL days could be numbered with the disinterest of so many teams both in his skill and current cap hit. This leaves the 27-year-old Hutchinson as the prime trading chip in the lot, and that may not be such a bad thing.
Hutchinson has shown that he can compete in this league, and at 27, he still has some potential to better his game given the opportunity. Maybe the Jets provide him this opportunity and find him a home soon, given he's the man they decide to let fall. Whoever they decide to let go, the Jets should expect some fair value in return, especially with so many teams desperate for help between the pipes due to key injuries. We'll see how Jets' general manager Kevin Cheveldayoff plays his cards.