Before anyone says it—the Detroit Red Wings do not have a goalie controversy on their hands. 
Coming into the season, Petr Mrazek was given the starting job and Jimmy Howard prepared to be Detroit's backup—not a competitor for the starting goaltender position. Both had up-and-down 2015-16 seasons sharing starting duties. Having their roles defined from Day 1 would presumably allow Mrazek and Howard the luxury of not worrying about their current status with the organization. 
But 10 games into the 2016-17 season, Howard has the better stat line, causing some to question Detroit's goaltending strategy. Howard won two of his three starts, recording a 0.86 goals against average in the process. He single-handedly won the Red Wings' game against the New York Rangers. 
On the other hand, Mrazek lost his first two games in Florida, then won his next four starts, before getting yanked in Sunday's loss to the Florida Panthers. Mrazek has been lights out at times, but is still allowing a few too many goals overall. 
What's to make of the two Red Wings goaltenders thus far?
Mrazek is the Starter Still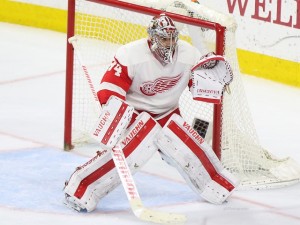 Despite Howard's strong start to the season, Mrazek is still the starting goaltender for the Red Wings. Once Mrazek gets on a roll, he has a much higher ceiling than Howard in net. Having reliable team defense would also help. 
This is not to discredit Howard at all — he'll play a valuable role for the Red Wings this season. Detroit simply cannot risk Mrazek's confidence for short-term success.
Instead, the Red Wings need to play better as a team so Mrazek can lead them throughout the season. Naming Howard as starter or co-starter isn't a smart long-term approach to navigating the ups and downs of the NHL season. 
So if the Red Wings have two quality goalies, they should trade one, right? Wrong.
Don't Trade Howard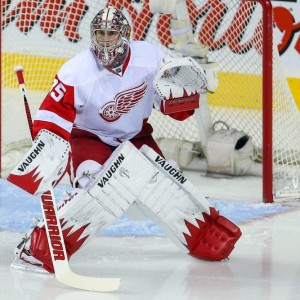 ESPN's Craig Custance recently penned an article asking if the Red Wings should consider moving a goalie with both Howard and Mrazek playing well. If Detroit has a surplus in net, why not move a goalie to add value elsewhere?
First, Detroit is not going to trade Mrazek, as he's the goalie of the future. Their young Czech netminder has a little Dominik Hasek in him and has the potential to be a truly elite goalie. Unless the return is staggering, Mrazek is definitely off the table. 
Though Howard is playing well, the Red Wings should not move him either. Howard is Detroit's insurance policy if something happens to Mrazek. To that note, Howard's value on the open market is lower than his value to the Red Wings. Despite his early season success, Howard is still a veteran signed to a long-term, expensive contract. If this was Howard's last year on his contract with the Red Wings, there could be a deal to be had. However, that's not the case.
And finally, what if Detroit traded Howard and Mrazek got hurt. Jared Coreau would conceivably be next in line. Even though he's putting up solid numbers with Grand Rapids (4-2-0 record, 2.18 goals against average, .926 save percentage), Coreau has never played in an NHL game. Ken Holland would be hard pressed to rely on an untested prospect as his insurance policy down the stretch.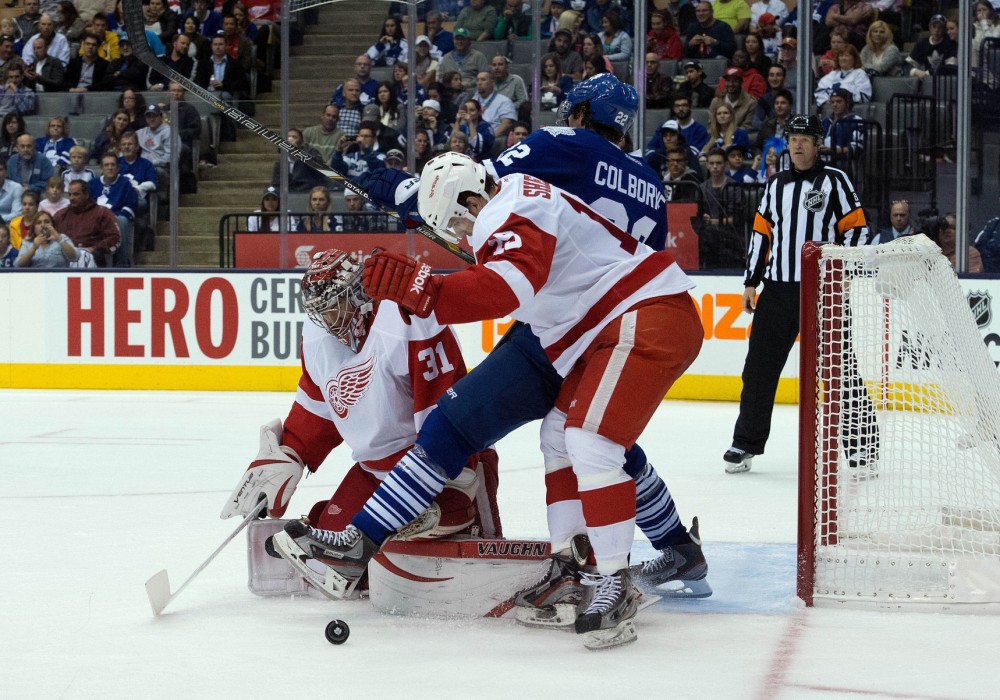 Don't overthink who starts in net for the Red Wings. Complicating the starting status only leads to chaos. Just ask the New York Islanders.
Costume Contest
While the Red Wings continue to ask Mrazek and Howard to don the Superman cape, the team participated in their own costumed soiree on Sunday night.
Which Detroit Red Wings player do you think had the best Halloween costume this year?