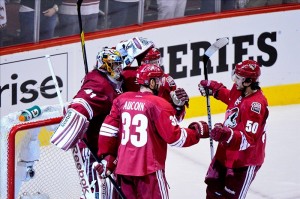 Antoine Vermette notched his second career hat trick Saturday afternoon with the game winning goal as the Phoenix Coyotes picked up an imporant road win in Ottawa, defeating the Senators 4-3 in overtime.  Vermette provided the Coyotes a much needed offensive boost during the ongoing absence of Captain Shane Doan.  However, it is not the first time the eleven year NHL veteran has come through when needed.  Saturday's stellar performance against his former team was but one example of consistent offensive production Vermette has provided for the Coyotes since the season commenced in October.
#Coyotes Antoine Vermette now tied for team lead in goals (12) after his 2nd career hat trick gives PHX a big come-from-behind win in OTT.

— Chris Wojcik (@Chris_Wojcik) December 21, 2013
Consistent Scoring Makes Vermette An Impact Player
Vermette scored two goals during a road contest in Denver earlier this month, leading the Coyotes to a win over the Colorado Avalanche, another game played without Doan in the lineup.    Coincidentally, that game was the 700th of Vermette's NHL career, a career that started in Ottawa in 2003, and included a stopover with the Columbus Blue Jackets before Vermette arrived in the Arizona desert during the 2011-12 season.   As for this season, the Coyotes are 6-0-3 when Vermette lights the lamp.  A native of St. Agapit, QC, Vermette now has 22 points overall (12 goals, 10 assists).  In just over a decade skating for the three different clubs, he has scooped up 372 points (169 goals, 203 assists).
Skating on Phoenix's third line, Vermette has developed a knack for scoring goals when they are needed most.  In a home game earlier this season against the Detroit Red Wings, Vermette put the Coyotes on the board after they fell behind 2-0, providing much needed momentum for a comeback that concluded with a 5-2 Phoenix win.
http://www.youtube.com/watch?v=YfEXalQaSDs
Saturday in Ottawa, Vermette not only came through by completing his hat trick with the game winner in overtime.  One of his additional two goals came on the power play, an area where the Coyotes have struggled recently.  Coming into Saturday's game, Phoenix was only 2 for 16 with the man advantage over the last five games and had scored only one regulation goal in each of the prior three contests.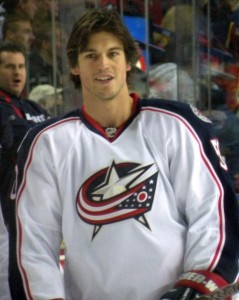 Team Reaction
Coyotes head coach Dave Tippett, who hasn't minced words about the team's recent offensive woes, offered nothing but praise for Vermette as the team left the Canadian capital with victory in hand.
"Vermette came up with some big goals for us," Tippett said.  "He's been a really valuable player.  You could argue that he's our most valuable player this year.   He's been a workhorse for us and a guy we rely on in all situations."
"He does everything great for us," added teammate Keith Yandle.  "He's a guy who shows up to the rink everyday and is a true professional and really fun to play with."
For his part, Antoine Vermette remained humble about the hat trick and seemed happier that his team picked up an important road win.
"When you get a win, it's a good feeling," Vermette said.   "It's very rewarding to get the points."