After two straight homes wins with a combined 11-7 edge in goals, a two game weekend set provided the Hershey Bears (11-10-2-3) with a chance to head into 2014 on a four game home winning streak. After a strong start to the game puck possession wise, Hershey's compete level sharply took a dive downward.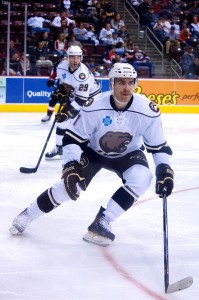 "We were pretty good to start the game," Head Coach Mike Haviland said after Hershey's 3-2 loss to the Worcester Sharks Saturday at Giant Center. "I thought we gave up a weak goal, it was a breakdown. Schmidty gets caught standing still and turns it (the puck) over, it's a wrap around goal I'm sure Leggy would want back. Next thing you know we get on our heels."
Forward Joel Rechlicz and defenseman Tyson Strachan took easily avoidable penalties that led to power play goals for Worcester against the Bears' penalty kill, which entered 15th in the American Hockey League at 82.3%. The Sharks finished the night 2/5 on the man advantage, improving their power play which entered 25th in the league at 14.2%, surprisingly lower than Hershey's power play.
Defenseman Julien Brouillette (power play) and forward Nicolas Deschamps provided the Bears with goals in the second and third periods, with Deschamps' marker coming with 4:11 left on the third period clock. A late fluery with Hershey trailing by a single goal almost provided the Bears with the equalizer, but they weren't able to find twine past Worcester goaltender Troy Grosenick (6-3). The Sharks' net minder totaled 29 saves on 31 Hershey shots on goal in his 10th game of the season.
Hershey's Power Play Struggles
The most glaring aspect of the Bears overall game this season is unquestionably the power play. Their penalty kill had been good of late, entering tonight following a 4/4 effort in their win Wednesday night win over East Division opponent Syracuse.  Hershey's man advantage unit on the contrary is a completely different story.
Although they registered a power play goal on the evening, there were obvious inconsistencies with their man advantage unit which finished 1/7. At times they weren't able to enter the zone with speed or as a total unit, often unable to hold the puck into the offensive zone for more than 30 seconds. When they did hold it in the zone there were problems with keeping the puck in zone and sustaining pressure after generating the initial scoring chance or shot on goal.
"We need to take the puck to the net," Haviland explained on the Bears' power play inconsistencies of late. "I think we need to get a couple ugly goals off of it, I think we're trying to get the pretty goals. We got to attack more from down low and simplify it. When we do get a shot we get it through and hit the net, when a power play struggles the only remedy is to simplify it and put it at the net, get some ugly goals. You got to be willing to go in there. I don't think we were willing to go in those areas tonight as much as we needed to win a hockey game."
Hershey's power play has struggled mightily in recent contests, going 4/37 (10.8%) in their last six games. In three of those games the Bears didn't register a power play goal, putting the onus on five-on-five play to find Hershey's offense.
Chocolate Crosschecks
Forward Stanislav Galiev suffered an upper body injury near the beginning of the game and won't play Sunday against Worcester
Julien Brouillette suffered an upper body injury and will be reevaluated Sunday and could possibly play
Hershey fell to 6-5-1-3 at home this season with their Saturday night loss
You can follow Matthew on twitter @m_speck and email him at mspeck21@yahoo.com with any questions or comments.
Matthew Speck covers the Washington Capitals organization for The Hockey Writers. He provides coverage of both Washington at the NHL level and prospect related content. Matthew also covers local sports for the Lebanon Daily News in Central Pennsylvania. You can email him at mspeck21@yahoo.com with any questions or comments.