Not long ago, the Pittsburgh Penguins were frantically searching for some sort of consistency among their lines. Wing after wing was tried with the likes of Sidney Crosby and Evgeni Malkin. Not that those experiments were particularly poor, but the Penguins were always looking for more.
Those desires were fulfilled last March in a way that almost no one would predict.
Something from Nothing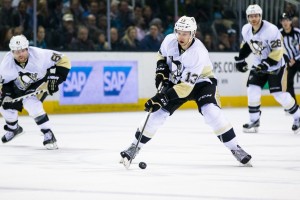 Last March, when Evgeni Malkin went down with an elbow injury which caused him to miss more than a month, the Pens season was in question. Nick Bonino, Carl Hagelin, and Phil Kessel had each underperformed to that point and neither showed significant signs of immediate improvement. Bonino hadn't cracked 15 points by this point in March. Kessel was a mystery, as despite playing with both Crosby and Malkin all season, had managed only 47 points in the 70 games leading up to the HBK line's debut. Hagelin was the lone piece who wasn't disappointing at that moment. He was performing at his usual clip, perhaps even slightly above with 17 points in 25 games as a Penguin. Even so, there were no signs suggesting that putting these three together would solve the Pens' woes on the second line.
Unlikely, but Steady
But as we all know, the game of hockey isn't always logical. Decisions aren't always clear. There's a fair amount of superstition surrounding the sport. Sometimes, there's merit to playing a hunch. And at other times it's best to just trust your players. Mike Sullivan obviously did some combination of that when he assembled the HBK line, a decision he'd ride to a Stanley Cup championship.

Jacob Stoller, writer for Puck Drunk Love wrote in his article leading up to the Stanley Cup Final –  "3 Reasons Why The Pittsburgh Penguins Will Win The Stanley Cup"
Each player has rediscovered their game playing alongside each other and has made the Penguins a matchup nightmare.
Now, as the Penguins enter the 2016-17 season to defend their championship, the team will look to the HBK line as their one true untouchable. Sullivan showed a preference to keep this line intact even when changing conditions in the playoffs called for different line adaptations. Right now, this line is carved in stone, and with good reason! They're playoff heroes. They're point producers. They demonstrate the chemistry that the Pens have so yearned for after years of independent experiments with Crosby and Malkin. For the first time in a while, there's something certain.
Primed to Perform
This "certainty" has people believing. Fellow THW Penguins writer Michael Necciai predicts that this line can combine for nearly 140 points in the upcoming season. That kind of output from a second line is outstanding. Comparatively, Necciai also puts the top line of Crosby, Patric Hornqvist and Conor Sheary on pace for just below 175 total points. (In both cases, I believe he's undershot the mark, if ever-so-slightly.)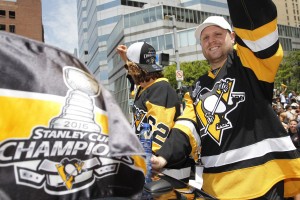 The HBK line provided the Penguins with more than just raw scoring. They symbolized a reprieve. Together, they collectively took the hands of both Crosby and Malkin and assured them that they too will carry the team. It's no longer the two superstars' cross to bear. The 2016-17 season has issued the challenge to repeat. Not only as Cup champions but as effective line mates and point producers. The HBK line will continue exploit mismatches as long as they face the opposition's lower-tier defenders. And even when they're not at their best, they'll still provide shielding for the other scoring lines by commanding an opponent's respect. For a line so dynamic and so full of chemistry, the sky's the limit for the HBK men.