Opinions and narratives surrounding the Pittsburgh Penguins' bottom-six group changed drastically this past season. Early in the campaign, it looked as if that group would face the same struggles we've seen year-in and year-out, failing to contribute on the score sheet and an inability to provide support for Pittsburgh's talented top-six.
When Mike Sullivan took over behind the bench, he tested multiple trios until he found the right fit.  The key was his willingness to play the likes of Phil Kessel on a third line – which provided Pittsburgh with another top-six caliber line – and overwhelmed their opponents with matchup issues.
The results speak volumes to what Sullivan was able to accomplish with his openness. He adopted a top-nine mentality and no one had an answer for it. Should we expect more of the same this season? What kind of point totals should we expect from Pittsburgh's bottom-six forwards?
Nick Bonino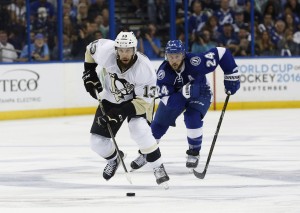 Bonino, after replacing Brandon Sutter in the lineup following a trade that sent Sutter to Vancouver in exchange for Bonino and Adam Clendening, began his Penguins tenure in disappointing fashion. He tallied just 10 points through his first 39 games and missed significant time with a hand injury suffered mid-January.
Upon his return, he was launched into a second line center role while Evgeni Malkin was out of commission. That promotion was the birth of Pittsburgh's HBK line, a trio that clicked immediately and never looked back.
Heading into 2016-17, you have to wonder if Bonino could relapse. Was his slow start last season a result of a new atmosphere? Was it Mike Johnston's coaching style combined with a less-than-ideal role? Or, maybe it was simply an issue with line mates that didn't mesh well with him.
The HBK line will be reunited, though their reunion may be delayed slightly with Phil Kessel potentially missing the start of the season. I look for them to continue their tear once Kessel returns and also, I look for Bonino to return to his expected .52-to-.54 points-per-game that he boasted prior to joining Pittsburgh. I'll go with 70 games and 38 points for Bonino in 2016-17.
Carl Hagelin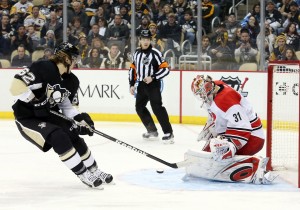 Hagelin has to run out of gas at some point, right?
According to HockeyReference.Com, Hagelin has played 443 games since 2011, which accounts for both the regular season and playoffs. He played in the Conference Finals in three of four years with the New York Rangers, one of those seasons resulting in a trip to the Stanley Cup Final. Then, after joining the Penguins, he advanced to the Cup Final yet again.
He'll also represent Team Sweden in the World Cup of Hockey which begins mid-September.
The World Cup of Hockey, combined with bye weeks baked into the NHL schedule means condensed scheduling and games compacted much more than most seasons. That type of workload is a lot to ask of any player, even someone with the conditioning of Hagelin.
At the very least, I'm expecting a small drop-off in games played this season. I'll go with 68 games and 36 points in 2016-17.
Phil Kessel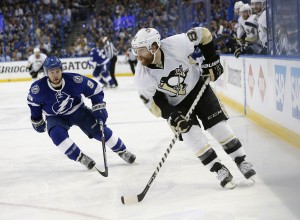 The final member of the renowned HBK line, and arguably the most important. In fact, he was arguably the most important player on Pittsburgh's roster for their Stanley Cup run just a few months ago.
The reason Kessel works so well with Hagelin and Bonino is fairly simple. He's a perimeter player that likes to create offense off the rush. Hagelin is willing and able to do the dirty work – as well as speedy enough to skate with Kessel – while Bonino plays perfect positionally and makes great decisions to support the two of them. The three of them seemed to always be in the right place at the right time.
While I fully expect a small hangover from so much hockey over the last calendar year, I don't expect that chemistry to change. Kessel may miss some time to start the season but that won't be detrimental to his production this season. It may actually help.
Kessel averaged 2.39 points per 60-minutes of even-strength ice time from January 1 through the end of the regular season. That number was good for sixth in Pittsburgh but to put things into perspective, that was a better rate than names like Artemi Panarin, Alexander Ovechkin, Joe Pavelski, Corey Perry and many other high-impact players down the stretch.
Will he continue that production through 82 games in 2016-17? It isn't likely. I'm looking for 80 games and 63 points from number 81.
Fourth Line Quick Hits
Matt Cullen has decided to return for another season, so we'll likely see him centering Eric Fehr and Tom Kuhnhackl. Cullen exceeded expectations with 32 points (16g, 16a) in 2015-16 but it's tough to imagine that sort of production again.
Fehr could be considered a disappointment, considering he came off two seasons north of 30 points with the Washington Capitals prior to signing with the Penguins. Injuries obviously played a role in his point totals but everyone expected more. Seemingly healthy entering 2016-17, will he improve on his production from last season?
Kuhnhackl was a pleasant surprise last year. He played a responsible game for an inexperienced player at this level and chipped in a few big goals. His 15 points in 42 games added to the stable of young forwards that contributed for Pittsburgh. Will he improve on those numbers in his first full NHL season? Will he remain in the lineup with the return of Scott Wilson?
My predictions for all three are as follows…
Matt Cullen – 75 games, 26 points
Eric Fehr – 60 games, 21 points (Also most likely to be traded)
Tom Kuhnhackl – 40 games, 13 points
Thanks for reading. Stay tuned for defensive predictions tomorrow!