Who doesn't remember last summer's predictions for the Pittsburgh Penguins, which followed the blockbuster acquisition of Phil Kessel from the Toronto Maple Leafs? Will he score 50? Will Sidney Crosby surpass 100 points? What about 120?
That was fun.
With 2016-17 just around the corner, it's time to dive into what we can expect from this group once again. Considering Pittsburgh will begin the season with essentially the same lineup they won the Stanley Cup with, it's safe to assume we have a good idea on how lines will play out. But, do we really have an idea of how point totals will fall out?
This article will look at Pittsburgh's top-six and assume their lines shake out as follows…
Conor Sheary – Sidney Crosby – Patric Hornqvist
Chris Kunitz – Evgeni Malkin – Bryan Rust
Of course, things can change quickly in camp. Scott Wilson will return to the lineup and there are a few promising prospects who could shift things one way or the other. But for the sake of predicting point totals, this is a great start.
Sidney Crosby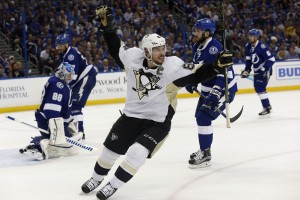 2015-16 Point Total: 85 points (36 goals, 49 assists)
Unfortunately, Crosby did not reach the 100-point mark many expected. That assumption was based on playing with a sniper of Kessel's caliber, which obviously didn't happen. That doesn't mean we shouldn't expect an abundance of points in 2016-17 though. His numbers after Mike Sullivan took over could be a sign of very big things to come. Should we be predicting such high numbers yet again for Pittsburgh's captain?
Sullivan's impact will be worth mentioning for nearly every player discussed. With Crosby, it opened the game up and allowed him to use his skill and creativity. It paid dividends, resulting in 25 even-strength points from January 1 through the end of the regular season, averaging out to 3.16-points per 60-minutes of ice time.
The question becomes whether or not he can pick up where he left off and sustain that sort of performance throughout an entire 82-game season. You also have to factor in injuries, and Crosby is averaging just over 67 games-per-season in non-lockout years throughout his career.
I'm going to be bold in predicting his point total, just as I was last season. Except, I won't assume he'll have Kessel sniping alongside him so I'm not looking for 115-plus points. For 2016-17, I have Crosby playing 75 games and scoring 102 points. He'll win the scoring title with that total as well.
Patric Hornqvist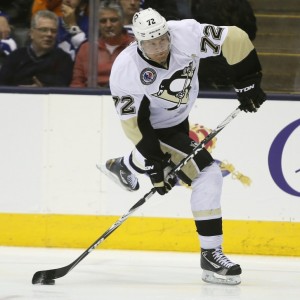 I recently discussed Hornqvist's 2015-16 campaign and his impact on teammates. Simply put, the narrative that he's a passenger on Crosby's wing is false. Hornqvist has been fantastic.
He took his share of criticism during Pittsburgh's struggles last season, mainly due to his knack for dumping the puck on the rush and not gaining the offensive zone with possession. However, once Sullivan took over and the team began playing to their strengths, it was a non-factor. He was asked to play a role that suits him, which consists of creating havoc in the crease and making life miserable for opponents. Especially their goaltenders.
You'll notice a trend in how I look at scoring from last season, which will begin with January 1. That's due to Pittsburgh's coaching change and the team settling in under Sullivan at that point in the season. Throughout that span, Hornqvist accrued 17 even-strength points averaging 2.59-points per 60-minutes of ice time.
He also played a large role on the power play. Throughout the same time span mentioned above, Hornqvist led the team in power play goals per 60-minutes of ice with 3.33. A testament to his role on that unit, and his ability to cleanup in front of the net.
Despite his somewhat reckless style, Hornqvist tends to stay healthy and should play at least 70 games in 2016-17, with high 70's a more likely number. Look for him to keep up his pace from the last three seasons, which he recorded point totals of 53, 51 and 51 respectively. I'll officially go with 77 games and 54 points.
Conor Sheary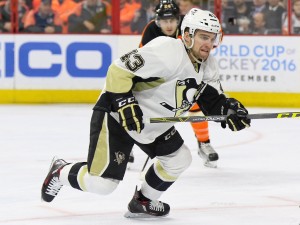 Ok, here's where things get a bit tricky. There's no guarantee Sheary remains in the top-six, though I can't imagine a scenario in which the HBK line is separated so that leaves limited options on Crosby's left side. Sheary played well in that spot down the stretch and will likely have the opportunity to seize the top-line left-wing position once again.
In his first NHL season, Sheary played 44 games and potted 10 points. However, his time alongside Crosby occurred late in the season and throughout the playoffs, and his production during that time frame is reflective of just that. He played 23 postseason games and nearly matched his regular season point total with nine points in that span. Despite his lack of size, his speed and skill meshed well with Crosby and Hornqvist.
Sheary is tenacious on the puck and doesn't shy away from the physical side of things. That trait could lead to a few injuries given his smaller frame so the big question is whether or not he'll be healthy for a full NHL season.
Personally, I don't expect him to stick on the top line. I believe his production will increase but not substantially. I'll go with 55 games and 18 points for Sheary in 2016-17. Of course, he has made a habit of proving everyone wrong when it comes to his size and ability to hang at this level. Will he do that again now that he's a full-time NHL'r?
Evgeni Malkin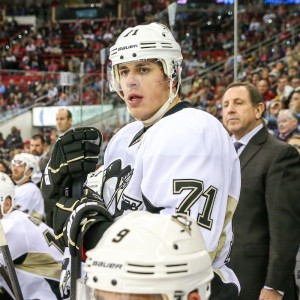 The last few seasons haven't been friendly to Malkin, who has missed at least 13 games each year since 2012-13. Last season, after carrying the Penguins on his back through a challenging start and joining Marc-Andre Fleury as one of the few reasons Pittsburgh stayed afloat, he found himself battling injuries yet again and eventually missing the rest of the regular season after suffering a wrist injury in early March. Thankfully, he was able to return to action in the postseason but never quite looked like himself.
Despite his injury woes, Malkin is still one of the most dominant players in the world. In fact, I'd argue that he's more capable of taking over a game on his own than anyone else in the NHL, including his superstar counterpart Crosby. Of course, the question is whether or not he can stay healthy to climb back scoring leaders list once again.
Malkin averaged just over a point-per-game last season with 58 total points in 57 games. He averaged 1.87 points per 60-minutes of ice time, which ranked sixth on the team behind Carl Hagelin, Crosby, Nick Bonino, Kessel and Hornqvist. If he scores at the same rate this season and plays a full 82 games, he'll finish the season with 83 points. That number is a shade higher than I'm predicting for him.
I'll go with 65 games and 77 points for Geno in 2016-17.
Chris Kunitz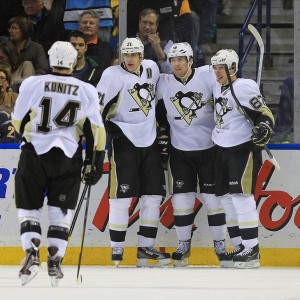 Ageless wonder or aging blunder? Opinions vary depending who you ask but I personally can't consider him either of the two. At this point in his career he's in between those two classifications and can still contribute in the right scenario.
There's no doubt the heart is still there. Of course, that means very little if the body can't keep up.
Kunitz had plenty of ups and downs last season but he found a home with Malkin in the postseason and played his game very well. He contributed, he played physical and he looked anything but old down the stretch of their Cup run. While he isn't living up to his $3.85 million cap hit, he's certainly holding his own and remains a useful player for the Penguins.
Kunitz finished 2015-16 with 40 points through 80 games played, 31 of which were scored at even-strength and averaged 1.75 points per 60-minutes of ice time. I expect that production to drop and wouldn't be surprised to see him in the bottom-six at some point, as the emergence of Pittsburgh's young wingers last season doesn't bode well for him. I'd bank on 78 games and 28 points in 2016-17.
Bryan Rust
Remember those young wingers I mentioned previously?
Rust was phenomenal in the Eastern Conference Finals and honestly, throughout most of the postseason. He followed up a rough stint with a solid performance in Game 5 versus Tampa Bay and then locked up a Game 7 with the above breakaway goal. His combination of speed and hands fit perfectly with Pittsburgh's playing style.
Rust will continue to grow this season. After scoring only eight even-strength points through 41 regular season games, he scored nine in 23 playoff games. I'll go with 70 games and 26 points in 2016-17.
Thanks for reading. Stay tuned for bottom-six predictions tomorrow.
Pittsburgh Penguins writer for TheHockeyWriters.Com and PittsburghHockeyNow.Com. Youth hockey coach, and student of the game.