Phil Kessel's hand injury reportedly may keep him from being on the ice when the Pittsburgh Penguins open the regular season and begin defense of the Stanley Cup.
The Penguins aren't positive Kessel will be ready to start the season because of his hand surgery. Will be close.

— Josh Yohe (@JoshYohe_PGH) August 29, 2016
Shortly after the Penguins defeated the San Jose Sharks to win the 2016 Stanley Cup Final, the team revealed Kessel had undergone hand surgery for an injury he had dealt with through part of the regular season and into the playoffs.
"It was something he dealt with all season," Penguins general manager Jim Rutherford told the Pittsburgh Post-Gazette at the time. "It bothered him. He took care of it. He's not expect[ed] to miss any time."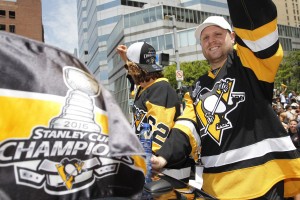 In his first season with the Penguins, Kessel played in all 82 games of the regular season, tallying 26 goals and 59 points — less than the team expected when he was acquired from the Toronto Maple Leafs the previous offseason. During the Penguins' Cup run, Kessel scored 10 goals and 22 points in 24 games.
Entering the 2016-17 season, Kessel has played 528 consecutive regular season games and last missed a game during the 2009-10 campaign.
The Penguins begin the regular season on Oct. 13 against the Washington Capitals.
Steven is a lawyer and writer with a passion for the game of hockey. He's the Lead Writer covering the Tampa Bay Lightning with THW. He's also been press credentialed through the Lightning since 2016. His work has been published at The Fourth Period, LightningInsider.com, Bolt Prospects, The Sports Daily Network, U.S. College Hockey Online and College Hockey News. He's had radio appearances on TSN 690 in Montreal, Lightning Power Play Live and multiple podcasts to give insight and analysis on the team. He can be reached on Twitter @StevenDiOssi and by email at sdiossi@gmail.com.