With the World Cup on the heels of the hockey community and training camps right behind it, Ken Holland is running out of time to address the Red Wings blue line. Through the offseason, Holland has stated multiple times that he wants to add a top-pair defenseman.
Until then, we can only speculate who plays where on a team that asks each defenseman to play above his spot on the depth chart.
So where do Niklas Kronwall, Danny DeKeyser, Mike Green, Jonathan Ericsson, Brendan Smith, Alexey Marchenko fit in with three potential newcomers in Ryan Sproul, Xavier Ouellet and Nick Jensen?
Brandon Peleshok
| | |
| --- | --- |
| LD | RD |
| DeKeyser | Green |
| Smith | Marchenko |
| Kronwall | Ericsson |
DeKeyser-Green
Heading into the 2015-16 season, the plan was to pair these two defenders together. Both Ken Holland and Jeff Blashill stated they wanted the two to play together, citing that their playing styles would likely complement each other.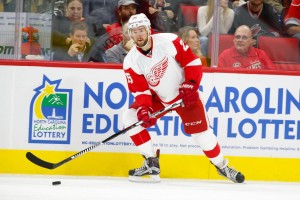 Unfortunately, DeKeyser sustained a sprained ligament in his left foot during a pre-season game and Green injured his shoulder just seven days after DeKeyser returned to the Red Wings' lineup. Even when Green returned to full health, Blashill elected to use Kyle Quincey in the role instead.
With the Red Wings and Quincey parting ways, Green is probably the best choice to take over as DeKeyser's partner. If the two can develop chemistry, they can take over as the top defensive pairing in Detroit, and potentially boost each other's offensive contributions.
Smith-Marchenko
Smith played most of his hockey with Green last season, while Marchenko rotated through several defensive partners. Much like the DeKeyser-Green pairing, this duo is about putting two players together who can complement each other.
Smith can use his speed to jump into the rush, while Marchenko's under-the-radar defensive game can help to minimize potential hiccups. Odds are that Blashill will turn to a Kronwall-Marchenko pairing at the beginning of the season, but the 35-year-old Swede's knee problems could force management to shelter his minutes.
Kronwall-Ericsson
This pair is an unpopular choice, but probably a necessary one when you consider the current state of the Red Wings' defensive corps. With the departure of Quincey, Ericsson's ability to play on the penalty kill is likely going to keep him in the lineup.
However, Ericsson's lackluster play last year caused his minutes to drop steadily over the course of the season. If he cannot find a way to minimize his mistakes, someone like Ouellet or Sproul could take his spot on the blue line.
Tony Wolak
| | |
| --- | --- |
| LD | RD |
| Kronwall | DeKeyser |
| Smith | Green |
| Ericsson | Marchenko |
When the Detroit Red Wings arrive in Traverse City for training camp, Blashill and Doug Houda will have the ability to find chemistry among their defensemen immediately. Unlike the multitude of forwards participating in the World Cup of Hockey, only defensemen Marchenko will be absent from the blue line.
When looking at potential defensive pairing for the upcoming season, Blashill and Houda will certainly have some options with DeKeyser, Ericsson, Green, Kronwall, Ouellet and Smith able to start strong and establish some consistency.
Kronwall-DeKeyser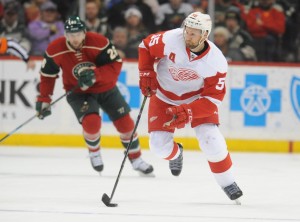 Pairing Kronwall and DeKeyser would give Detroit two top defenders to play against opponents' top lines. Despite pulling out of the World Cup of Hockey, Kronwall said he'll be 100% for camp following a season plagued by knee injuries. If he is indeed 100%, Kronwall is reliable enough to play against top competition and pairing him with DeKeyser will give Detroit two two-way defensemen playing roughly 24 minutes each night.
Smith-Green
On the second line, Smith and Green would make up a dynamic pairing that could consistently contribute to the offensive side of the game. These two would also start most shifts in the offensive zone.
Ericsson-Marchenko
Finally, Ericsson and Marchenko would form the third pairing…for now. Marchenko has the talent and hockey IQ to play more impactful minutes. He could push Smith and Green for more ice time. As for Ericsson, he'll need to rebound from a rough 2015-16 season or risk being pushed out of the lineup by the seventh defensemen.
Don't just assume that the seventh defenseman will be Ouellet. It's entirely possible that Sproul, Jensen, Robbie Russo or even Joe Hicketts comes to camp and earns a roster spot through terrific play.
Jacob Messing
| | |
| --- | --- |
| LD | RD |
| DeKeyser | Green |
| Kronwall | Marchenko |
| Smith | Ouellet |
DeKeyser-Green
After signing a six-year, $30 million contract this summer, DeKeyser is lined up to be the go-to guy this season. While he's not a prototypical number one league-wide, the fact is he's Detroit's number one if Holland decides a trade isn't the best course for his team.
At 26-years old and with that kind of money, he'll be on the top pair for the foreseeable future. Of course, fans — and management alike — want more offense out of him. That's where Green comes in. Green is the greatest offensive-defenseman on the Red Wings blue line and can teach DeKeyser a lot on the backend. As Brandon mentioned, the two complement each other well and should see a lot of time together pending chemistry.
Kronwall-Marchenko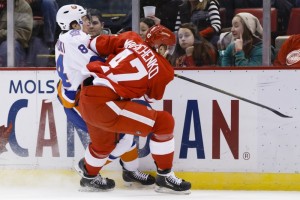 Cue the broken record; can Kronwall's knee(s) hold up? Kronwall's 26 points were his fewest total since 2009-10 when injuries limited him to just 48 games. The minus-21 rating didn't help either. His knees hampered his pivoting and when you're a defenseman who can't pivot, you're vulnerable.
If he can rebound and show that at 35 he still has some miles left in him, he could form a solid pair alongside the much under-rated Marchenko. At just 24, Marchenko has become a favorite of Blashill, playing in 66 games last season. He has learned quickly and was a key piece on Russia's bronze-winning IIHF World Championship team back in May.
Much like DeKeyser, Marchenko can take the next step by learning alongside Kronwall and reading his offensive opportunities and using them. He's set to build on his 11 points from 2015-16.
Smith-Ouellet
In reality, it's Smith-Ouellet/Ericsson. Holland has too much wrapped up in Ericsson—four more years with a cap hit of $4.25 million—to not see him play. However, if Blashill wants to ice the best team possible, which Holland has stated he has asked him to do, Ericsson will find himself in the press box more often than not.
This season, Smith could show the Red Wings why they selected him 27th overall in 2009. Just 27, it's not too late for him to carve out a nice regular spot in the lineup by limiting mistakes and making the best of his offensive-minded game.
Ouellet, 23, is no longer waiver-ineligible and will compete with Sproul and Jensen—who are also waiver-ineligible—to return to Grand Rapids. While none of the three carry high expectations, defense is hard to come by and the Red Wings could very well lose one or two come time to figure out the 23-man roster.
Ouellet is expected to have the edge with 30 NHL games under his belt and a certain poise that sees him steady and confident with the puck.
What pairs would you put together if you were in control? Comment below.