After scoring 107 points in his first OHL season, and being drafted to a team in desperate need of wingers, Matthew Tkachuk seems like a shoe-in to make the Calgary Flames roster for the start of the 2016-17 season. But at only 18-years old, why should Calgary really take the chance on bringing up the second-generation star too early?
He's Already Done It All in Junior
Though Matthew Tkachuk only spent one season in the OHL, he really did accomplish all that he can in junior hockey. Finishing fifth in regular season points, and first in playoff goals, Tkachuk tore up the league with fellow Knights Mitch Marner and Christian Dvorak.
Apart from individual accomplishments, Tkachuk has already won an OHL Championship and a Memorial Cup, where the latter came as the result of Tkachuk's winning goal in overtime. In international play, Tkachuk has represented the United States at the U-18 WJC where he captured Gold, and at the U-20 World Junior Championship last year where he took home Bronze and tied only Auston Matthews for team USA's team lead in points.
Calgary Desperately Needs Wingers
The Flames have one true strong left winger in Johnny Gaudreau, but moving down Calgary's depth chart after Johnny Hockey isn't a pretty sight. Apart from shoveling a centre to the wing, Calgary's second-string natural left winger is a race between Michael Ferland, who had just 18 points in 71 games last season, and Lance Bouma who's coming off an awful season which saw him score only two goals in 44 games. Safe to say it's not an ideal situation for Calgary.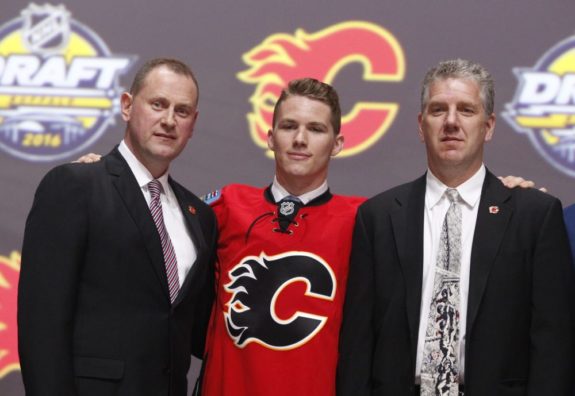 If Tkachuk did stick with the Flames this season, he would join a decent top six in Calgary, consisting of Monahan, Gaudreau, Frolik, Brouwer, and Calgary's second-line centre, be it, Bennett or Backlund. Placing Tkachuk on the wing of either Bennett or Backlund would make for a dynamic duo, and could really help to give the Flames the spark that they've been lacking for the past number of seasons.
History Is on Calgary's Side
Flames' fans can only hope that the similarities they're seeing between the 2013 and 2016 NHL drafts ring to be true. Three years ago, Calgary selected Sean Monahan sixth overall. He came to Calgary still with a year of junior eligibility left, and no one was really sure if Monahan would make the Flames.
Calgary ultimately deciding on keeping Monahan up in the NHL, and we all know how that turned out. With the Flames as young and talented as they are, there's no question they're going have deadly offence in the next couple of years, the only question is whether it'll debut this season.
Ben is a journalism student at Ryerson University and covers the Toronto Maple Leafs.