Former San Jose Sharks forward Raffi Torres may retire from playing professional hockey if he is unable to sign with an NHL team for the 2016-17 season. Torres is currently an unrestricted free agent.
Torres is not beating around the bush when it comes to his plans for his future in hockey. "To be honest, I've never been one for Plan B's," Torres told Postmedia's John Matisz. "I've been telling everybody (who asks about my future), it's probably going to be The Show or no."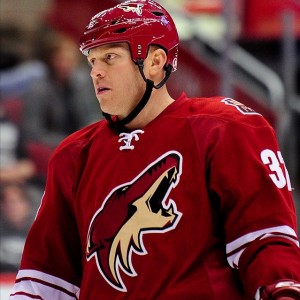 Torres, 34, last played an NHL game during the 2013-14 Stanley Cup playoffs with the Sharks.
In a preseason game against the Anaheim Ducks on Oct. 3, 2015, Torres received a game misconduct penalty after an illegal check to forward Jakob Silfverberg. The NHL reviewed the play and Torres was suspended for 41 games. After his suspension ended, the Sharks assigned him to the team's American Hockey League affiliate, the San Jose Barracuda. Torres played just six games with the Barracuda and was traded to the Toronto Maple Leafs but never played a game with the club.
Torres has also been dealing with a nagging knee injury that has required surgery and is uncertain whether his knee can hold up to the demands of an NHL schedule. "It's never going to be a perfect knee, but it's something I can deal with now," Torres said. "Can I deal with it (while playing) in the NHL? I don't know. It's a whole different world."